The Global Outsourced Semiconductor Assembly and Test (OSAT) Market was valued at $45.3 billion in 2022 and it is expected to reach $90.1 billion at a CAGR of 7.1% between 2022 and 2032. The manufacturing portion of developing a semiconductor product depends more on the assistance of outside vendors than the designing portion does.
By region, Asia-Pacific would dominate this market with significant growth during the forecast to 2032.
The phrase "outsourced semiconductor assembly and test" describes solutions offered by outside vendors. The companies' main market offerings include wafer processing capabilities, package redesign, characterization including thermal analysis and certification, burn-in and life-testing, as well as several additional approaches. The semiconductor industry has been growing, concentrating on efficiency and shrinkage, with semiconductors emerging as the core elements of contemporary technology. After the wafer fabrication and wafer probe stages of the semiconductor manufacturing process, OSAT businesses play a significant role in the last step. These businesses provide packaging or assembling solutions that entail turning bare semiconductors into finished semiconductors. This protects the die and makes it easier for electrical connections and heat dissipation while also assisting in die protection.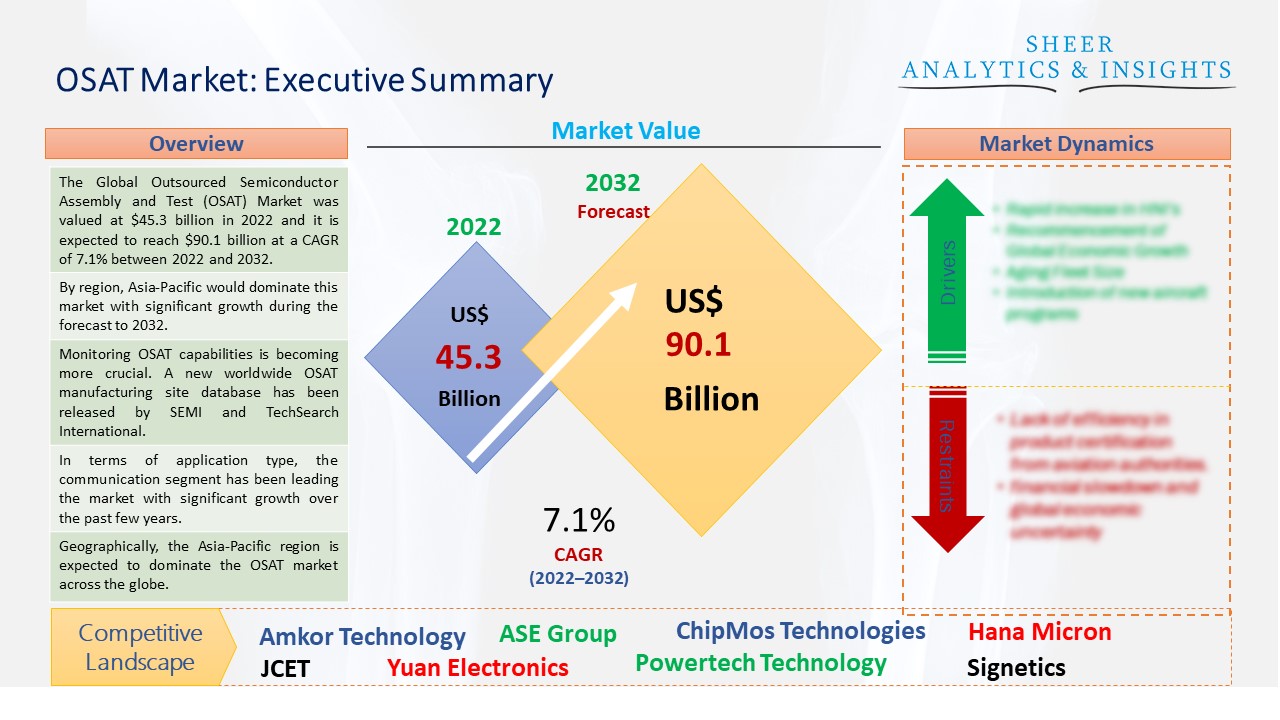 Source: SAI Research
Download Free PDF Sample Request
The development in demand for smartphones and other internet-connected devices, as well as the rising use of electronics in automobiles for a variety of purposes including safety, navigation, fuel efficiency, emission reduction, and entertainment systems, are the main factors driving this market. Before releasing products onto the market, OSAT service providers offer testing equipment and packaging for silicon devices made by foundries. It primarily concentrates on offering cutting-edge packaging and test solutions for semiconductor players in well-established industries including consumer & computers and communications, along with automotive, wearable technology, and the Internet of Things.
Monitoring OSAT capabilities is becoming more crucial. A new worldwide OSAT manufacturing site database has been released by SEMI and TechSearch International. It lists OSAT facility locations as well as the package and test choices available in each plant. However, the market for OSAT and semiconductor foundries is growing as more semiconductor components, such as microcontrollers, sensors, and radar chips, are utilized in automobiles. The hardware needed to operate the software to create electric, hybrid, autonomous, and alternative fuel vehicles are built on semiconductor devices.
Based on service type, the packaging segment accounted for the largest share of this market. For silicon devices produced by foundries and distributed to the market, third-party businesses provide packaging and testing services. For semiconductor companies in well-established industries like communications, consumer electronics, and computers, as well as in emerging ones like automotive electronics, the Internet of Things, and wearable technology, they concentrate on offering cutting-edge packaging and testing solutions. Additional improvements in packaging platforms, like fan-out packaging and 3D flip chip technology, are being driven by the growing commercialization of applications like AI and 5G to satisfy the demand for high power consumption and deliver advantages like improved chip connection.
In terms of application type, the communication segment has been leading the market with significant growth over the past few years. The majority of communication applications use telecommunications sector communication chips. Power amplifiers, front-end modules, and other RF and connectivity components are significant sources of demand for OSATs and OEMs. However, the consumer electronics as well as computer and networking segments are also estimated to lead the market with more growth opportunities. The consumer electronics industry cannot function without semiconductors. They are utilized in a wide range of consumer electronics products, including adaptors, audio and image apps, smartphones, smart watches, smart speakers, portable and wireless smart devices, and home appliances. Furthermore, data processing and storage account for nearly half of the computing segment's income. With the convergence of voice, video, and data to satisfy the growing demand for more performance and data processing, the consumer market has become more and more varied.
Geographically, the Asia-Pacific region is expected to dominate the OSAT market across the globe. This is mostly due to rising levels of purchasing power, strong economic growth, the presence of large electronic manufacturing companies, and an increase in the number of smartphone users. Some of the major regional OSAT market contributors include China, Taiwan, South Korea, and Japan. This is mostly related to expanding purchasing power, robust economic expansion, the presence of significant electronic manufacturing enterprises, and rising smartphone adoption. The market for consumer electronics expands as technological awareness in the Asia-Pacific region increases.
According to the study, key players such as Amkor Technology (U.S), Advanced Technologies Inc (U.S), ASE Group (Taiwan), ChipMos Technologies (Taiwan), Hana Micron (South Korea), JCET (China), King Yuan Electronics (Taiwan), Powertech Technology (Taiwan), Signetics (South Korea), Unisem Group (Malaysia), Walton Advanced Engineering (Taiwan), among others are leading the global OSAT market.
Scope of the Report:
Report Coverage

Details

Market Size in 2021

US$ 45.3 Billion

Market Volume Projection by 2032

US$ 90.1 Billion

Forecast Period 2023 to 2032 CAGR
7.1%
Base Year:

2023

Historical Data

2019 and 2022

Forecast Period

2024 to 2032

Segments covered

By Service Type: Testing, Packaging & Others

By Application Type: Communication, Computer & Networking, Consumer Electronics, Industrial Electronics & Others

Geographies covered

North America, Europe, Asia-Pacific, LAMEA

Companies covered
Amkor Technology (U.S), Advanced Technologies Inc (U.S), ASE Group (Taiwan), ChipMos Technologies (Taiwan), Hana Micron (South Korea), JCET (China), King Yuan Electronics (Taiwan), Powertech Technology (Taiwan), Signetics (South Korea), Unisem Group (Malaysia), Walton Advanced Engineering (Taiwan), among others
The Global Outsourced Semiconductor Assembly and Test (OSAT) Market Has Been Segmented Into:
The Global Outsourced Semiconductor Assembly and Test (OSAT) Market – by Service Type:
The Global Outsourced Semiconductor Assembly and Test (OSAT) Market – by Application Type:
Communication
Computer & Networking
Consumer Electronics
Industrial Electronics
Others
The Global Outsourced Semiconductor Assembly and Test (OSAT) Market – by Regions:
North America
Europe

The U.K.
France
Germany
Italy
Rest of Europe

Asia Pacific

India
China
Japan
Australia
Rest of Asia Pacific

LAMEA
Middle East
Latin America
Africa
Note: This table of contents is a content of a published report. As per client requirement, cross-sectional analysis across all industries or specific geography or 'country-based' analysis can be provided as a part of paid customization. Please place your queries on sales@sheeranalyticsandinsights.com or query@sheeranalyticsandinsights.com