The global patient registry software market was valued at $1.8 billion in 2022 and it is expected to reach $8.9 billion at a CAGR of 17.3% between 2023 and 2032. The need for integrated registries is being driven by the rising prevalence of chronic diseases like cancer, diabetes, and cardiovascular illnesses, which will lead to better treatment outcomes and new drug development. The market for patient registry software is being further stimulated by the increased adoption of electronic health records.
By region, North American led this market with significant share over the past few years.
Patient registry technology is a registry that is used to administer new procedures and surgeries, track the usage of new medical devices, and collect patient diagnostic or disease-related data. Additionally, the rising need for software to manage enormous amounts of healthcare data is anticipated to experience significant growth in the market. Finally, the growing number of care organizations combined with the growing adoption of EHRs and other eHealth solutions have benefited the market. Growing investments in modernizing healthcare infrastructure and the rising prevalence of infectious and chronic diseases worldwide are expected to drive market growth throughout the forecast period.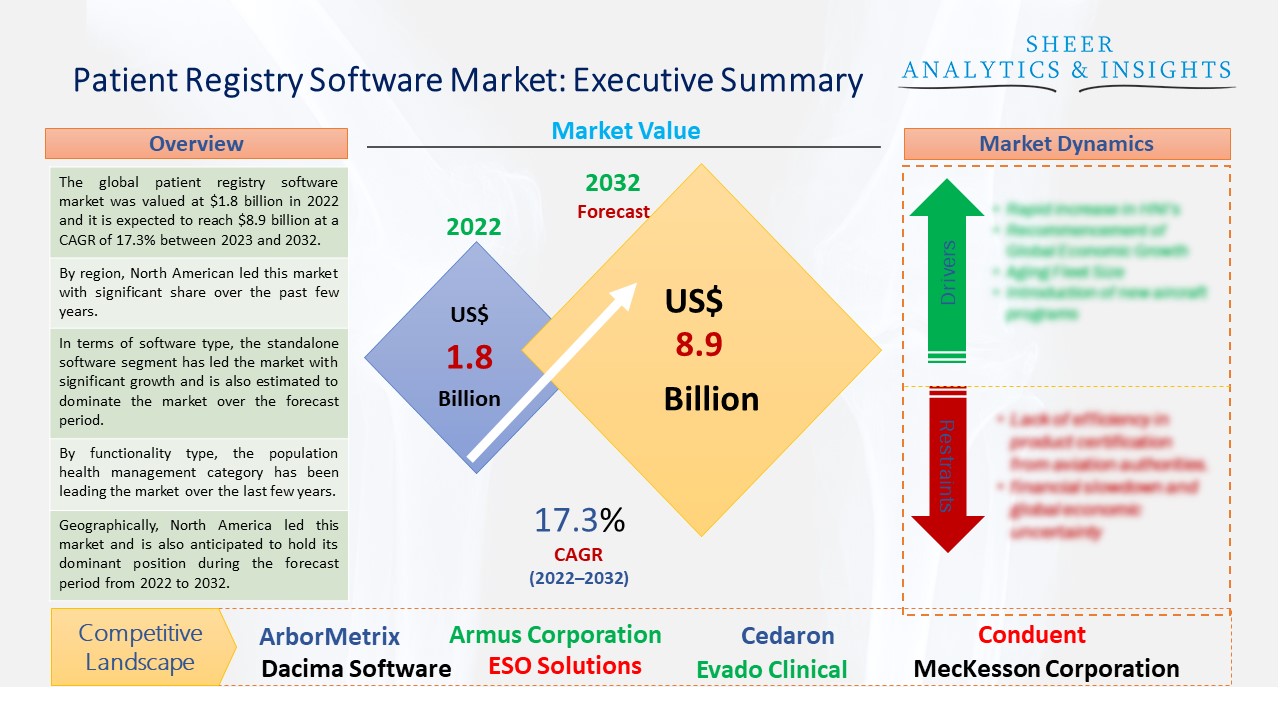 Source: SAI Research
Download Free PDF Sample Request
Disease registries are very useful for managing population health. Due to the aging of the population, the rise in the prevalence of chronic and rare diseases, and government initiatives to create disease-specific national patient registries, patient registration software is commonly used for disease registries. Most biotech and pharmaceutical businesses anticipate seeing growth and untapped potential as they increase their investment in clinical trials. Data from patient registries are useful for tracking clinical trial participants.
Additionally, PRS has many benefits, including patient tracking, documentation of disease histories, traits, and outcomes with or without therapy, an active surveillance system for the emergence of unanticipated or detrimental occurrences, and efficient management of patient populations. These benefits are anticipated to increase demand for PRS and support market expansion. Players in the worldwide patient registry software market may anticipate benefiting from lucrative growth prospects as Health 2.0 is more used. Additionally, more clinical trials are anticipated to support market expansion. To enroll patients in clinical studies, clinical investigators and contract research organizations need patient information.
Based on product type, the disease registry segment accounted for the largest share of this market. The disease registry is further divided into categories for asthma, cardiovascular, diabetes, cancer, and rare diseases. The segment is being driven by the rising demand for healthcare system integration and illness burden reduction. These registries are useful for monitoring patients participating in clinical trials for the development of novel medications. These registries help keep tabs on patients while new medications are developed for clinical trials.
In terms of software type, the standalone software segment has led the market with significant growth and is also estimated to dominate the market over the forecast period. Due to its user-friendly tools and cutting-edge capabilities, the standalone app would hold the largest sales share in the sector. Standalone software programs are designed to focus on a single register, such as patient information for people with diabetes, cancer, uncommon diseases, and cardiovascular conditions. As a result, it is extremely detailed and data retrieval is simple.
By functionality type, the population health management category has been leading the market over the last few years. A change from the Fee-for-Service model to the Value-based Payment model is the outcome of stakeholders' growing demand for solutions supporting value-based care delivery. This is related to the rising demand for high-quality care, which is projected to stimulate the adoption of PHM solutions and accelerate market expansion.
Geographically, North America led this market and is also anticipated to hold its dominant position during the forecast period from 2022 to 2032. The market in this region is expanding as a result of an expanding target population, increased disease prevalence, and the demand for population-based registries. Moreover, increased government initiatives make this region a big contributor to the market for patient registry software. Due to factors like increased government support for the creation and application of patient registry software for population health management, this area also holds a dominant position in the world market for patient registry software and is predicted to experience the quickest growth. On the other hand, the Asia-Pacific region is also expected to dominate the market in the future. Major drivers driving the market in the region include increasing demand to reduce medical errors, frequent hospital visits, an increase in diagnostic errors, the rising prevalence of co-morbidities, and an aging population. Additionally, encouraging government measures, particularly in Japan, China, and South Korea, are promoting the expansion of the patient registry software market.
According to the study, key players such as ArborMetrix (U.S), Armus Corporation (U.S), Cedaron (U.S), Conduent (U.S), Dacima Software (Canada), ESO Solutions (U.S), Elekta (Sweden), Evado Clinical (Australia), IBM (U.S), ImageTrend (U.S), IQVIA (U.S), MecKesson Corporation (U.S), Nexus (Germany), OpenTextCorp (Canada), Phamax AG (Switzerland), Premier Inc (U.S), United Health Group Inc (U.S), among others are leading the global patient registry software market.
Scope of the Report:
Report Coverage

Details

Market Size in 2021

US$ 1.8 Billion

Market Volume Projection by 2032

US$ 8.9 Billion

Forecast Period 2023 to 2032 CAGR
17.3%
Base Year:

2023

Historical Data

2019 and 2022

Forecast Period

2024 to 2032

Segments covered

By Product Type: Disease Registry, Health Service Registry, Product Registry

By Software Type: Standalone, Integrated & Others

By Functionality Type: Population Health Management, Patient Care Management, Health Information Exchange & Others

Geographies covered

North America, Europe, Asia-Pacific, LAMEA

Companies covered
ArborMetrix (U.S), Armus Corporation (U.S), Cedaron (U.S), Conduent (U.S), Dacima Software (Canada), ESO Solutions (U.S), Elekta (Sweden), Evado Clinical (Australia), IBM (U.S), ImageTrend (U.S), IQVIA (U.S), MecKesson Corporation (U.S), Nexus (Germany), OpenTextCorp (Canada), Phamax AG (Switzerland), Premier Inc (U.S), United Health Group Inc (U.S), among others.
The Global Patient Registry Software Market Has Been Segmented Into:
The Global Patient Registry Software Market – by Product Type:
Disease Registry
Health Service Registry
Product Registry
The Global Patient Registry Software Market – by Software Type:
Standalone
Integrated
Others
The Global Patient Registry Software Market – by Functionality Type:
Population Health Management
Patient Care Management
Health Information Exchange
Others
The Global Patient Registry Software Market – by Regions:
North America
Europe

The U.K.
France
Germany
Italy
Rest of Europe

Asia Pacific

India
China
Japan
Australia
Rest of Asia Pacific

LAMEA
Middle East
Latin America
Africa
Note: This table of contents is a content of a published report. As per client requirement, cross-sectional analysis across all industries or specific geography or 'country-based' analysis can be provided as a part of paid customization. Please place your queries on sales@sheeranalyticsandinsights.com or query@sheeranalyticsandinsights.com