The Global Blood Testing Market was valued at $70.3 Billion in 2020. Growing at a high CAGR of more than 7.3% between 2021 and 2031, it is estimated to reach $160.4 Billion by 2031. However, the current pandemic of COVID-19 might make a slight difference in the growth rate in the present year. The blood test is the process of collecting the blood sample and analyzing it in a laboratory. The blood is generally drawn for any testing using a needle from a vein in one of the arms. Rising demand and importance for blood testing are expected to encourage the global blood testing market's growth in the years to come. The increasing prevalence of objective diseases such as COVID-19 cardiovascular diseases and diabetes are the factor for market growth during the forecast period. Now, moving forward, the robust demand for the Global Blood Testing Market in the healthcare department is further estimated to create new necessities and augment the market of growth over the forecast period of 2021-2031.
Global Blood Testing Segment Is Estimated to Witness Remarkable Growth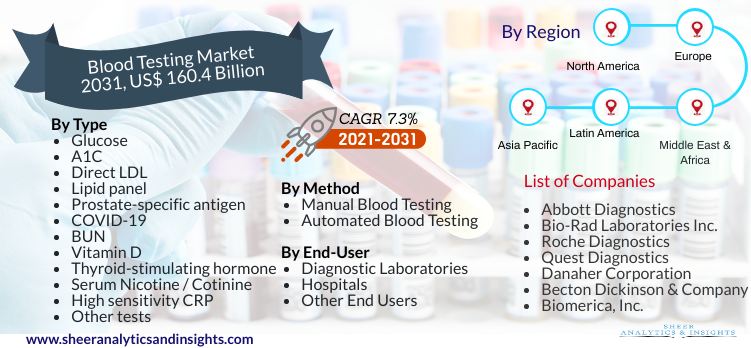 Source: SAI Research
The Blood Testing market is segmented as type, method, and end-user. Based on type the global blood testing market has been bifurcated as Glucose, A1C, Direct LDL, Lipid panel, Prostate-specific antigen, COVID-19, BUN, Vitamin D, Thyroid-stimulating hormone, Serum Nicotine / Cotinine, High sensitivity CRP, Testosterone, ALT, Cortisol, Creatinine, AST, and Other tests. based on the method the global blood testing market is divided into Manual Blood Testing and Automated Blood Testing. Based on end-users the global blood testing market has been bifurcated as Diagnostic Laboratories, Hospitals, and Other End Users.
By Region, North America is Holding the Major Market Share
The Blood Testing Market has been geographically segmented into North America, Asia Pacific, Latin America, Middle East, and Africa region. In addition to this, North America has a significant share among those regions. The regional market comprises developing nations, whose development rate is faster than most of the developing countries in the world. The availability of advanced technology, experienced and skilled employees and increasing demand for Blood Testing for different disease identification are the prime factors for the market growth over the region. Apart from that, the Asia Pacific and Europe are expected to increase the growth rate in the upcoming forecast period of 2021 to 2031.
Major Players in the Global Blood Testing Market
The report covers a detailed outlook about the company, and it includes the company or industry profiles and market share of key players operating in the global market. Key players in the report include Abbott Diagnostics, Bio-Rad Laboratories Inc., Roche Diagnostics, Quest Diagnostics, Danaher Corporation, Becton Dickinson & Company, Biomerica, Inc., bioMérieux S.A., Siemens Healthcare, Trinity Biotech PLC, Baxter International, Cepheid Corporation, Hoffmann-La Roche AG, Novartis International AG, and Thermo Fisher Scientific among others.
The Global Blood Testing Market Has Been Segmented into:
Global Blood Testing Market: By Type
Glucose
A1C
Direct LDL
Lipid panel
Prostate-specific antigen
COVID-19
BUN
Vitamin D
Thyroid-stimulating hormone
Serum Nicotine / Cotinine
High sensitivity CRP
Testosterone
ALT
Cortisol
Creatinine
AST
Other tests
Global Blood Testing Market: By Method
Manual Blood Testing
Automated Blood Testing
Global Blood Testing Market: By End-User
Diagnostic Laboratories
Hospitals
Other End Users
Global Blood Testing Market: By Region
North America

USA
Canada
Mexico
Rest of North America

Europe

UK
Germany
France
Spain
Italy
Russia
Rest of Europe

Asia Pacific

India
China
Japan
South Korea
Rest of Asia Pacific

Latin America, Middle East & Africa

Brazil
South Africa
UAE
Rest of LAMEA
Note: This table of contents is a content of a published report. As per client requirement, cross-sectional analysis across all industries or specific geography or 'country-based' analysis can be provided as a part of paid customization. Please place your queries on sales@sheeranalyticsandinsights.com or query@sheeranalyticsandinsights.com