The Global C4ISR Market was $100.6 Bn in 2019, and it is expected to reach $214 Bn by 2028. It is eventually growing at a commendable high compound of annual growth rate CAGR of 7.0% between 2020-2028. However, the current pandemic of COVID-19 might make a slight difference in the growth rate in the present year. Factors such as, competitive intelligence for the next-generation warfare, conflicts resolution, rising demand for radio-electronic warfare systems and increasing amount of data for controlling are projected to trigger the market growth over the forecast period.
Military Segment Is Estimated to Witness Remarkable Growth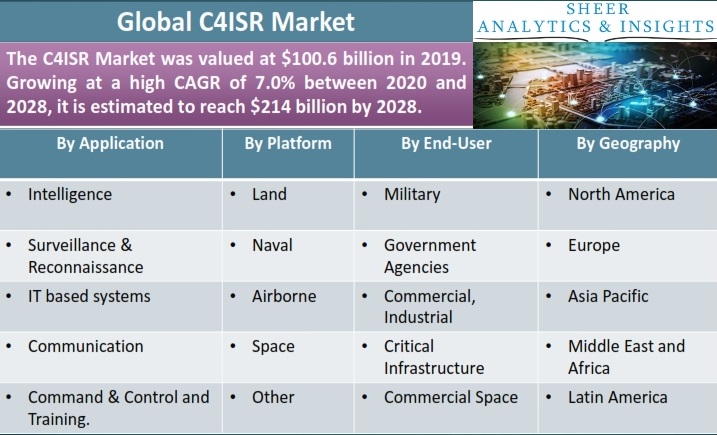 Source: SAI Research
The global C4ISR Market has been segmented into Application, Platform and End-User. By Application market is segmented into Intelligence, Surveillance & Reconnaissance, IT based systems, Communication, Command & Control and Training. In terms of Platform - Land, Naval, Airborne, Space. While end user is segmented into Military, Government Agencies, Commercial, Industrial, Critical Infrastructure, and Commercial Space. Communication is estimated to witness remarkable growth over the forecast period due to increasing technological advancements over communication field.
By Region, North America is Holding the largest Market share
The global C4ISR Market has been geographically segmented into North America, Asia Pacific, Latin America, Middle East, and Africa region. In addition to this, North America C4ISR Market is holding the largest market share currently and is estimated to show the steady compound annual growth rate in the upcoming forecast period due to the increasing tension between US and China presently. US is increasing their investment over different warfare methods, especially in communication and at the same time increasing its surveillance over China activities. The Asia Pacific market, however, is projected to be the fastest-growing market over the forecast period due to factors such as increased spending by Indian as well as Chinese government. Europe region is also anticipated to show a decent growth rate over the forecast period. The LAMEA market is expected to grow at the lowest CAGR due to sluggish activity over warfare enhancement.
Major Players in Global C4ISR Market
Some of the key players in the global C4ISR market include BAE Systems PLC., Elbit Systems Ltd, General Dynamics Corporation, L-3 Communications Holdings, Inc., Lockheed Martin Corporation, Northrop Grumman Corporation, Rockwell Collins, Inc., Thales Group, The Raytheon Company, and others.
The Global C4ISR Market Has Been Segmented into:
Global C4ISR Market: By Material
Silicone Acrylate
Fluorosilicone Acrylate
Fluorocarbon Acrylate
Global C4ISR Market: By Application
Myopia
Hyperopia
Astigmatism
Presbyopia
Global C4ISR Market: By End User
Global C4ISR Market: By Application
Intelligence
Surveillance & Reconnaissance
IT based systems
Communication
Command & Control and Training.
Global C4ISR Market: By Platform
Land
Naval
Airborne
Space
Global C4ISR Market: By End-User
Military
Government Agencies
Commercial, Industrial
Critical Infrastructure
Commercial Space
Global C4ISR Market: By Region
North America

USA
Canada
Mexico
Rest of North America

Europe

UK
Germany
France
Spain
Italy
Russia
Rest of Europe

Asia Pacific

India
China
Japan
South Korea
Rest of Asia Pacific

Latin America, Middle East & Africa

Brazil
South Africa
UAE
Rest of LAMEA
Note: This table of contents is a content of a published report. As per client requirement, cross-sectional analysis across all industries or specific geography or 'country-based' analysis can be provided as a part of paid customization. Please place your queries on sales@sheeranalyticsandinsights.com or query@sheeranalyticsandinsights.com