The Global Car Rental Market was $9.9 Bn in 2020, and it is expected to reach $19.4 Bn by 2031. It is eventually growing at a commendable high compound annual growth rate CAGR of 6.03% between 2021-2031. But due to the current COVID-19 pandemic there might be a slight difference in the growth rate in the present year. The main factor that drives the growth of this market is the increased concern and awareness to lower the emissions and this has led to the increase in the different car rental options. It is because carpooling and car rentals helps to reduce the increased number of cars on the roads. Another main reason for the growth of this market is the increased Use of the electric vehicles in some of the car rental fleets which provides options to its Users that are more environment friendly in their commuting habits. Besides this car rentals also provides options to the increased mobility without being concerned about paying the costs of the vehicles owned by its owners.
Global Car Rental Market Is Estimated To Witness Remarkable Growth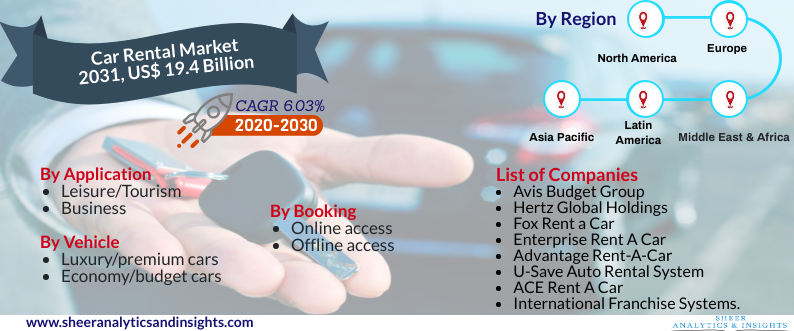 Source: SAI Research
The Global Car Rental Market has been segmented into Application, Vehicle, Booking. Online booking is the most common method to book a rental car along with offline access. Online booking is the one that dominated the other booking type of platforms. This includes booking through mobile applications and websites. Booking through sites is one of the common ways to book the cars online.
Major Players in Global Car Rental Market
Some of the major players in Car Rental Market include Avis Budget Group, Hertz Global Holdings, Fox Rent a Car, Enterprise Rent A Car, Alamo, Advantage Rent-A-Car, U-Save Auto Rental System, ACE Rent A Car, International Franchise Systems.
The Car Rental Market Has Been Segmented Into:
Global Car Rental Market, By Application
Global Car Rental Market, By Vehicle
Luxury/premium cars
Economy/budget cars
Global Car Rental Market, By Booking
Online access
Offline access
Global Car Rental Market, By Region
North America

USA
Canada
Mexico
Rest of North America

Europe

UK
Germany
France
Spain
Italy
Russia
Rest of Europe

Asia Pacific

India
China
Japan
South Korea
Rest of Asia Pacific

Latin America, Middle East & Africa

Brazil
South Africa
UAE
Rest of LAMEA
Note: This table of contents is a content of a published report. As per client requirement, cross-sectional analysis across all industries or specific geography or 'country-based' analysis can be provided as a part of paid customization. Please place your queries on sales@sheeranalyticsandinsights.com or query@sheeranalyticsandinsights.com