The global connected car devices market was valued at $11.7 billion in 2021 and it is expected to reach $95.4 billion at a CAGR of 20.0% between 2022 and 2032. For the next seven years, the global connected car devices market is anticipated to be driven by the expansion of technology and a rise in disposable income across all regions. Over the past few years, there have been major developments in telecommunications technology which is also estimated to drive the market growth.
By region, North America region holds the largest share of the global connected car device market with significant growth during the forecast period.
A Wireless Local Area Network (WLAN) is used by connected automobile technologies to connect to the internet. Your automobile would be able to share the internet with gadgets inside and outside the vehicle if it has linked vehicle technology. It offers intelligent features including remote control of car systems, internet access, and high-tech security measures. Additionally, Software programs termed as connected vehicle platforms enable manufacturers to provide improved driving experiences for connected automobiles. Through the use of technology, many "connected networks," including other on-the-road vehicles, smart phones, and even city intersections, could communicate with automobiles. These major features are expected to accelerate the market growth over the upcoming years. Furthermore, there are several benefits of connected car devices technology which is also driving the market over the past few years. For instance, with the aid of in-vehicle or additional devices that continuously exchange crucial safety and mobility information, connected vehicle technology will allow automobiles, trucks, buses, and other vehicles to "speak" to one another. Therefore, these major factors would benefit the market to gain growth opportunities across the emerging nations in the future.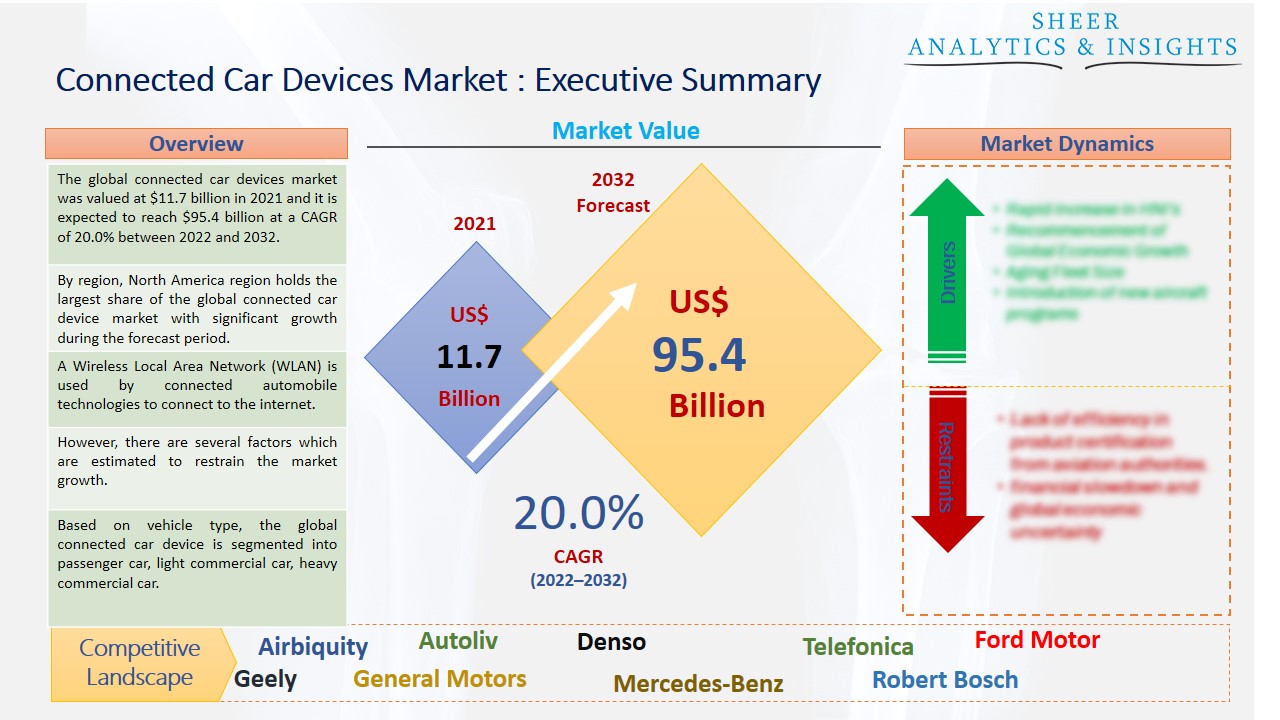 Source: SAI Research
Governments from different countries are anticipated to support the industry strongly. In the next years, auto manufacturers will be required to put vehicle-to-vehicle communication devices in every vehicle they construct, according to a regulatory proposal that the National Highway Traffic Safety Administration and the U.S. Department of Transportation have announced. Moreover, there are several other drivers which would drive the market. For instance, increasing telecommunication service penetration in the automotive industry, strong competitive among connected car manufacturers, industry compliance and government laws continuing to support connectivity and telecommunications equipment in automobiles, among other factors, are anticipated to propel market growth over the course of the forecast period. Furthermore, non-automotive players are also entering the industry, and more new key players are focusing on developing new business models with innovative automobile products. These new business strategies are expected to help market players gain more growth opportunities in the future.
However, there are several factors which are estimated to restrain the market growth. The market for connected cars may be constrained by safety and security concerns including hacking into the in-vehicle connectivity system or unauthorized access to numerous automotive applications. Furthermore, the growth of the connected car business may be hampered by the absence of flawless internet connectivity across all locations. Moreover, other things such as privacy problems related to data generated by various connected cars, and lack of connectivity-supporting infrastructure is also anticipated to hamper the market in near future. In addition, to incorporate connectivity costs into the price of automobiles, and threat to passengers' safety and security is going to be some major challenges for the market.
Technological development is supporting the market growth by supporting in producing innovative connected car devices for their wide number of customers according to their preferences. Consumers should expect connected cars to continue to improve knowing that technological advancements are the new standard in the automotive business. Internet connectivity in cars, application to car connectivity, vehicle to vehicle communication, software security, and remote parking, among others are the new developments which are projected to boost the market growth over the forecast period.
Based on vehicle type, the global connected car device is segmented into passenger car, light commercial car, heavy commercial car. The passenger car segment held the largest share of the market over the past few years. This segment is also anticipated to gain growth opportunities in the future due to its rising demand across several nations. A connected motor can also provide the driver and passengers with WiFi internet access while sending information, downloading software updates, connecting with other devices, and connecting to the Internet of Things. Telematics can also be accessed through connected technology, which has been shown to be quite advantageous for electric vehicles. Due to these benefits, this segment is projected to drive the market growth. On the other hand, light commercial vehicle segment is also expected to boost the market growth due to its rising demand in countries such as Australia, U.K, and others. A light commercial vehicle with a weight of no more than 3.5 metric tons is referred to as a "light commercial vehicle." Both Canada and Ireland have occasionally used the LCV abbreviation.
In terms of application type, the market is categorized into vehicle management, driver assistance, safety, entertainment, mobility management, and others. Driver assistance category holds the largest share and is projected to accelerate the market growth during the forecast period. A variety of cutting-edge technologies used in driver assistance aid to enhance the real functioning of the vehicle. In order to ensure driver comfort and convenience, systems like cruise control and parking assist are being deployed across all automobile categories more frequently. However, entertainment segment is also anticipated to boost the market growth due to its rising demand. Since the invention of the automobile, entertainment has been a requirement. As well as cutting-edge mobile office platforms, automakers are rapidly adding capabilities like smartphone interfaces, Wi-Fi hotspots, internet, and social media access.
Geographically, the connected car devices market is divided into North America, Europe, Asia-Pacific, Latin America and Africa. Among these, the North America region holds the largest share of the market and is anticipated to gain more growth opportunities due to the presence of most of the key players. This is a plus point for the market. North America currently controls the business thanks to the presence of significant automakers and technological companies. Automobile manufacturers need to develop creative capabilities and cultural adjustments if they want to compete with technical behemoths like Apple Inc. and Google Inc.
On the other hand, Asia-Pacific region is anticipated to become the second-largest market in the future. Many well-known manufacturing companies are located in this region. Moreover, at present days, purchasing of connected car devices is also increasing in purchase. Due to rising usage of smartphones and mobile applications, the market is also projected to have more growth opportunities during the forecast period from 2022 to 2032.
According to the study, key players such as Airbiquity (U.S), Autoliv (Sweden), AT&T (U.S), Continental AG (Germany), Denso (Japan), Ford Motor (U.S), Geely (China), General Motors (U.S), Intellias (India), Luxoft (Switzerland), Mercedes-Benz Group (Germany), Porsche SE (Germany), Robert Bosch (Germany), Samsung (South Korea), Sierra (Canada), Telefonica (Spain), Tesla Inc (U.S), Valeo (France), Qualcomm (U.S), Zubie (U.S), among others are leading the global connected car devices market.
Scope of the Report:
Report Coverage
Details
Market Size in 2021

US$ 11.7 Billion

Market Volume Projection by 2032

US$ 95.4 Billion

Forecast Period 2022 to 2032 CAGR
20.0%
Base Year:

2021

Historical Data

2019, 2020 and 2021

Forecast Period

2022 to 2032

Segments covered

By Vehicle Type: Passenger Car, Light Commercial Vehicle, Heavy Commercial Vehicle

By Application Type: Vehicle Management, Driver Assistance Safety, Entertainment, Mobility Management & Others

Geographies covered

North America, Europe, Asia-Pacific, LAMEA

Companies covered
Airbiquity (U.S), Autoliv (Sweden), AT&T (U.S), Continental AG (Germany), Denso (Japan), Ford Motor (U.S), Geely (China), General Motors (U.S), Intellias (India), Luxoft (Switzerland), Mercedes-Benz Group (Germany), Porsche SE (Germany), Robert Bosch (Germany), Samsung (South Korea), Sierra (Canada), Telefonica (Spain), Tesla Inc (U.S), Valeo (France), Qualcomm (U.S), Zubie (U.S) & Others
The Global Connected Car Devices Market Has Been Segmented Into:
The Global Connected Car Devices Market – by Vehicle Type:
Passenger Car
Light Commercial Vehicle
Heavy Commercial Vehicle
The Global Connected Car Devices Market – by Application Type:
Vehicle Management
Driver Assistance
Safety
Entertainment
Mobility Management
Others
The Global Connected Car Devices Market – by Regions:
North America
Europe

U.K.
France
Germany
Italy
Rest of Europe

Asia Pacific

India
China
Japan
Australia
Rest of Asia Pacific

LAMEA
Middle East
Latin America
Africa

South Africa
Egypt
Others
Note: This table of contents is a content of a published report. As per client requirement, cross-sectional analysis across all industries or specific geography or 'country-based' analysis can be provided as a part of paid customization. Please place your queries on sales@sheeranalyticsandinsights.com or query@sheeranalyticsandinsights.com