The Global Epoxy Composites Market was $27.3 Bn in 2020, and it is expected to reach $54.2 Bn by 2031. It is eventually growing at a commendable high compound of annual growth rate CAGR of 6.3% between 2021-2031. Epoxy composites are defined as the advanced level of composite material which can resist corrosion and lighter in weight, dent-resistant, and flexible in nature. Rapid demand for lightweight materials in the automotive and aviation industries across the globe is expected to propel market growth. The growing transportation and automotive industry on account of developing commercial as well as the domestic market, particularly in the globe, has boosted the market over the forecast period. Now, moving forward, the robust demand for the Global Epoxy Composites Market in the epoxy composites department is further estimated to create new necessities and augment the market of growth over the forecast period of 2021-2031.
Global Epoxy Composites Segment Is Estimated to Witness Remarkable Growth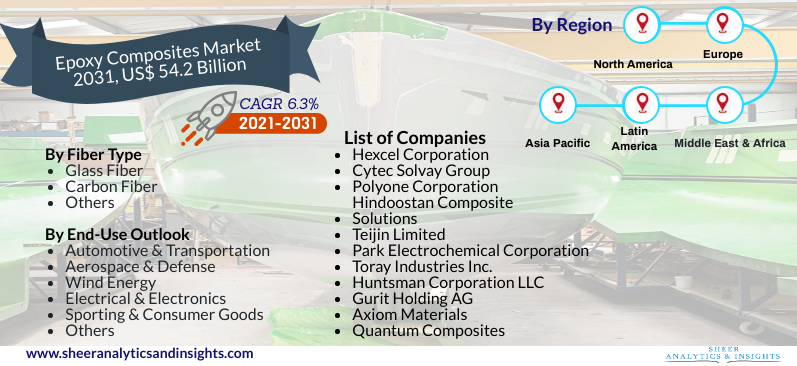 Source: SAI Research
The Epoxy Composites market is segmented as fiber type, end-use outlook. Based on Fiber Type, the global Epoxy Composites market has been bifurcated as Glass Fiber, Carbon Fiber, and Others. Based on End-Use Outlook, the global Epoxy Composites market has been divided into Automotive & Transportation, Aerospace & Defense, Wind Energy, Electrical & Electronics, Sporting & Consumer Goods, and Others.
By Region, Asia Pacific is Holding the Major Market Share
The Epoxy Composites Market has been geographically segmented into North America, Asia Pacific, Latin America, Middle East, and Africa region. In addition to this, Asia Pacific has a significant share among those regions. The rapid expansion of the wind energy sector in economies such as China and India are expected to propel the market growth. The availability of raw materials and increased availability of skilled workforce, increasing demand for the lightweight materials in the automotive sector, and a rising number of companies are the prime factors that boost market growth over the region. Apart from that, favorable rules and regulations and other factors are drive market growth. Apart from that, North America and the Rest of the regions are expected to increase the growth rate in the upcoming forecast period of 2021 to 2031.
Major Players in the Global Epoxy Composites Market
The report covers a detailed outlook about the company, and it includes the company or industry profiles and market share of key players operating in the global market. Key players in the report include Hexcel Corporation, Cytec Solvay Group, Polyone Corporation, Hindoostan Composite Solutions, Teijin Limited, Park Electrochemical Corporation, Arkema, SGL Carbon, Toray Industries, Inc., Huntsman Corporation LLC, Gurit Holding AG, Barrday, Axiom Materials, Quantum Composites, and Composites One among others.
The Global Epoxy Composites Market Has Been Segmented into:
Global Epoxy Composites Market: By Fiber Type
Glass Fiber
Carbon Fiber
Others
Global Epoxy Composites Market: By End-Use Outlook
Automotive & Transportation
Aerospace & Defense
Wind Energy
Electrical & Electronics
Sporting & Consumer Goods
Others
Global Epoxy Composites Market: By Region
North America

USA
Canada
Mexico
Rest of North America

Europe

UK
Germany
France
Spain
Italy
Russia
Rest of Europe

Asia Pacific

India
China
Japan
South Korea
Rest of Asia Pacific

Latin America, Middle East & Africa

Brazil
South Africa
UAE
Rest of LAMEA
Note: This table of contents is a content of a published report. As per client requirement, cross-sectional analysis across all industries or specific geography or 'country-based' analysis can be provided as a part of paid customization. Please place your queries on sales@sheeranalyticsandinsights.com or query@sheeranalyticsandinsights.com