Europe Mobility as a Service (MAAS) Market was $14.3 Bn in 2020, and it is expected to reach $413.2 Bn by 2031. It is expected to grow at commendable compound annual growth rate (CAGR) of 35.7% between 2021-2031. As it is a well-known fact that major tourist countries in Europe using these services were badly affected in 2020 due to COVID and it is estimated that market from mobility had gone down by 25% due to lockdown and increased cased of COVID in 2020.
Passenger Cars Segment Is Estimated to Witness Remarkable Growth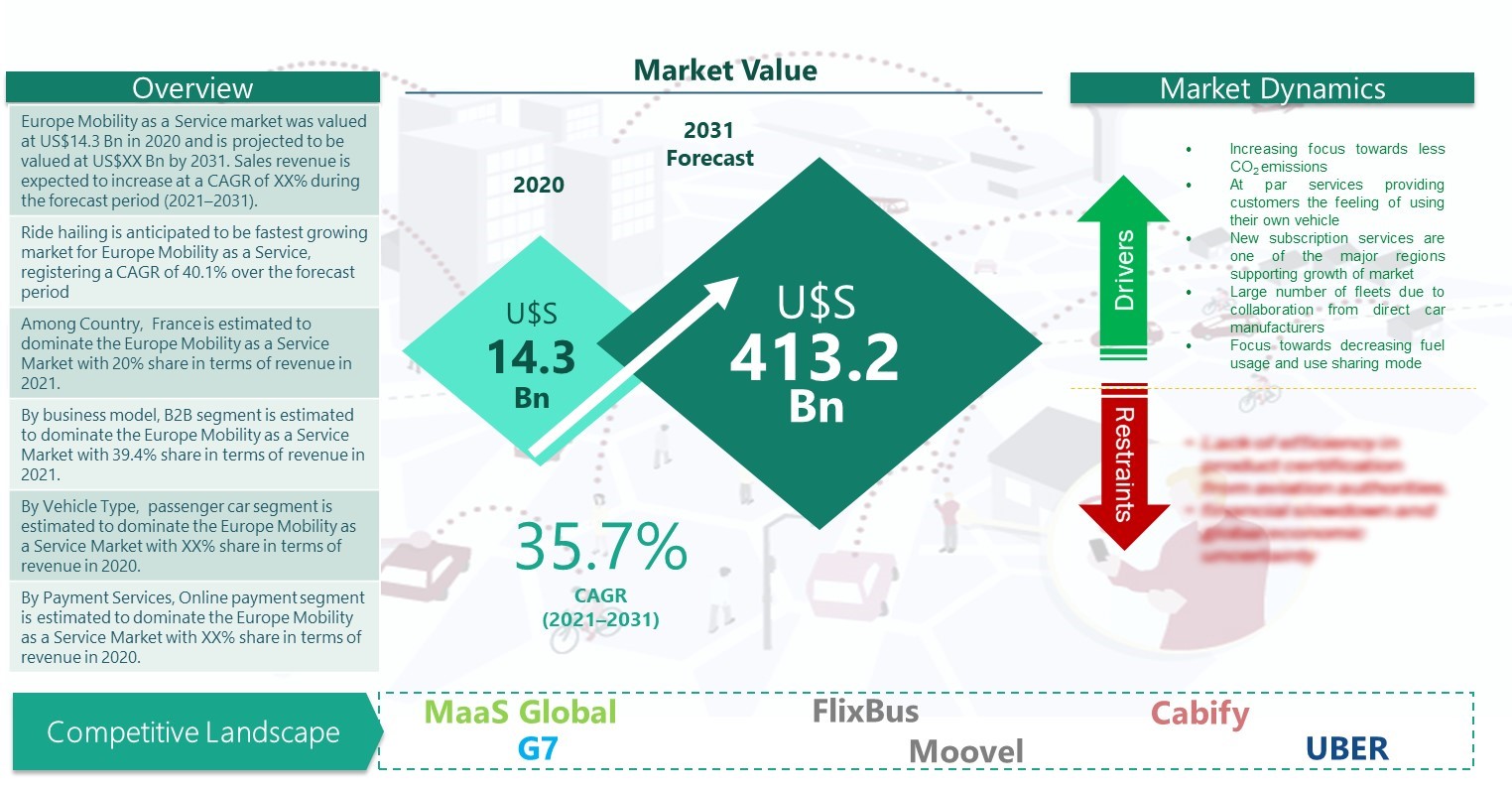 Source: SAI Research
By Country, France holds major Market Share of More Than 20% in 2021
The Europe Mobility as a Service (MAAS) has been geographically segmented into Germany, France, Italy, U.K., Spain, Russia, and RoE. France due to its tourist footfall increasing at rate of more than 8% year on year normally is expected to be the major driving factor for Mobility as a Service market. In 2020 it has decreased by 45% from footfall of 96.4 million in 2019. But this is expected to recover by end of 2022, as it is still affected. By end of 2022, experts in tourism and as well as MAAS space suggest that market will improve dramatically and there will be a huge demand by 2023. Other factors which help this market increasing awareness of mobility as a services application, fair pricing as per the regulations and wide reachability of these services.
Car Sharing is the major revenue generation point in 2021
By Service type, 'Car Sharing' holds the major market share of more than 20% in 2021. The market is highly impacted due to COVID pandemic in 2020 but it is expected to surge exponentially by the end of 2021. The reason for the growth of car sharing. Ride hailing is expected to grow at the fastest rate during the forecast period. Car sharing is common among B2B business model, while ride-hailing is common among P2P group.
Major Players in Europe Mobility as a Service (MAAS)
Some of the key players in the Europe Mobility as a Service (MAAS) include Moovel, Immense, Lilium, Faxi, Cargonexx, Cocolis, MaaS Global, Trusk, UBER, Free Now, GETT, Cabify, G7, Omio, FlixBus among others.
Historical Data: 2015-2019
Base Data – 2020
Forecast Data – 2021-2031
The Europe Mobility as a Service (MAAS) Has Been Segmented into:
Europe Mobility as a Service (MAAS): By Service Type
Self-Driving
Ride-Hailing
Car Sharing
Bi-Cycle Sharing
Bus Sharing
Others
Europe Mobility as a Service (MAAS): Application Platform Traction
Europe Mobility as a Service (MAAS): Business Model
Europe Mobility as a Service (MAAS): Vehicle Type
Passenger Cars
Bike
Bi-Cycle
Bus
Train
Others (Goods Commercial vehicles)
Europe Mobility as a Service (MAAS): By Payment Services
Subscription
Pay as you go
Online
Package
Europe Mobility as a Service (MAAS): By Country
Germany
France
Italy
U.K.
Spain
Russia
RoE
Note: This table of contents is a content of a published report. As per client requirement, cross-sectional analysis across all industries or specific geography or 'country-based' analysis can be provided as a part of paid customization. Please place your queries on sales@sheeranalyticsandinsights.com or query@sheeranalyticsandinsights.com