The Global House Call Market was valued at $1.4 Billion in 2020. Growing at a high CAGR of more than 8.1% between 2021 and 2031, it is estimated to reach $3.4 Billion by 2031. However, the current pandemic of COVID-19 might make a slight difference in the growth rate in the present year. Growing demand for accessible, cost-efficient, and convenient healthcare and wellness services is anticipated to drive the market during the forecast period. In addition to this, house call practices in the house call market are expected to decrease the hospital expenditure for Medicare beneficiaries in chronic conditions. However, Healthcare organizations focus more on preventive care and improving wellness rather than crisis and emergency care. Advanced medical devices and healthcare technology have enabled house call practices to provide constant, coordinated care to patients in a nearby location at affordable prices. Now, moving forward, the huge demand for the house call market in the house call department is further estimated to create new necessities for the market of growth over the forecast period of 2021-2031.
The House Call Segment Is Estimated to Witness Remarkable Growth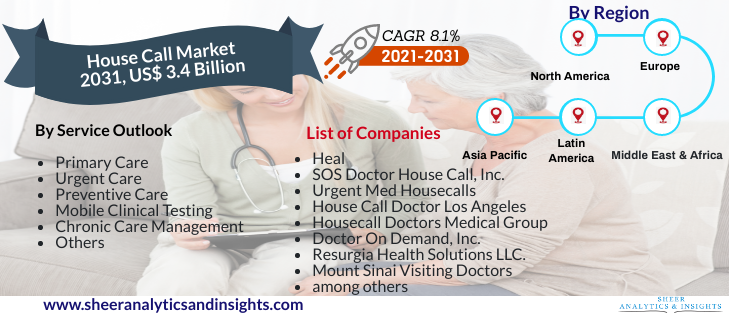 Source: SAI Research
The Global House Call Market is segmented as service outlook. Based on Service Outlook, the House Call market has been bifurcated as Primary Care, Urgent Care, Preventive Care, Mobile Clinical Testing, Chronic Care Management, and Others. Healthcare organizations in the focus on improving access to primary care to improve patient outcomes and reduce overall medical expenditure.
The Global holds the largest market share by Region
The North America House Call market has been moreover segmented by country wise, including the global. The increasing demand for House Call for the future prospect is driving the House Call market growth. Increasing R&D in biotechnology due to rising funding by the government, which anticipated the market growth over the region. Apart from that, the rising demand for physician house calls and technology-based healthcare start-ups is the primary factor for market growth over the forecast period of 2021-2031.
Major Players in the House Call Market
The report covers a detailed outlook about the company, and it includes the company or industry profiles and market share of key players operating in the global market. Key players in the report include Heal, SOS Doctor House Call, Inc., Urgent Med Housecalls, House Call Doctor Los Angeles, Housecall Doctors Medical Group, Doctor On Demand, Inc., Resurgia Health Solutions LLC., MDLIVE Inc., Mount Sinai Visiting Doctors, and Visiting Physicians Association among others.
The Global House Call Market Has Been Segmented into:
Global House Call Market: By Service Outlook
Primary Care
Urgent Care
Preventive Care
Mobile Clinical Testing
Chronic Care Management
Others
Global House Call Market: By Region
North America

USA
Canada
Mexico
Rest of North America

Europe

UK
Germany
France
Spain
Italy
Russia
Rest of Europe

Asia Pacific

India
China
Japan
South Korea
Rest of Asia Pacific

Latin America, Middle East & Africa

Brazil
South Africa
UAE
Rest of LAMEA
Note: This table of contents is a content of a published report. As per client requirement, cross-sectional analysis across all industries or specific geography or 'country-based' analysis can be provided as a part of paid customization. Please place your queries on sales@sheeranalyticsandinsights.com or query@sheeranalyticsandinsights.com