The Global Injectable Benzodiazepine Market was valued at $7.1 Billion in 2020. Growing at a high CAGR of more than 7.9% between 2020 and 2030, it is estimated to reach $15.2 Billion by 2030. However this current COVID-19 pandemic may have made a slight difference in the growth rate in the present year. The primary reason for the growth of this market is the generic injectable Benzodiazepine drugs because these are most cost-effective. Those suffering from insomnia, seizures, anxiety are prescribed generic midazolam, lorazepam, diazepam drugs as these have been increased currently.
Global Injectable Benzodiazepine Market Is Estimated to Witness Remarkable Growth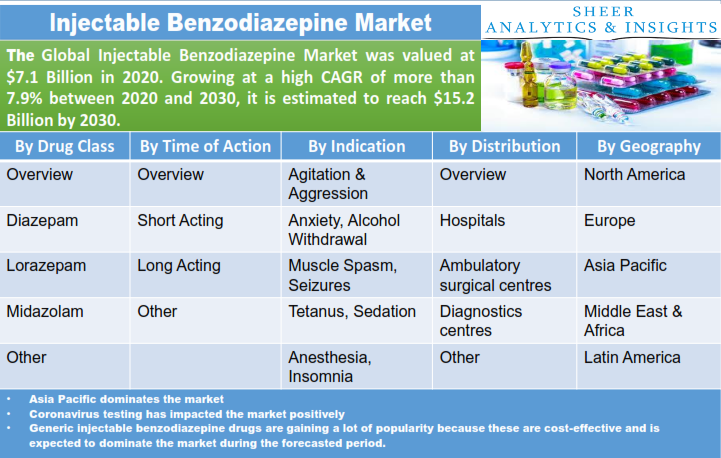 Source: SAI Research
The Global Injectable Benzodiazepine Market has been segmented into drug class, indication, distribution channel, regions (By Drug Class- Diazepam, Lorazepam, Midazolam. By Time of Action – Short Acting, Long Acting. By Indication – Agitation & Aggression, Anxiety, Alcohol Withdrawal, Muscle Spasm, Seizures, Tetanus, Sedation, Anesthesia, Insomnia, Status Epilepticus. By Distribution Channel – Hospitals, Ambulatory Surgical Centers, Diagnostics Centers. By Region – North America, Latin America, Middle East and Africa, Europe.)
By Region, Asia Pacific Is Holding The Major Market Share
The Global Injectable Benzodiazepine Market has been geographically segmented into North America, Latin America, Europe, Spain, Middle East and Africa. In addition to this, Asia Pacific Global Injectable Benzodiazepine Market is holding the largest market share currently and is estimated to show highest compound annual growth rate in the upcoming forecasted period. Latin America is also becoming an important market due to the high rate of alcohol withdrawal for those suffering from anxiety disorders among the population.
Major Players in the Global Injectable Benzodiazepine Market
Some of the major players in the Global Injectable Benzodiazepine Market include include F Hoffmann-La Roche Ltd, Akorn Inc, Taj Pharmaceuticals Ltd., Pfizer Inc., AdvaCare Pharma, Teva Pharmaceutical Industries Ltd., Accord Healthcare Ltd, Hameln Pharma Ltd., Hikma Pharmaceuticals, Intas Pharmaceuticals Limited, Sun Pharmaceuticals Ltd, Martin Dow,Troy Laboratories Pty Ltd., Dash Pharmaceuticals LLC
The Global Injectable Benzodiazepine Market Has Been Segmented Into:
GLOBAL INJECTABLE BENZODIAZEPINE MARKET, DRUG CLASS
Diazepam
Lorazepam
Midazolam
GLOBAL INJECTABLE BENZODIAZEPINE MARKET, BY TIME OF ACTION
GLOBAL INJECTABLE BENZODIAZEPINE MARKET, BY INDICATION
Agitation & Aggression
Anxiety
Alcohol Withdrawal
Muscle Spasm
Seizures
Tetanus
Sedation
Anesthesia
Insomnia
Status Epilepticus
GLOBAL INJECTABLE BENZODIAZEPINE MARKET, BY DISTRIBUTION CHANNEL
Hospitals
Ambulatory surgical centres
Diagnostics centres
GLOBAL INJECTABLE BENZODIAZEPINE MARKET, BY REGION
North America

USA
Canada
Mexico
Rest of North America

Europe

UK
Germany
France
Spain
Italy
Russia
Rest of Europe

Asia Pacific

India
China
Japan
South Korea
Rest of Asia Pacific

Latin America, Middle East & Africa

Brazil
South Africa
UAE
Rest of LAMEA
Note: This table of contents is a content of a published report. As per client requirement, cross-sectional analysis across all industries or specific geography or 'country-based' analysis can be provided as a part of paid customization. Please place your queries on sales@sheeranalyticsandinsights.com or query@sheeranalyticsandinsights.com