The Global Life Science Analytics Market was valued at $14.3 Billion in 2020. The market is growing at a high CAGR of more than 19.6% between 2021 and 2031, and it is estimated to reach $104.3 Billion by 2031. Today, there are many life science data generated via different sources, and it is in different forms, whether structured or unstructured. Today, this data is generated daily from hospitals, pharma companies, research divisions, and many more. It can be both qualitative and quantitative. Companies are using these data to either estimated their future sales, crowd fall in hospitals, demand for different medicines as per needs, and many other aspects. Some of the genuine factors which increased demand for analytics for such data are forecasting pharma trends, estimate the usage of machines per year, estimates crowd falls for treatments and knowledge of research-based expenditures per year. Now, moving forward, the robust demand for the global Life Science Analytics market in the sales and marketing field is further estimated to create new necessities and augment the market of growth over the forecast period of 2021-2031.
Global Life Science Analytics Segment Is Estimated to Witness Remarkable Growth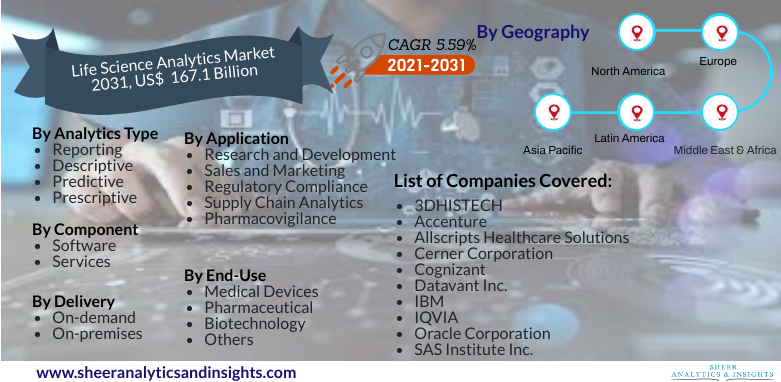 Source: SAI Research
Covid impact on Life Science Analytics
COVID stands for coronavirus disease. This disease had a significant impact in 2020, and there is a lot of new research, and treatment-related data has generated due to this disease. This heap of research has helped many life science analytics companies analyze the data and find such medicine combinations that can be used to treat such patients. Apart from doctors' researchers around the world have seen a significant impact and usefulness of the data generated during this disease. Where everyday people are interested in tracking covid cases, specialized segments like government, research institutes search for appropriate solutions. Through Corona, most of the nation's governments have realized the potential of such analytics. From this, it can be interpreted that where most of the markets are hit by COVID, the Life Science Analytics market has shown great potential in the future.
By Region, North America is Holding the Major Market Share
Life Science Analytics is one the most futuristic field for any nation. North America, where technology is an essential part of their people's daily life, creates a massive potential of tracking such analytics for anyone. As per the survey done by the American Community Survey (ACS) and Current Population Survey Annual Social and Economic Supplement (CPS ASEC), the percentage of people covered under health insurance is ninety-two (92%) in 2019. Around 68% of people in the US are covered under private health insurance, while the rest are covered in government health insurance schemes. Due to such a large number of coverages, a lot of data is generated in reported form. This overall reported data creates a huge chunk of data which helps the government analyze the trend via such analytics. Many big analytics companies such as Accenture, IBM, CTS are handling such data analytics and help respective organizations as per their needs. In addition to this, data generated from sales of medicines and costs incurred on different components also help companies and healthcare organizations check on the trend. They plan their strategy accordingly for the future. Europe is following North America with a market share of around 27% in life science data analytics. The Asia Pacific is expected to show the highest growth rate in pharma-related data analytics during the forecast period.
Present Key Development in Life Science Analytics Industry
Life Science Analytics data is becoming the lifeline of future economic growth. This surge is due to huge investments by the government over the research which can help people to lead a healthy life and can get the best treatment wherever possible. Hospitals and research centers in conjunction with data analytics companies, use report analytics-based data to identify the best treatment methods and procedures done in treating any disease. These analytics plays a vital role at present and had helped vaccine creation companies to analyze and create vaccinations from the huge chunk of data based on the reports and tests of covid impacted patients. Companies had also increased the production of medications as per the people affected and the rate of infection intensity. Presently most life science analytics companies are working in conjunction with Artificial intelligence and are integrating themselves with various research organizations related to the life science field. Due to this many new companies are also entering into this field due to easy entry and as no such strict norms pertaining to report data handling.
As per the present information, Datavant, a company backed by ventured companies and founded in 2017, is going to have a deal with Ciox Health, a clinical data network company worth $7 billion, the deal is expected to be closed in the third quarter of 2021. This will create one of the largest healthcare ecosystems in the US and can integrate providers, patients, payers, patient-facing applications, health data analytics companies, life science companies, and government agencies to exchange patient-level data in a secure manner. Other deals and mergers of the last three years are covered in our reports in a concise and meaningful manner.
Major Players in the Global Life Science Analytics Market
The report covers a detailed outlook about the company, and it includes the company or industry profiles and market share of key players operating in the global market. Key players in the report include 3DHISTECH, Accenture, Allscripts Healthcare Solutions, Cerner Corporation, Cerner Corporation, Cognizant, Datavant Inc., IBM, IQVIA, Oracle Corporation, SAS Institute Inc., Scio Health Analytics, Sema4, Microsoft, Take Solutions, TCS, and Wipro Ltd.
Scope of the Report:
Report Coverage

Details

Base Year:

2020

Market Size in 2020:

US$ 14.3 Billion

Historical Data for:

2018 to 2020

Forecast Period:

2021 to 2031

Forecast Period 2021 to 2031 CAGR:

19.6%

2031 Value Projection:

US$ 104.3 Billion

Segments covered:

By Analytics Type: Reporting, Descriptive, Predictive, and Prescriptive. By Component- Software, and Services.

By Application: Research and Development, Sales and Marketing, Regulatory Compliance, Supply Chain Analytics, and Pharmacovigilance.

By Delivery: On-demand, and On-premises.

By End-Use: Medical Devices, Pharmaceutical, Biotechnology, and Others.

Geographies covered:

North America: U.S., Canada, Mexico

Europe: Germany, U.K., Spain, France, Italy, Russia, Rest of Europe

Asia Pacific: China, India, Japan, Australia, South Korea, ASEAN, and Rest of Asia Pacific

Africa: South Africa, North Africa, and Africa

Middle East: GCC, Israel, and Rest of Middle East

Latin America: Brazil, Argentina, Rest of Latin America

Companies covered:

3DHISTECH, Accenture, Allscripts Healthcare Solutions, Cerner Corporation, Cerner Corporation, Cognizant, Datavant Inc., IBM, IQVIA, Oracle Corporation, SAS Institute Inc., Scio Health Analytics, Sema4, Microsoft, Take Solutions, TCS, and Wipro Ltd.
The Global Life Science Analytics Market Has Been Segmented into:
Global Life Science Analytics Market: By Analytics Type
Reporting
Descriptive
Predictive
Prescriptive
Global Life Science Analytics Market: By Component
Global Life Science Analytics Market: By Application
Research and Development
Sales and Marketing
Regulatory Compliance
Supply Chain Analytics
Pharmacovigilance
Global Life Science Analytics Market: By Delivery
Global Life Science Analytics Market: By End-Use
Medical Devices
Pharmaceutical
Biotechnology
Others
Global Life Science Analytics Market: By Region
North America

USA
Canada
Mexico
Rest of North America

Europe

UK
Germany
France
Spain
Italy
Russia
Rest of Europe

Asia Pacific

India
China
Japan
South Korea
Rest of Asia Pacific

Latin America, Middle East & Africa

Brazil
South Africa
UAE
Rest of LAMEA
Note: This table of contents is a content of a published report. As per client requirement, cross-sectional analysis across all industries or specific geography or 'country-based' analysis can be provided as a part of paid customization. Please place your queries on sales@sheeranalyticsandinsights.com or query@sheeranalyticsandinsights.com