The Mechanical Ventilators Market was valued at $6.89 billion in 2020. Growing at a high CAGR of more than 6.1% between 2021 and 2031, it is estimated to reach $13.4 billion by 2031. But due to the current COVID-19 pandemic, there might be a slight difference in the growth rate in the present year. The high incidences of COVID-19 cases have led to a huge gap between supply and demand of the mechanical ventilators to such an extent that the automotive and the other industrial equipment manufacturers have to step in so that the supply of these life-saving devices can be increased.
Mechanical Ventilators Market Is Estimated To Witness Remarkable Growth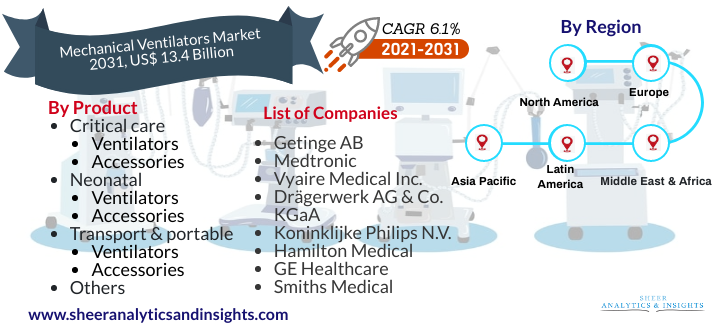 Source: SAI Research
The Mechanical Ventilators Market has been segmented into products. On the basis of product Mechanical Ventilators Market has been segmented into By Product – Ventilators (Critical Care Ventilators, Neonatal, Transport & Portable Ventilators, Others), Accessories (Breathing Circuit Sets, Flow Sensors, Endotracheal Tubes, Masks, Others. By Geography – North America, Latin America, Europe, Asia Pacific, Middle East, and Africa.) - Industry analysis, size, share, growth, trends and forecast, 2021 – 2031
The Major Players in Mechanical Ventilators Market
Some of the key players in the Mechanical Ventilators Market include Getinge AB, Vyaire Medical Inc., Medtronic, Drägerwerk AG & Co. KGaA, GE Healthcare, Koninklijke Philips N.V., Smiths Group plc, Hamilton Medical, ResMed Inc., Ventec Life Systems.
The Global Mechanical Ventilators Market Has Been Segmented Into:
Global Mechanical Ventilators Market, By Product
Critical care
Neonatal
Transport & portable
Others
Global Mechanical Ventilators Market, By Region
North America

USA
Canada
Mexico
Rest of North America

Europe

UK
Germany
France
Spain
Italy
Russia
Rest of Europe

Asia Pacific

India
China
Japan
South Korea
Rest of Asia Pacific

Latin America, Middle East & Africa

Brazil
South Africa
UAE
Rest of LAMEA
Note: This table of contents is a content of a published report. As per client requirement, cross-sectional analysis across all industries or specific geography or 'country-based' analysis can be provided as a part of paid customization. Please place your queries on sales@sheeranalyticsandinsights.com or query@sheeranalyticsandinsights.com