The global medical tourism market was valued at $65.5 billion in 2021 and it is expected to reach $250.2 billion at a CAGR of 12.9% between 2022 and 2032. Medical tourism is defined as a kind of traveling process through which a particular traveler travel across countries to get proper medical treatment, which might not be easily available in the travelers' country or nation.
North America held the largest market share in 2020 and the region is expected to witness a highest growth during the forecast period.
Several treatments are listed in the medical tourism process across the globe. These treatments are cancer treatment, fertility treatment, neurosurgeries treatment, orthopedic surgeries, dental treatment, and others. Among these, the most popular and profitable medical services are elective surgery, cancer treatment, dental treatment, cosmetic surgery, and fertility treatment. Countries such as India, China, Japan, Singapore, Canada, the U.S, Germany, and other developed countries as well are providing such facilities to the customers. Hence, people travel to these countries when they need proper medical care or treatments while it is not available in their local atmosphere. Although medical treatment is proven inexpensive and the cost of tourism is not so reliable; therefore, it becomes expensive for a person.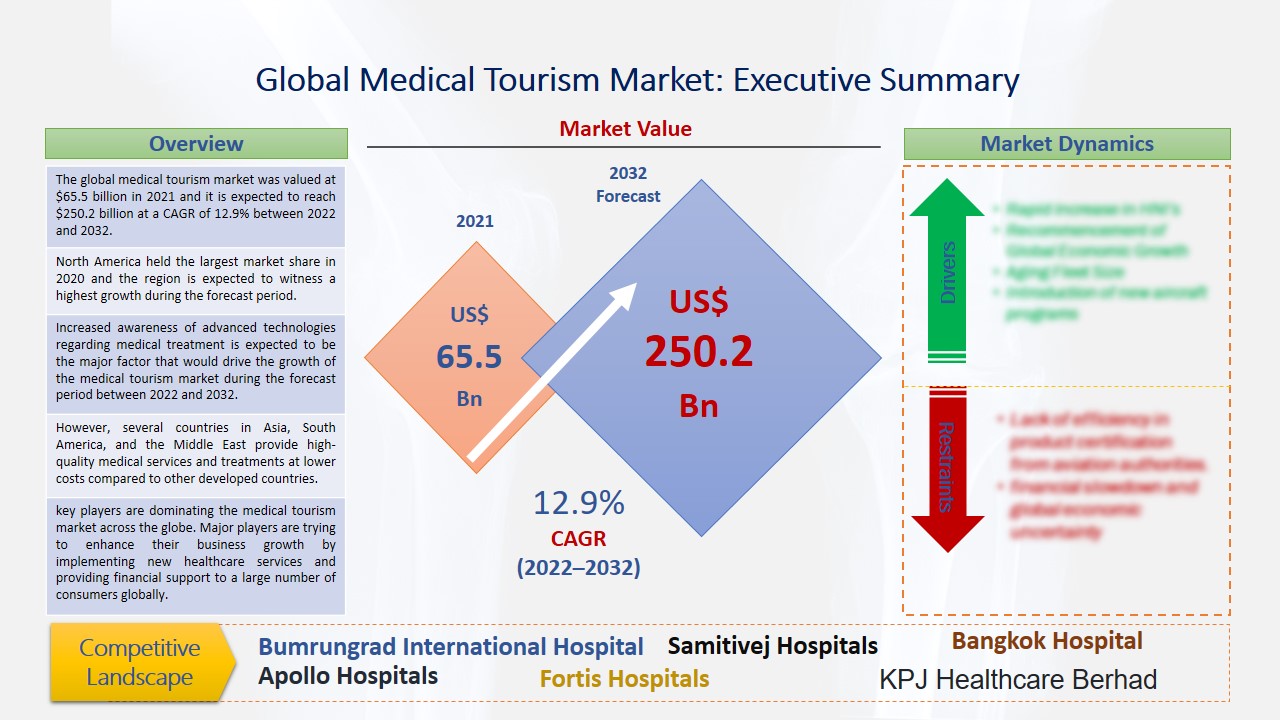 Source: SAI Research
During this war between Ukraine and Russia, the costs of crude oil are rising, which is further driving the travel costs and as well as medical costs across all the regions. Therefore, prices of significant health products are also becoming costly among foreigners. Developing countries cannot provide vast healthcare spending, and even all the medical expenses are not covered by insurance companies, which take the responsibilities of an individual patient for medical tourism. However, several countries in Asia, South America, and the Middle East provide high-quality medical services and treatments at lower costs compared to other developed countries.
Increased awareness of advanced technologies regarding medical treatment is expected to be the major factor that would drive the growth of the medical tourism market during the forecast period between 2022 and 2032. According to a report, published by World Health Organization, the overall treatment fare for heart bypass surgery is USD 113,000 in the U.S, USD 10,000 in India, $9000 in Malaysia, and the total costs of angioplasty are USD 11,000 in India, USD 13,000 in Singapore, and $47,000 in U.S country. In addition, many hospitals from several countries have a lot of networks to engage with pay recompense systems through medical insurance and other payment facilities. Therefore, these are the major advantages for the medical tourism market. Additionally, there are other main factors that are responsible for the growth of the market.
Bumrungrad International Hospital (Thailand), Samitivej Hospitals (Bangkok), Bangkok Hospital Group (Bangkok), Apollo Hospitals Enterprise Limited (Chennai, India), Fortis Hospitals (Gurugram, India), Aditya Birla Memorial Hospital (Maharashtra, India), Asian Heart Institute (Mumbai, India), Barbados Fertility Center (Caribbean), KPJ Healthcare Berhad (Malaysia), NTT Medical Center Tokyo (Japan), Prince Court Medical Center (Malaysia), Seoul National University Hospital (South Korea), Wooridul Spine Hospital (South Korea) and other key players are dominating the medical tourism market across the globe. Major players are trying to enhance their business growth by implementing new healthcare services and providing financial support to a large number of consumers globally.
Scope of the Report:
Report Coverage

Details

Base Year:

2021

Market Size in 2021:

USD 65.5 Billion

Historical Data for:

2019, 2020 and 2021

Forecast Period:

2022 to 2032

Forecast Period 2022 to 2032 CAGR:

12.9%

2032 Value Projection:

USD 250.2 Billion

Segments covered:

By Treatment Services - Cosmetic Treatment, Dental Treatment, Orthopedic Treatment, Neurological Treatment, Cardiovascular Treatment, Cancer Treatment, Fertility Treatment & Other.

By End-User Services - Personal, Private.

Geographies covered:

North America - U.S, Canada, Mexico

Europe - Germany, France, Italy, U.K, Russia, Rest of Europe Countries

Asia-Pacific -India, China, Japan, South Korea, North Korea, Rest of Asian Countries

LAMEA - Brazil, Saudi Arabia, Rest of LAMEA

Companies covered:

Bumrungrad International Hospital (Thailand), Samitivej Hospitals (Bangkok), Bangkok Hospital Group (Bangkok), Apollo Hospitals Enterprise Limited (Chennai, India), Fortis Hospitals (Gurugram, India), Aditya Birla Memorial Hospital (Maharashtra, India), Asian Heart Institute (Mumbai, India), Barbados Fertility Center (Caribbean), KPJ Healthcare Berhad (Malaysia), NTT Medical Center Tokyo (Japan), Prince Court Medical Center (Malaysia), Seoul National University Hospital (South Korea), Wooridul Spine Hospital (South Korea) and other
The Global Medical Tourism Market Has Been Segmented Into:
The Global Medical Tourism Market – By Treatment Services:
Cosmetic Treatment
Dental Treatment
Orthopedic Treatment
Neurological Treatment
Cardiovascular Treatment
Cancer Treatment
Fertility Treatment
And Other Treatments
The Global Medical Tourism Market – By End-User Services:
The Global Medical Tourism Markett – By Region Type:
North America
Europe
Germany
France
Italy
U.K.
Russia
Rest of Europe Countries
Asia-Pacific
India
China
Japan
South Korea
North Korea
Rest of Asian Countries
LAMEA
Brazil
Saudi Arabia
Rest of LAMEA
Note: This table of contents is a content of a published report. As per client requirement, cross-sectional analysis across all industries or specific geography or 'country-based' analysis can be provided as a part of paid customization. Please place your queries on sales@sheeranalyticsandinsights.com or query@sheeranalyticsandinsights.com