The Global Mortuary Bags Market was $2.3 Bn in 2020, and it is expected to reach $3.1 Bn by 2031. It is eventually growing at a commendable high compound of annual growth rate CAGR of 5.0% between 2021-2031. However, the current pandemic of COVID-19 might make a slight difference in the growth rate in the present year. The global healthcare packaging market has a major transformation in the past few years. Mortuary bags are the bags which is generally used in the hospital, and mortuary, etc. these bags are also known as HRP or human remains pouch. So many medical device industries use these bags, which increases the application of mortuary bags. Funeral supply companies primarily purchase these bags, which are expected to drive market growth during the forecast period. The rising prevalence of epidemics and pandemics and The increasing number of road accidents are some of the key factors responsible for market growth during the forecast period. Now, moving forward, the robust demand for the global Mortuary Bags market in the healthcare packaging department is further estimated to create new necessities and augment the market of growth over the forecast period of 2021-2031.
Global Mortuary Bags Segment Is Estimated to Witness Remarkable Growth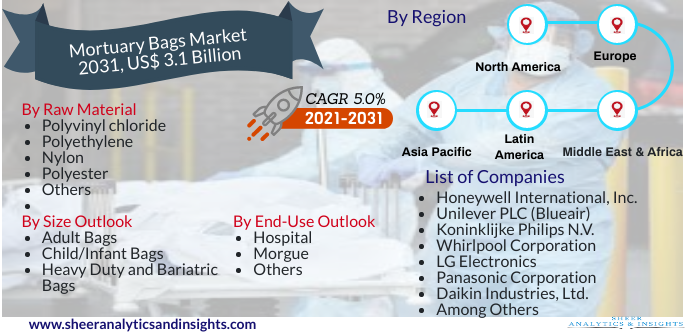 Source: SAI Research
The Mortuary Bags market is segmented as raw material, size outlook, and end-use outlook. Based on Raw Material, the global Mortuary Bags market has been bifurcated as Polyvinyl chloride, Polyethylene, Nylon, Polyester, and Others. Based on Size Outlook, the global Mortuary Bags market has been divided into Adult Bags, Child/Infant Bags, Heavy Duty, and Bariatric Bags. Based on End-Use Outlook, the global Mortuary Bags market is segmented as Hospital, Morgue, and Others.
By Region, North America is Holding the Major Market Share
The Mortuary Bags Market has been geographically segmented into North America, Asia Pacific, Latin America, Middle East, and Africa region. In addition to this, North America has a significant share among those regions. The increasing prevalence of the COVID-19 pandemic and increasing obese population is the major factor for the growth of the market over the region. Increasing disposal deaths and laboratory tests, and other potential factors drive the market over the forecast period. Apart from that, the Asia Pacific and the Rest of the regions are expected to increase the growth rate in the upcoming forecast period of 2021 to 2031.
Major Players in the Global Mortuary Bags Market
The report covers a detailed outlook about the company, and it includes the company or industry profiles and market share of key players operating in the global market. Key players in the report include IQAir, Honeywell International, Inc., Unilever PLC (Blueair), Koninklijke Philips N.V., Whirlpool Corporation, LG Electronics, Panasonic Corporation, Daikin Industries, Ltd., Aerus LLC, Hamilton Beach Brands, Inc., Camfil, Carrier, Trotec GmbH, EcoQuest, and LIFA air among others.
The Global Mortuary Bags Market Has Been Segmented into:
Global Mortuary Bags Market: By Raw Material
Polyvinyl chloride
Polyethylene
Nylon
Polyester
Others
Global Mortuary Bags Market: By Size Outlook
Adult Bags
Child/Infant Bags
Heavy Duty and Bariatric Bags
Global Mortuary Bags Market: By End-Use Outlook
Global Mortuary Bags Market: By Region
North America

USA
Canada
Mexico
Rest of North America

Europe

UK
Germany
France
Spain
Italy
Russia
Rest of Europe

Asia Pacific

India
China
Japan
South Korea
Rest of Asia Pacific

Latin America, Middle East & Africa

Brazil
South Africa
UAE
Rest of LAMEA
Note: This table of contents is a content of a published report. As per client requirement, cross-sectional analysis across all industries or specific geography or 'country-based' analysis can be provided as a part of paid customization. Please place your queries on sales@sheeranalyticsandinsights.com or query@sheeranalyticsandinsights.com