The Oncology Next Generation Sequencing (NGS) Market was valued at $320.2 Million in 2020. Growing at a high CAGR of more than 12.5% between 2021 and 2031, it is estimated to reach $1200.5 Million by 2031. However, the current pandemic of COVID-19 might make a slight difference in the growth rate in the present year. The efforts taken to develop the genomic database for the population of India is expected to drive the market growth during the forecast period. The effort has been undertaken specially for the Indian population. However, in this regard, the CSIR or the Council of Scientific and Industrial Research launched IndiGen Genome Project to sequence the whole genomes of 1,008 Indians in April 2019. Now, moving forward, the robust demand for the Oncology NGS Market in the Oncology NGS department is further estimated to create new necessities and augment the market of growth over the forecast period of 2021-2031.
Global Oncology NGS Market Segment Is Estimated to Witness Remarkable Growth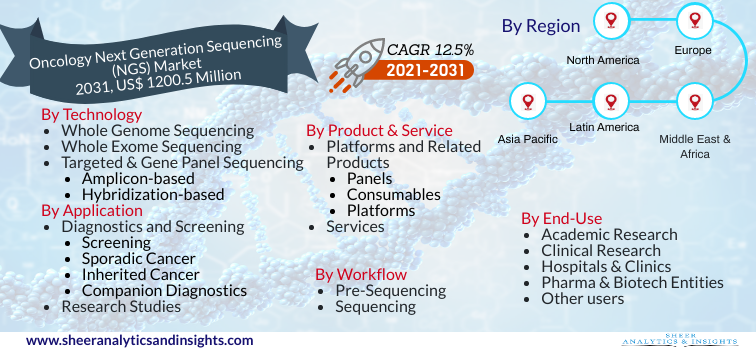 Source: SAI Research
The Oncology NGS Market is segmented as technology, application, product & service, workflow, and end-use. Based on Technology, the Oncology NGS Market is divided into Whole Genome Sequencing, Whole Exome Sequencing, Targeted & Gene Panel Sequencing, Amplicon-based, and Hybridization-based. Based on Application, the Oncology NGS Market has been bifurcated as Diagnostics and Screening, Screening, Sporadic Cancer, Inherited Cancer, Companion Diagnostics, and Research Studies. Based on Product & Service, the Oncology NGS Market has been segmented as Platforms and Related Products, Panels, Consumables, Platforms, and Services. Based on Workflow, the Oncology NGS Market has been bifurcated as Pre-Sequencing, NGS Library Preparation Kits, Semi-automated Library Preparation, Automated Library Preparation, Clonal Amplification, Sequencing, NGS Data Analysis, NGS Primary Data Analysis, NGS Secondary Data Analysis, and NGS Tertiary Data Analysis. Based on End-Use, the Oncology NGS Market has been divided into Academic Research, Clinical Research, Hospitals & Clinics, Pharma & Biotech Entities, and Other users.
The Asia Pacific holds the largest market share by region
The Oncology NGS Market has been moreover segmented by country wise, which includes India. The increasing demand for Oncology NGS Market for the automation and control system is driving the Oncology NGS Market growth. Apart from this, the latest technology, advanced instrument, huge investment, favorable government rules, and regulations are driving the Oncology NGS Market growth in the forecast period of 2021-2031.
Major Players in the Oncology NGS Market
The report covers a detailed outlook about the company, and it includes the company or industry profiles and market share of key players operating in the global market. Key players in the report include Illumina, Inc., Genotypic Technology Pvt. Ltd., Tecan Trading AG, SciGenom Labs Pvt. Ltd., Xcelris Labs Ltd., Eurofins Scientific, 4baseCare, MedGenome, Sayre Therapeutics, Redcliffe Lifesciences, Partek Incorporated, Bio-Rad Laboratories, Myriad Genetics, Hologic, Inc. (Gen-Probe Incorporated), and Horizon Discovery Group plc among others.
The Global Oncology Next Generation Sequencing (NGS) Market Has Been Segmented into:
Global Oncology Next Generation Sequencing (NGS) Market: By Technology
Whole Genome Sequencing
Whole Exome Sequencing
Targeted & Gene Panel Sequencing

Amplicon-based
Hybridization-based
Global Oncology Next Generation Sequencing (NGS) Market: By Application
Diagnostics and Screening

Screening
Sporadic Cancer
Inherited Cancer
Companion Diagnostics

Research Studies
Global Oncology Next Generation Sequencing (NGS) Market: By Product & Service
Platforms and Related Products

Panels
Consumables
Platforms

Services
Global Oncology Next Generation Sequencing (NGS) Market: By Workflow
Pre-Sequencing

NGS Library Preparation Kits
Semi-automated Library Preparation
Automated Library Preparation
Clonal Amplification

Sequencing

NGS Data Analysis
NGS Primary Data Analysis
NGS Secondary Data Analysis
NGS Tertiary Data Analysis
Global Oncology Next Generation Sequencing (NGS) Market: By End-Use
Academic Research
Clinical Research
Hospitals & Clinics
Pharma & Biotech Entities
Other users
Global Oncology Next Generation Sequencing (NGS) Market: By Region
North America

USA
Canada
Mexico
Rest of North America

Europe

UK
Germany
France
Spain
Italy
Russia
Rest of Europe

Asia Pacific

India
China
Japan
South Korea
Rest of Asia Pacific

Latin America, Middle East & Africa

Brazil
South Africa
UAE
Rest of LAMEA
Note: This table of contents is a content of a published report. As per client requirement, cross-sectional analysis across all industries or specific geography or 'country-based' analysis can be provided as a part of paid customization. Please place your queries on sales@sheeranalyticsandinsights.com or query@sheeranalyticsandinsights.com