The global plant-based food market was valued at $60.21 billion in 2021 and it is expected to reach $134.3 billion at a CAGR of 7.3% between 2022 and 2032. The main driver of the growth is increasing public awareness of the advantages of adopting a vegan diet. People are being urged to switch to plant-based diets due to growing concerns about animal welfare and cruelty. Thus, there is a rise in the consumption of vegan cuisine as a result of customers' shifting preferences.
By region, North American is estimated to dominate the plant-based food market across the globe.
A wide range of food products manufactured from organic plant-based ingredients is referred to as plant-based food. These products, which don't contain any animal products or those derived from animals, such as milk, meat, or eggs, typically contain vegetables, fruits, nuts, whole grains, and legumes. Some of the most well-liked plant-based foods are tofu, coconut, almond milk, tempeh, and seitan. Due to the high cost of plant-based ingredients used in production, vegan food is more expensive to produce than food based on animals. This aspect is anticipated to limit the uptake of edible vegan products in low- and middle-income nations. However, several important firms are implementing cutting-edge technology to significantly improve the flavors and textures of plant-based meals, which are anticipated to offer major growth prospects.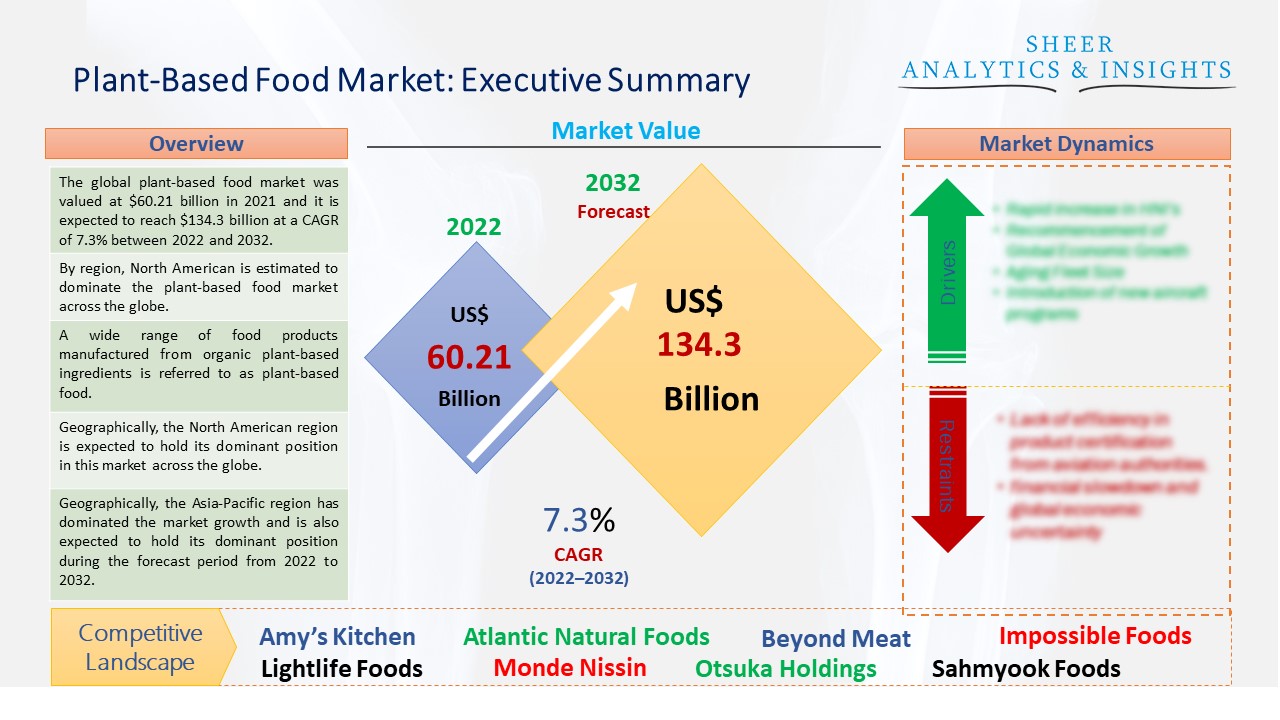 Source: SAI Research
Download Free PDF Sample Request
Global consumer preferences for plant-based food items are changing as a result of growing public knowledge of animal health issues and the need to stop animal abuse in the food industry. The market's outlook has improved as a result. The rising acceptance of plant-based foods worldwide also contributes to the market's expansion. This suggests that veganism is gaining popularity on a global scale.
Plant-based cuisine Growth describes a range of culinary items created using only organic plant-based materials. Dairy alternatives, egg alternatives, meat alternatives, nutrition, beverages, baby food, basics, and other sorts of plant-based food are among them. These food items are typically created utilizing fruits, vegetables, nuts, oils, whole grains, and legumes and don't include any foods that come from animals, such as meat, milk, or eggs. Foods made from plants typically include supplies of fiber, good fats, protein, vitamins, and minerals. B1, C, and E vitamins, magnesium, folic acid, iron, and other nutrients are abundant in balanced meals that include these goods.
Based on the food type, the dairy substitute segment accounted for the largest share of this market. The significant market share of this category is primarily explained by the rising prevalence of hypercholesterolemia, animal milk allergies, and consumer worries about calorie intake to prevent obesity. Due to lactose intolerance and public concern over animal cruelty in traditional dairy production operations, a lot of a large number of consumers prioritize the dairy alternative. The new Dairy & Plants Blend Baby Formula was introduced by Danone on July 5th, 2022 to satisfy parents' demand for the best dietary options for a vegetarian, flexible, and plant-based diet while also meeting their baby's unique nutritional needs. On the other side, the meat substitute segment is also anticipated to drive market growth over the forecast period due to its growing demand in several emerging countries. However, over the projected period, the category for hot dogs and sausages is anticipated to increase at the fastest CAGR. This market's quick expansion is related to the segment's rising popularity, the introduction of novel plant-based sausage products, and the expansion of its availability in restaurants.
In terms of source type, due to its extensive applications in a variety of food and beverage industries, such as dairy alternatives, meat substitutes, and bakeries, the soy segment is anticipated to expand significantly throughout the projected period. Additionally, the high market share of this segment can be attributed to several factors, including the simple and widespread availability of raw materials, the lower cost when compared to other sources, the high demand from producers of meat alternatives, the higher consumer acceptance level, and the wide range of food & beverage sectors it can be used in, including the bakery, dairy alternatives, and meat.
Geographically, the North American region is expected to hold its dominant position in this market across the globe. The market is primarily driven by growing environmental and animal welfare issues related to the food sector. Due to factors like high consumer awareness of the value of diets high in protein, rising consumer health consciousness, a firmly established food sector, higher adoption of technological advancements in the food & beverage industry, and significant investments in the plant-based sector, North America currently holds the top spot in the global market for plant-based foods. On the other hand, the Asia-Pacific region is also expected to become the second-largest market during the forecast period due to rising demand for various kinds of plant-based foods among a large number of consumers. Furthermore, the increasing urbanization rate, the expanding middle-class population and income level, and the growing knowledge of the advantages of diets high in protein all contribute to the Asia-Pacific region's high market growth.
According to the study, key players such as Amy's Kitchen (U.S), Atlantic Natural Foods (U.S), Beyond Meat (U.S), Danone (France), Gardein (Canada), Impossible Foods (U.S), Lightlife Foods (U.S), Monde Nissin (Philippines), Nestle (Switzerland), Otsuka Holdings (Japan), Plamil Foods (U.K), Sahmyook Foods (South Korea), Tyson Foods (U.S), Unilever Plc (U.K), among others are leading the global plant-based food market.
Scope of the Report:
Report Coverage
Details
Market Size in 2021

US$ 60.21 Billion

Market Volume Projection by 2032

US$ 134.3 Billion

Forecast Period 2022 to 2032 CAGR
7.3%
Base Year:

2022

Historical Data

2019 and 2022

Forecast Period

2023 to 2032

Segments covered

By Food Type: Dairy Substitute, Meat Substitute, Egg Substitute, Seafood Substitute & Others

By Source Type: Soybean, Nuts, Wheat, Pea & Others

Geographies covered

North America, Europe, Asia-Pacific, LAMEA

Companies covered
Amy's Kitchen (U.S), Atlantic Natural Foods (U.S), Beyond Meat (U.S), Danone (France), Gardein (Canada), Impossible Foods (U.S), Lightlife Foods (U.S), Monde Nissin (Philippines), Nestle (Switzerland), Otsuka Holdings (Japan), Plamil Foods (U.K), Sahmyook Foods (South Korea), Tyson Foods (U.S), Unilever Plc (U.K), among others
The Global Plant-Based Food Market Has Been Segmented Into:
The Global Plant-Based Food Market – by Food Type:
Dairy Substitute
Meat Substitute
Egg Substitute
Seafood Substitute
Others
The Global Plant-Based Food Market – by Source Type:
Soybean
Nuts
Wheat
Pea
Others
The Global Plant-Based Food Market – by Regions:
North America
Europe

The U.K.
France
Germany
Italy
Rest of Europe

Asia Pacific

India
China
Japan
Australia
Rest of Asia Pacific

LAMEA
Middle East
Latin America
Africa
Note: This table of contents is a content of a published report. As per client requirement, cross-sectional analysis across all industries or specific geography or 'country-based' analysis can be provided as a part of paid customization. Please place your queries on sales@sheeranalyticsandinsights.com or query@sheeranalyticsandinsights.com