The global robotic process automation market was valued at $2.3 billion in 2021 and it is expected to reach $24.3 billion at a CAGR of 24.1% between 2022 and 2032. COVID-19 had positively impacted the manufacturing industries of RPA at the stage of the pandemic situation. However, the rising demand for automation solutions across the healthcare sectors has been grown and this demand is expected to make a profitable growth during the forecast period from 2022 to 2032.
North America is expected to have major market share owing to the growing adoption of automation and process.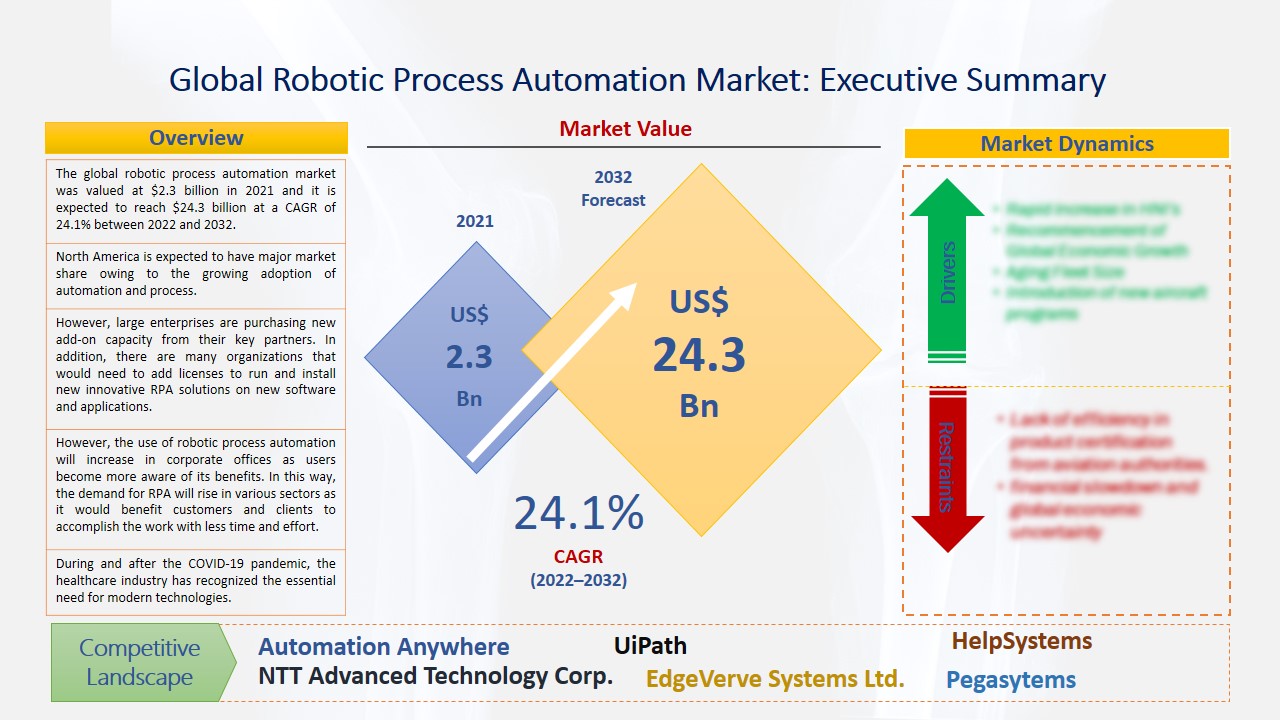 Source: SAI Research
The significant role of RPA technology is developing at a faster pace. This technology is providing solutions to overcome complex business challenges to meet the maximum consumer requirements. RPA is also enhancing its technology across the industry's geography with the efficiencies and capabilities of performing huge amounts of desktop operations and cloud-based environments. RPA is enabling advanced artificial intelligence and machine learning to witness a wave in its upcoming growth. The widespread lockdown of COVID-19 has negatively impacted the physical business stores which were shutting down. Hence, so many companies are now hugely relying on the digital system or such medium to provide automatic work at front-desk and back-end processes.
North America is the most dominant and leading market across the globe, while Asia-Pacific is in the second position in providing RPA facilities. At present days, Asia-Pacific is expanding its RPA industries by implementing new marketing strategies to stay ahead in the global market. The on-premises division is the major contributor to the robotics process automation market across these regions. However, large enterprises are purchasing new add-on capacity from their key partners. In addition, there are many organizations that would need to add licenses to run and install new innovative RPA solutions on new software and applications. However, the use of robotic process automation will increase in corporate offices as users become more aware of its benefits. In this way, the demand for RPA will rise in various sectors as it would benefit customers and clients to accomplish the work with less time and effort.
During and after the COVID-19 pandemic, the healthcare industry has recognized the essential need for modern technologies. Therefore, industries are planning to install RPA solutions into their existing technologies for further use. RPA market in the healthcare system is helping in developing technological devices to track and record digital transformations. Thereby, this procedure is driving the growth of the RPA market across the global healthcare sectors. At present days, competition has grown across the global market. Therefore, it has become important to increase work agility and efficiency to stay ahead in the competitive market. Industries such as BFSI, Healthcare, IT, and Telecom, are adopting robotic process automation to increase productivity while decreasing overall labor costs and human efforts.
Key players such as Automation Anywhere (U.S), Blue Prism (U.K), Celaton Limited (U.K), IPSoft (U.S), Nice Systems Limited (Israel), Redwood Software (U.S), UiPath (Romania), Xerox Corporation (U.S) FPT Software and others are leading the robotic process automation market across the globe. These key players are implementing new business strategies by providing technological solutions to various sectors. The overall market growth of robotic process automation is projected to have profitable growth through the forecast period.
Scope of the Report:
Report Coverage

Details

Base Year:

2021

Market Size in 2021:

USD 2.3 Billion

Historical Data for:

2019, 2020 and 2021

Forecast Period:

2022 to 2032

Forecast Period 2022 to 2032 CAGR:

24.1%

2032 Value Projection:

USD 24.3 Billion

Segments covered:

By Type - Software, Services.

By Deployment Mode - Cloud, On-Premises.

By Organization Size - Small Enterprises, Large Enterprises, Medium Enterprises.

By Application - BFSI, Pharma and Healthcare, Retail and Consumer Services, IT and Telecom, Media and Entertainment, Educations, Manufacturing, Others

Geographies covered:

North America - U.S, Canada, Mexico

Europe - Germany, France, Italy, U.K, Russia, Rest of Europe Countries

Asia-Pacific -India, China, Japan, South Korea, North Korea, Rest of Asian Countries

LAMEA - Brazil, Saudi Arabia, Rest of LAMEA

Companies covered:

Automation Anywhere (U.S), Blue Prism (U.K), Celaton Limited (U.K), IPSoft (U.S), Nice Systems Limited (Israel), Redwood Software (U.S), UiPath (Romania), Xerox Corporation (U.S) FPT Software and others
The Global Robotic Process Automation Market Has Been Segmented Into:
The Robotic Process Automation Market – by Type
The Robotic Process Automation Market – by Deployment Mode
The Robotic Process Automation Market – by Organization Size
Small Enterprises
Large Enterprises
Medium Enterprises
The Robotic Process Automation Market – by Application
BFSI
Pharma and Healthcare
Retail and Consumer Services
IT and Telecom
Media and Entertainment
Educations
Manufacturing
Others
The Robotic Process Automation Market – by Region
North America
Europe
Germany
France
Italy
U.K.
Russia
Rest of Europe Countries
Asia-Pacific
India
China
Japan
South Korea
North Korea
Rest of Asian Countries
LAMEA
Brazil
Saudi Arabia
Rest of LAMEA
Note: This table of contents is a content of a published report. As per client requirement, cross-sectional analysis across all industries or specific geography or 'country-based' analysis can be provided as a part of paid customization. Please place your queries on sales@sheeranalyticsandinsights.com or query@sheeranalyticsandinsights.com