The Global Silicone Market was $13.2 Bn in 2020, and it is expected to reach $32.6 Bn by 2031. It is eventually growing at a commendable high compound annual growth rate CAGR of 8.5% between 2021-2031. But due to the current COVID-19 pandemic, there might be a slight difference in the growth rate in the present year. Increased demand from the end-use segments like consumer goods, construction, industrial processes, and personal care will help to accelerate the growth of this market during the forecasted period.
Global Silicone Market Is Estimated To Witness Remarkable Growth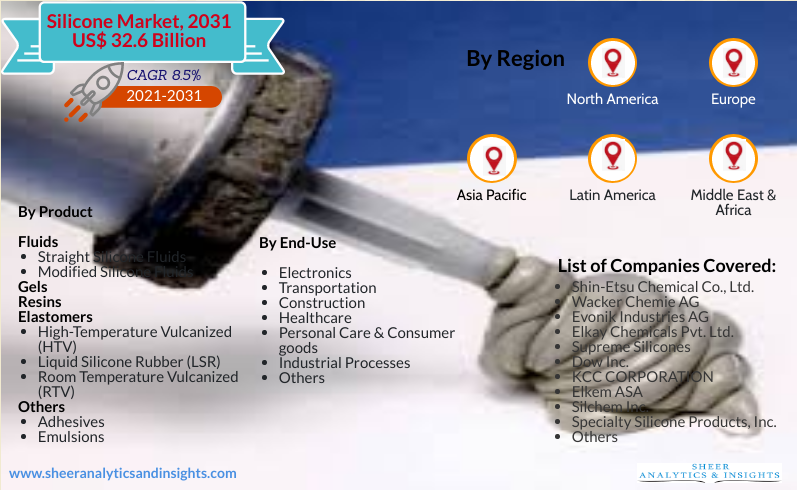 Source: SAI Research
The Global Silicone Market has been segmented into product and end-use. On the basis of product Global Silicone Market has been segmented into Fluids (Straight Silicone Fluids, Modified Silicone Fluids), Gels, Resins, Elastomers (High-Temperature Vulcanized (HTV), Liquid Silicone Rubber (LSR), Room Temperature Vulcanized (RTV)), Others (Adhesives, Emulsions). On the basis of end-use it has been segmented into Electronics, Transportation, Construction, Healthcare, Personal Care & Consumer goods, Energy, Industrial Processes, Others).
By Region, Asia Pacific Is Holding the Major Market Share
The Global Silicone Market has been geographically segmented into North America, South America, Europe, Asia Pacific, Middle East, and Africa. In addition to this, the Asia Pacific Global Silicone Market is holding the largest market share at present and is estimated to witness a high compound annual growth rate during the forecasted period. improving the automotive sector in China and India because of low manufacturing cost along with the favorable regulations that is aimed to promote the investments in the electric vehicles and renewable energy are the main factors that have led this region to dominate the market. Besides this Europe is also going to witness remarkable growth during the forecasted period.
Major Players in Global Silicone Market
Some of the major players in the Global Silicone Market include Shin-Etsu Chemical Co., Ltd., Wacker Chemie AG, Evonik Industries AG, Elkay Chemicals Pvt. Ltd., Supreme Silicones, Dow Inc., KCC CORPORATION, Elkem ASA, Silchem Inc., Specialty Silicone Products, Inc., CHT Group, Emerald Performance Materials, GELEST, INC., Jiangsu Mingzhu Silicone Rubber Material Co., Ltd., Momentive.
The Global Silicone Market Has Been Segmented Into:
Global Silicone Market, By Product
Fluids

Straight Silicone Fluids
Modified Silicone Fluids

Gels
Resins
Elastomers

High-Temperature Vulcanized (HTV)
Liquid Silicone Rubber (LSR)
Room Temperature Vulcanized (RTV)

Others
Global Silicone Market, By End-Use
Electronics
Transportation
Construction
Healthcare
Personal Care & Consumer goods
Industrial Processes
Others
Global Silicone Market, By Region
North America

USA
Canada
Mexico
Rest of North America

Europe

UK
Germany
France
Spain
Italy
Russia
Rest of Europe

Asia Pacific

India
China
Japan
South Korea
Rest of Asia Pacific

Latin America, Middle East & Africa

Brazil
South Africa
UAE
Rest of LAMEA
Note: This table of contents is a content of a published report. As per client requirement, cross-sectional analysis across all industries or specific geography or 'country-based' analysis can be provided as a part of paid customization. Please place your queries on sales@sheeranalyticsandinsights.com or query@sheeranalyticsandinsights.com