The Global Spirometer Market was valued at $0.81 Billion in 2020. Growing at a high CAGR of more than 6.7% between 2021 and 2031, it is estimated to reach $1.67 Billion by 2031. However, the current pandemic of COVID-19 might make a slight difference in the growth rate in the present year. The spirometer is a medical device that uses to measure the lungs' air capacity by measuring the quantity of air exhaled and inhaled by the organs. Spirometers create a pneuma- tachograph that measures lung performance in diagnosing and monitoring patients' respiratory disorders. Rising prevalence of chronic disease with the growing population, technical advancement drives the market growth. The spirometer market is likely to witness rapid growth over the forecast period due to the ease of use in both general and homecare practice by smokers and asthma patients. Now, moving forward, the robust demand for the global Spirometer market in the healthcare department is further estimated to create new necessities and augment the market of growth over the forecast period of 2021-2031.
Global Spirometer Segment Is Estimated to Witness Remarkable Growth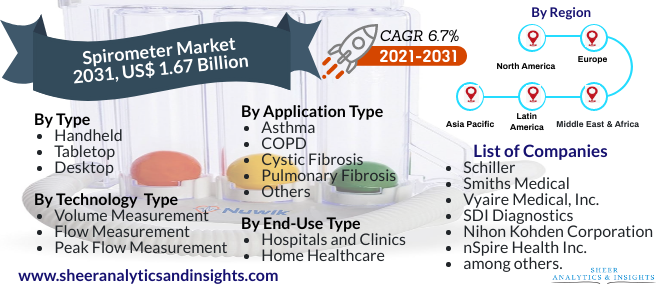 Source: SAI Research
The Spirometer market is segmented as type, technology, application, and end-use. Based on Type, the global Spirometer market is divided into Handheld, Tabletop, and Desktop. Based on Technology, the global Spirometer market has been bifurcated as Volume Measurement, Flow Measurement, and Peak Flow Measurement. Based on Application, the global Spirometer market has been classified as Asthma, COPD, Cystic Fibrosis, Pulmonary Fibrosis, and Others. Based on End-Use, the global Spirometer market has been bifurcated as Hospitals and Clinics and Home Healthcare.
By Region, North America is Holding the Major Market Share
The Spirometer Market has been geographically segmented into North America, Asia Pacific, Latin America, Middle East, Europe, and Africa region. In addition to this, North America has a significant share among those regions. The growing prevalence of COPD or Chronic Obstructive Pulmonary Disease in the region, which expected to drive market growth. Increasing disposal incomes, availability of advanced technology, and other potential factors drive the market over the forecast period. Apart from that, the Asia Pacific and the Rest of the regions are expected to increase the growth rate in the upcoming forecast period of 2021 to 2031.
Major Players in the Global Spirometer Market
The report covers a detailed outlook about the company, and it includes the company or industry profiles and market share of key players operating in the global market. Key players in the report include Schiller, Smiths Medical, Vyaire Medical, Inc., SDI Diagnostics, Nihon Kohden Corporation, nSpire Health Inc., Fukuda Sangyo Co. Ltd., Sibelmed, Labtech Ltd., Vitalograph, Geratherm Respiratory AG, Koninklijke Philips N.V., Welch Allyn, Hill-Rom, Inc., and Midmark Corp. among others.
The Global Spirometer Market Has Been Segmented into:
Global Spirometer Market: By Type
Handheld
Tabletop
Desktop
Global Spirometer Market: By Technology
Volume Measurement
Flow Measurement
Peak Flow Measurement
Global Spirometer Market: By Application
Asthma
COPD
Cystic Fibrosis
Pulmonary Fibrosis
Others
Global Spirometer Market: By End-Use
Hospitals and Clinics
Home Healthcare
Global Spirometer Market: By Region
North America

USA
Canada
Mexico
Rest of North America

Europe

UK
Germany
France
Spain
Italy
Russia
Rest of Europe

Asia Pacific

India
China
Japan
South Korea
Rest of Asia Pacific

Latin America, Middle East & Africa

Brazil
South Africa
UAE
Rest of LAMEA
Note: This table of contents is a content of a published report. As per client requirement, cross-sectional analysis across all industries or specific geography or 'country-based' analysis can be provided as a part of paid customization. Please place your queries on sales@sheeranalyticsandinsights.com or query@sheeranalyticsandinsights.com