The 'U.S. Mass Timber Market' was valued at $26.2 million in 2020 and is expected to reach $356 million at the CAGR of 36.8% between 2021 and 2031. In terms of volume, market is covered in terms of 1000 board feet (MBF). By 2021 end, it is estimated that the demand of mass timber is more than 33000 MBF and it is expected to reach more than 200,000 MBF by 2031.
The Covid-19 pandemic expanded across the world resulting in shocks across nearly all industries due to the restrictions, curfews, stay-home and work-from-home policies, and quarantines. The world continues to suffer sizable losses and setbacks due to the outbreak of this pandemic. The select industries most closely related to the mass timber offerings to feel the devastating impacts of the pandemic are construction, and industrial sector. But with the arrival of vaccination and other precautionary measures companies are working with at least half of its strength for finishing the project. Due to this it is going to be resolved and its impact will be dim down during forecast period.
By Region, West Coast holds a significant market share of more than 55.5% in 2021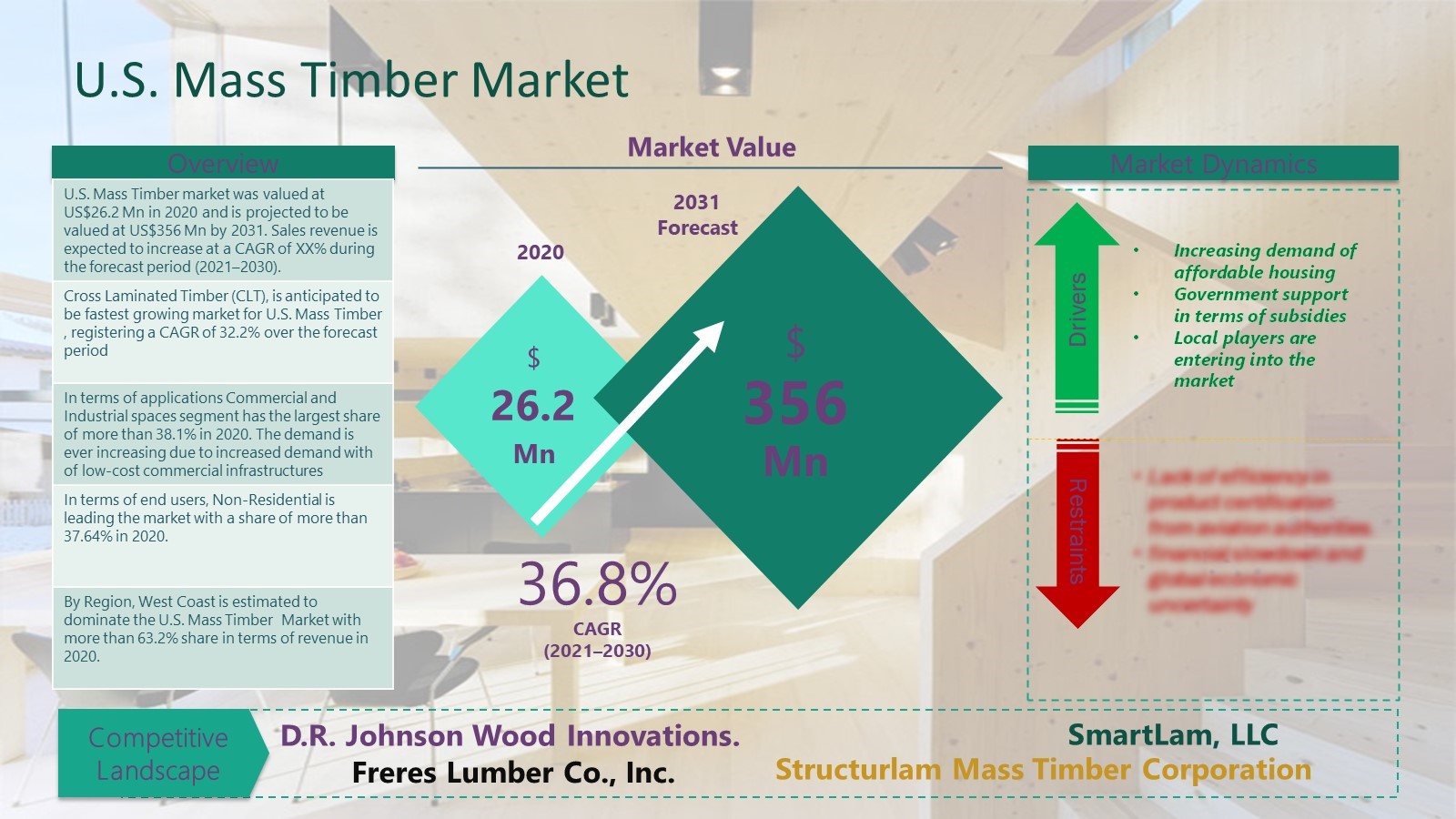 Source: SAI Research
The U.S. Mass Timber market has been geographically segmented into West Coast, Mid-West, East Coast and Southwest. The West Coast Mass Timber market was $12.2 million in 2020 and is expected to reach above $189.3 million by 2031, growing a CAGR of 38.2% during the forecast period. As per some of our key opinion leaders, West Coast is expected to gain the highest incremental rate during the forecast period. The main reason attributed to the growth of West Coast region is increased migration in this region due to increasing job opportunities demands affordable and quick housing, and its near to the Canadian borders. Canada is the largest stakeholder in North America at present and CLT and other mass timber products were used from past 30 years to be precise.
In terms of type, Cross Laminated Timber (CLT) holds the largest market share of 67.87% in 2021 and is expected to grow at the highest CAGR of 32.4% through the forecast period. Cross Laminated Timber due to its high durability, superior strength and lower pricing is expected to penetrate the market at faster rate in U.S. While other types of mass timbers are also in demand due to its import from past many years.
In 2020, by end user, the Non-Residential sector had the highest market share of 38%, followed by the residential sector. This growth is due to increasing awareness, mainly among the corporate. It is also attributed to increasing focus towards green technology and more carbon emission curbing initiatives through the entire construction industry. Among all of them, repair and modelling are expected to have the highest CAGR of 30% through the forecast period. This segment is growing due to less cost, less maintenance and hassle-free installation when compared to repairing through concrete structures.
Research Methodology:
Sheer Analytics as an organization has developed a model know as square point approach. This approach has four methods of gathering information.
Secondary Research:
Demand and Supply approach: Interviews from business experts: Paid interviews were conducted with doctors, administrators of medical facilities, medical officers belonging to reputed hospitals, and the companies who manufacture the medicines or plates for Mass Timber treatments and surgeries.
Survey Approach: This approach was done to cater customers and their view over Mass Timber requirements
Integration and Validation: All approaches are integrated, and a concise modeling was done to estimate final numbers accordingly
Major Players in U.S. Mass Timber
According to the study, key players operating in U.S. Mass Timber market are D.R. Johnson Wood Innovations, Freres Lumber Co., Inc., Katerra, Inc., SmartLam, LLC, Texas CLT, Structurlam Mass Timber Corporation, Sterling Solutions and Vageen Timbers.
Scope of the Report:
Report Coverage

Details

Base Year:

2020

Market Size in 2020:

US$ 26.2 Million

Historical Data for:

2018 to 2020

Forecast Period:

2021 to 2031

Forecast Period 2021 to 2031 CAGR:

36.8%

2031 Value Projection:

US$ 356 Million

Segments covered:

By Type - Cross Laminated Timber (CLT), Glue Laminated Timber (GLT) and Others.

By Application - Government/ Public Buildings, Commercial and Industrial Spaces, Educational institutes, Residential buildings and others.

By End Users – Residential, Non-Residential, Repair and Remodeling and Others.

Geographies covered:

U.S. Mass Timber Market: by Region

West Coast
Mid-West
East Coast
Southwest

Companies covered:

D.R. Johnson Wood Innovations, Freres Lumber Co., Inc., Katerra, Inc., SmartLam, LLC, Texas CLT, Structurlam Mass Timber Corporation, Sterling Solutions and Vageen Timbers.
Major reasons of buying this report:
Covered analysis from business as well as customer end
All data are UpToDate
Predictive analytics tools are used for estimating data
More than 50 interviews were conducted from business end
The U.S. Mass Timber Market Has Been Segmented into:
U.S. Mass Timber Market: By Type
Cross Laminated Timber (CLT),
Glue Laminated Timber (GLT),
others covering (NLT, DLT and heavy timber decking)
U.S. Mass Timber Market: by Applications
Government/ Public Buildings
Commercial and Industrial Spaces
Educational institutes
Residential buildings
Others (Furnitures, Restrooms, Hospitals, Camps, Resorts, and others)
U.S. Mass Timber Market: by End Users
Residential
Non-Residential
Repair and Remodeling
Others (Flooring, Decking)
U.S. Mass Timber Market: by Region
West Coast
Mid-West
East Coast
Southwest
Note: This table of contents is a content of a published report. As per client requirement, cross-sectional analysis across all industries or specific geography or 'country-based' analysis can be provided as a part of paid customization. Please place your queries on sales@sheeranalyticsandinsights.com or query@sheeranalyticsandinsights.com