The Global Vaginitis Treatment Drugs Market was $5.1 Bn in 2020, and it is highly expected to reach $9.8 Bn by 2030. It is eventually growing at a commendable high compound annual growth rate CAGR of 6.7% between 2020 – 2030. But due to the current pandemic there might be a slight changes in the growth rate in the present year. The online pharmacies is held responsible for the maximum transaction of the vaginitis treatment drugs. However the current COVID-19 pandemic has resulted in the high usage of the online retail outlets to minimize the risk of exposure to the virus. since at least half of the women have bacterial vaginosis are asymptomatic and due to this the treatment is getting delayed and the complications are getting added. So this has spurred the market players to speed up their innovations to detect the asymptomatic cases.
Global Vaginitis Treatment Drugs Market is Estimated To Witness Remarkable Growth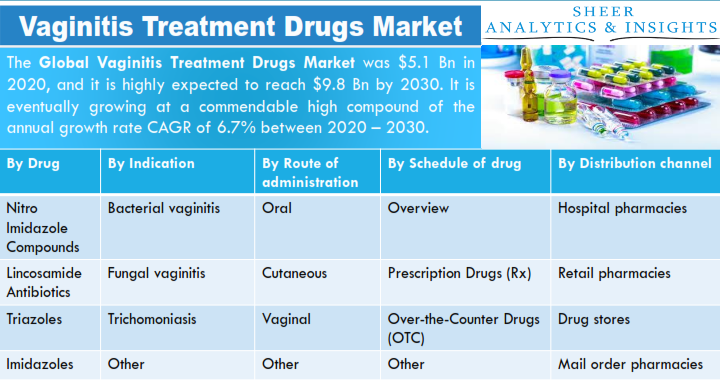 Source: SAI Research
The Global Vaginitis Treatment Drugs Market has been segmented into By Drug Type- Nitro Imidazole Compounds, Lincosamide Antibiotics, Triazoles, Imidazoles. By Indication – Bacterial Vaginitis, Fungal Vaginitis (Yeast Infection), Trichomoniasis. Route of Administration – Oral, Cutaneous, Vaginal. By Schedule of Drug – Prescription Drugs (Rx), Over-the-Counter Drugs (OTC). By Distribution Channel – Hospital Pharmacies, Retail Pharmacies, Drug Stores, Mail Order Pharmacies. By Geography – North America, Latin America, Europe, Middle East and Africa. By schedule the prescription drugs dominate the vaginitis treatment drugs market.
By Region, North America Is Holding the Major Market Share
The Global Vaginitis Treatment Drugs Market has been geographically segmented into North America, Asia Pacific, Europe, Latin America, Middle East and Africa. In addition to this, North America Global Vaginitis Treatment Drugs Market is holding the largest market share currently and is estimated to show the highest compound annual growth rate in the upcoming forecast period due to the increase in the treatment of the asymptomatic infection. A high growth rate of the over counter medicine availability is providing a lucrative ground for the further growth of this market. Moreover South Africa and Brazil is also seen to have convincing opportunities as both these developing nations have high incidence of the vaginal infections.
Major Players in Global Vaginitis Treatment Drugs Market
Some of the key players in the Global Vaginitis Treatment Drugs Market include Johnson & Johnson, Merck & Co., Inc., Pfizer Inc., Mylan N.V., Novartis International AG, Bayer AG, Sanofi S.A., Dr. Reddy's Laboratories Ltd., Cipla Ltd., Sun Pharmaceutical Industries Limited.
The Vaginitis Treatment Drugs Market Has Been Segmented Into:
GLOBAL VAGINITIS TREATMENT DRUGS MARKET, BY DRUG TYPE
Nitro Imidazole Compounds
Lincosamide Antibiotics
Triazoles
Imidazoles
GLOBAL VAGINITIS TREATMENT DRUGS MARKET, BY INDICATION
Bacterial vaginitis
Fungal vaginitis (yeast infection)
Trichomoniasis
GLOBAL VAGINITIS TREATMENT DRUGS MARKET, BY ROUTE OF ADMINISTRATION
GLOBAL VAGINITIS TREATMENT DRUGS MARKET, BY SCHEDULE OF DRUG
Prescription Drugs (Rx)
Over-the-Counter Drugs (OTC)
GLOBAL VAGINITIS TREATMENT DRUGS MARKET, BY DISTRIBUTION CHANNEL
Hospital pharmacies
Retail pharmacies
Drug stores
Mail order pharmacies
GLOBAL VAGINITIS TREATMENT DRUGS MARKET, BY REGION
North America

USA
Canada
Mexico
Rest of North America

Europe

UK
Germany
France
Spain
Italy
Russia
Rest of Europe

Asia Pacific

India
China
Japan
South Korea
Rest of Asia Pacific

Latin America, Middle East & Africa

Brazil
South Africa
UAE
Rest of LAMEA
Note: This table of contents is a content of a published report. As per client requirement, cross-sectional analysis across all industries or specific geography or 'country-based' analysis can be provided as a part of paid customization. Please place your queries on sales@sheeranalyticsandinsights.com or query@sheeranalyticsandinsights.com