The Global Bromelain Market was $39.10 Mn in 2020, and it is expected to reach $89.10 Mn by 2030. It is eventually growing at a commendable high compound annual growth rate CAGR of 8.59% between 2020-2030. But due to the current pandemic there might be a slight difference in the growth rate in the present year. The use of the Bromelain especially in the healthcare sector is the main reason that will help to accelerate the growth of this market in the forecasted period because of the Rand D activities that will enhance the application of the product to treat cancer, HIV AIDS, hepatitis, asthma, etc.
Global Bromelain Market Is Estimated to Witness Remarkable Growth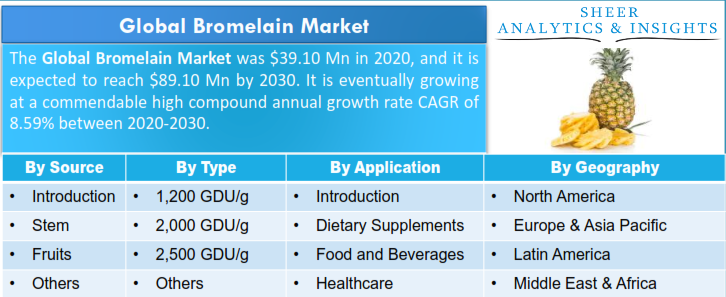 Source: SAI Research
Market Insights
Bromelain is used mainly in meat tenderizing agent and used as a dietary supplement. These are mostly produced in countries where pineapples are grown more. Even though Bromelain's USDA disapproves, it is supported by the Dietary Supplement Health and Education Act for selling as a dietary product. Increasing usage of natural ingredients in cosmetics has enhanced the demand for Bromelain in many natural cosmetics products. Bromelain is expected to become one of the most sought out components in the skincare and facial care cosmetics sector.
The Global Bromelain Market has been segmented into source, type, application. By Source- Stem, Fruits. By Type – 1,200 GDU/g, 2,000 GDU/g, 2,500 GDU/g, Others. By Application – Dietary Supplements, Food and Beverages, Healthcare, Others.
By Region, Asia Pacific Is Holding The Major Market Share
The global Medical Courier Market has been geographically segmented into North America, Asia Pacific, Latin America, Middle East, and Africa region. in addition to this Asia Pacific, Global Bromelain Market is holding the major market share at present and is estimated to witness remarkable growth in the upcoming forecasted period. this is mainly because of the positive outlook towards meat and seafood, healthcare industries that will help to flourish the market in this region. besides this the increase in population and favorable government regulations that will generate foreign direct investment and public private partnerships will also help to accelerate the growth of this market in the forecasted period. Europe is also going to witness remarkable growth during the forecasted period.
Major Players in the Global Bromelain Market
Some of the major players in the Global Bromelain Market include Enzybel International, SA, Enzyme Technology (PTY) Ltd., Hong Mao Biochemicals Co., Ltd., Great Food Group of Companies, Nanning Doing Higher Bio-Tech Co., Ltd., Biozyme Geelleschaft fur Enzymtechnologie mbH, Cn Lab Nutrition, Arisun ChemPharm, Hangzhou Huajin Pharmaceutical Co., Ltd., Shaanxi Guanjie Technology Co., Ltd., Changsha Natureway Co., Ltd., Aumgene Biosciences, Mitushi Biopharma, Enzyme Biosciences Pvt. Ltd., Bio-gen Extracts Pvt. Ltd.
The Global Bromelain Market Has Been Segmented Into:
Global Bromelain Market, By Source
Global Bromelain Market, By Type
1,200 GDU/g
2,000 GDU/g
2,500 GDU/g
Others
Global Bromelain Market, By Application
Dietary Supplements
Food and Beverages
Healthcare
Others
Global Bromelain Market, By Region
North America

USA
Canada
Mexico
Rest of North America

Europe

UK
Germany
France
Spain
Italy
Russia
Rest of Europe

Asia Pacific

India
China
Japan
South Korea
Rest of Asia Pacific

Latin America, Middle East & Africa

Brazil
South Africa
UAE
Rest of LAMEA
Note: This table of contents is a content of a published report. As per client requirement, cross-sectional analysis across all industries or specific geography or 'country-based' analysis can be provided as a part of paid customization. Please place your queries on sales@sheeranalyticsandinsights.com or query@sheeranalyticsandinsights.com