The global eyelash extensions market was valued at $1.1 billion in 2021 and it is expected to reach $2.3 billion at a CAGR of 6.5% between 2022 and 2032. The market is expanding as a result of the rising trend of enhancing appearance using makeup, cosmetics, and beauty goods. Additionally, shifting fashion trends, expanding personal care knowledge, rising interest in eye products among beauty professionals, urbanization, and influencer marketing on social media platforms all contribute to market expansion.
By region, North America dominated the eyelash extensions market across the globe over the forecast period.
In place of mascara, lash extensions can be customized to a woman's aesthetic makeup. However, there is growing evidence that lash extensions may increase your risk of infection and irritation. The challenging care needed for lash extensions is another disadvantage that worries women. Brands in the lash extension market should educate consumers on proper lash application, maintenance, and care to prevent users from utilizing the goods improperly. The primary market restraint is eye infection and damage brought on by eyelashes made of formaldehyde compounds. Global market development is hampered by intense local competition and governmental import/export restrictions.
Women use false eyelashes to thicken their upper lashes. Individual, group, or strip false eyelashes are offered in multipack containers of false eyelashes. To achieve a certain impression, thin or at the outside part of the eyelid, individual or groups of lashes are effective. Additionally, several businesses have relied heavily on social media influencers to build their brand's reputation among consumers. Public personalities routinely promote these goods on YouTube and Instagram, and some even publish videos on how to use them correctly.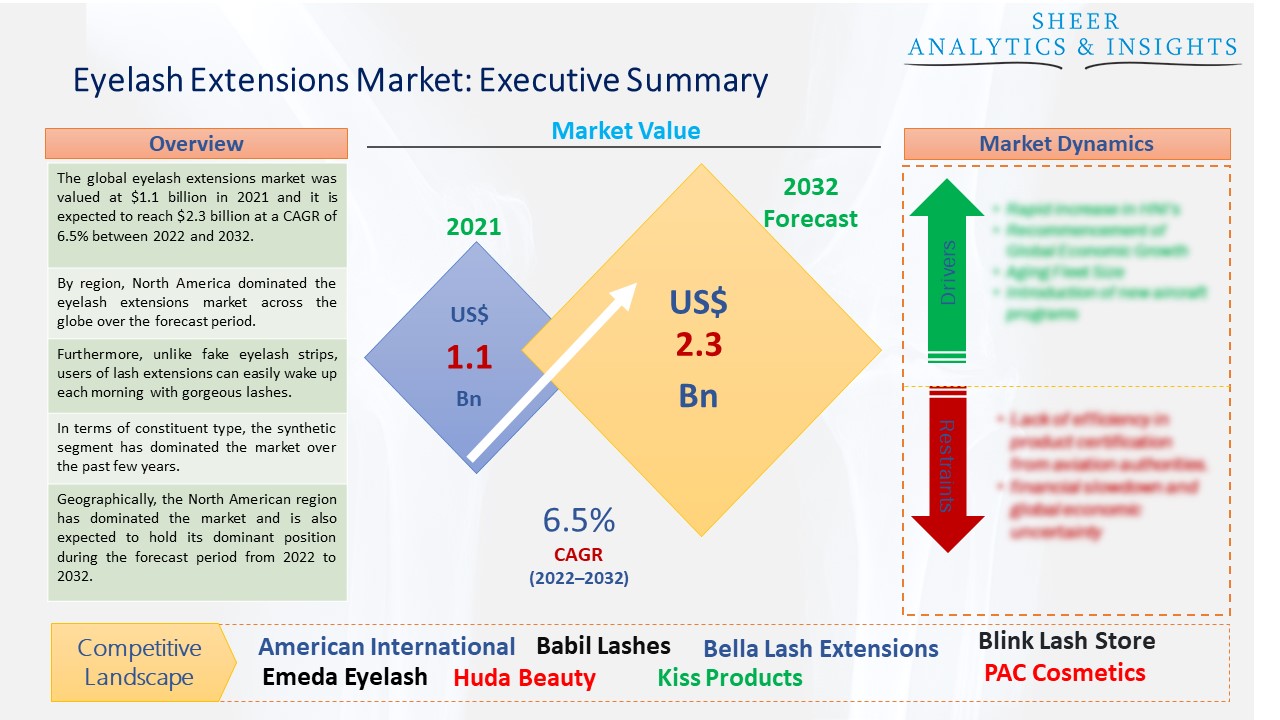 Source: SAI Research
Download Free PDF Sample Request
DIY eyelash extensions have adhered to natural eyelashes, so when they come into touch with water, they are difficult to wash. Applying eyelash extensions is not invasive, unlike other cosmetic procedures, and wearing them does not harm natural eyelashes. Stocking a variety of lash extensions and glue, however, is a terrific way to draw in a far wider spectrum of customers to the lash extension industry.
Furthermore, unlike fake eyelash strips, users of lash extensions can easily wake up each morning with gorgeous lashes. If one eye's lashes always look better than the other, smear, flake, or run, there is no reason to be concerned. With lash extensions, you can say goodbye to mascara and the time it takes to apply and remove the product from your lashes. Due to the regular shed cycle of the customer's eyelashes, the extensions will ultimately fall out together with the natural lashes. The technique is painless if done correctly, and wearing or applying eyelash extensions shouldn't ever be uncomfortable.
Based on product type, the strip segment accounted for the highest market share over the forecast period. People who frequently wear fake eyelashes are becoming more and more accustomed to the strip varieties since they are the quickest and easiest to put on. Additionally, these solutions completely cover the lash line with only one application, making them user-friendly and contributing to the segment's expansion. Due to the potential for thick and fake-looking strip lashes when improperly applied, individual eyelash extensions are increasingly popular with consumers. However, the individual segment is also estimated to grow with a significant share over the forecast period. Depending on the preference of the clients, individual artificial eyelashes are available in single as well as flared shapes and create a natural yet dramatic appeal.
In terms of constituent type, the synthetic segment has dominated the market over the past few years and is also expected to create more growth opportunities for the eyelash extensions market. They offer a more dramatic appearance since they are glossier than their natural counterparts. These synthetic lashes are popular because of their low price and can be found made of rubber, acrylic, or polymers. They appear more dramatic because they are glossier than their natural counterparts. On the other hand, the natural segment is also anticipated to grow in the future due to its rising demand among a large number of customers. They resemble natural lashes in terms of softness, and because they are lightweight, they are convenient and appropriate for routine use.
Geographically, the North American region has dominated the market and is also expected to hold its dominant position during the forecast period from 2022 to 2032. Many businesses in this area have given the industry a potential opportunity. The popularity of social media influencers and TV and movie celebrities has increased the demand for lash extensions. Additionally, the inclination for eyelash extensions to enhance the cosmetic appeal of eyes is growing in the region, which accelerates market expansion. On the other side, the Asia-Pacific region is also expected to become the second-highest market over the forecast period from 2022 to 2032. Other factors that contribute to the market expansion in Asia-Pacific include the rising number of working women and the rise in disposable income in emerging nations.
According to the study, key players such as American International Industries (U.S), Babil Lashes (China), Bella Lash Extensions (U.S), Blink Lash Store (U.S), Emeda Eyelash (China), House of Lashes (Indonesia), Huda Beauty (Iraq), Kose (Japan), Kiss Products (Korea), L'Oreal (France), MAC Cosmetics (U.S), PAC Cosmetics (India), Xizi Lashes (China), among others are leading the global eyelash extensions market.
Scope of the Report:
Report Coverage
Details
Market Size in 2021

US$ 1.1 Billion

Market Volume Projection by 2032

US$ 2.3 Billion

Forecast Period 2022 to 2032 CAGR
6.5%
Base Year:

2021

Historical Data

2019, 2020 and 2021

Forecast Period

2022 to 2032

Segments covered

By Product Type: Strips, Cluster or Accent, Individual, Others

By Constituent Type: Natural, Synthetic & Others

Geographies covered

North America, Europe, Asia-Pacific, LAMEA

Companies covered
American International Industries (U.S), Babil Lashes (China), Bella Lash Extensions (U.S), Blink Lash Store (U.S), Emeda Eyelash (China), House of Lashes (Indonesia), Huda Beauty (Iraq), Kose (Japan), Kiss Products (Korea), L'Oreal (France), MAC Cosmetics (U.S), PAC Cosmetics (India), Xizi Lashes (China), among others
The Global Eyelash Extensions Market Has Been Segmented Into:
The Global Eyelash Extensions Market – by Product Type:
Strips
Cluster or Accent
Individual
Others
The Global Eyelash Extensions Market – by Constituent Type:
The Global Eyelash Extensions Market – by Regions:
North America
Europe

The U.K.
France
Germany
Italy
Rest of Europe

Asia Pacific

India
China
Japan
Australia
Rest of Asia Pacific

LAMEA
Middle East
Latin America
Africa
Note: This table of contents is a content of a published report. As per client requirement, cross-sectional analysis across all industries or specific geography or 'country-based' analysis can be provided as a part of paid customization. Please place your queries on sales@sheeranalyticsandinsights.com or query@sheeranalyticsandinsights.com