The global fracking fluid end market was valued at $450.1 million in 2021 and it is expected to reach $890.3 million at a CAGR of 6.3% between 2022 and 2032. The Gardner Denver VX Hydraulic Fracturing Pump Fluid End is a brand-new, cost-effective fluid end from Gardner Denver High-Pressure Solutions. The VX offers a cost-effective replacement for the SGWS fluid end while making use of many of the internal components already found in the SGWS, including valves, seats, Redline consumables, the patented Falcon Technology, and suction cover retainers.
By region, North America accounted for the largest share of this market across the globe.
Most fracking fluid producers are spending money on research and development to produce environmentally friendly fracturing chemicals. This business is anticipated to expand in the future as a result of new product developments including non-toxic drilling fluids, which are an alternative to dangerous oil-based fluid/foam that is difficult to remove from the drill hole. The many chemicals employed in the fracking fluid may transport proppant to the target formation, improve gel strength, lubricate fractures, and increase fractures, among other things. Between 2022 and 2032, it is predicted that increasing demand for fracturing fluids and chemicals from energy-intensive sectors would propel market growth.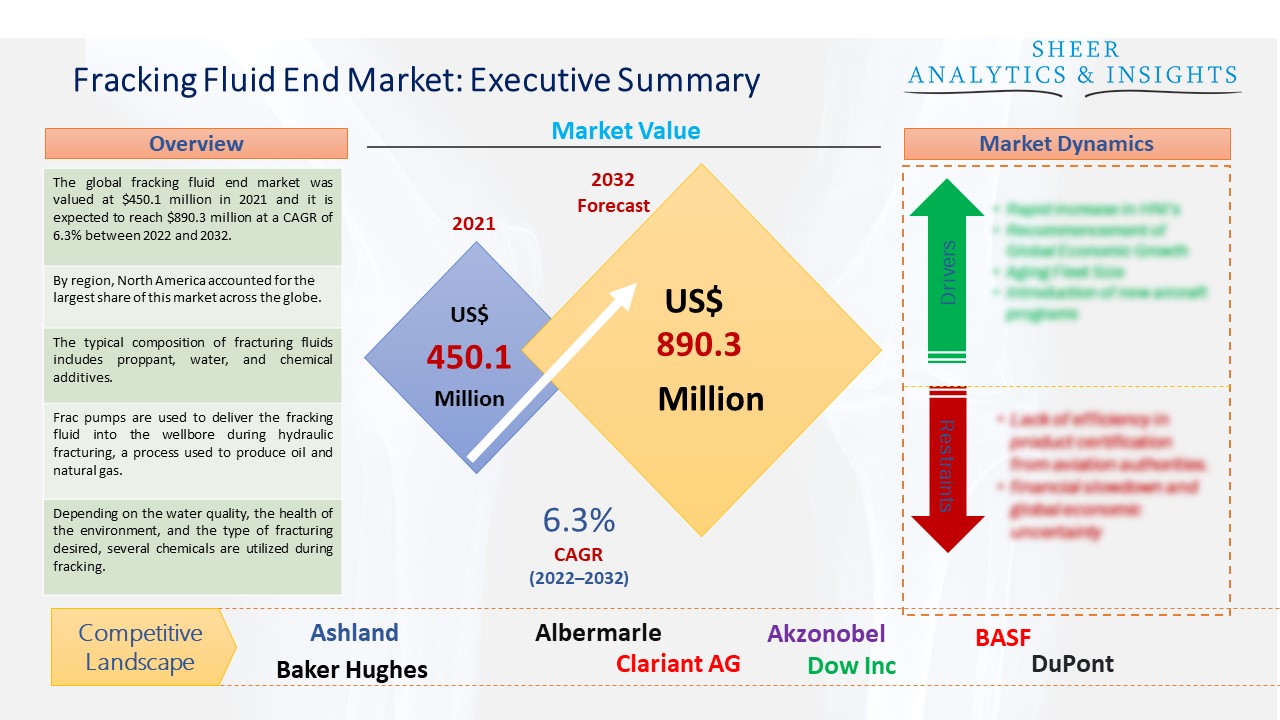 Source: SAI Research
Download Free PDF Sample Request
The typical composition of fracturing fluids includes proppant, water, and chemical additives. By the needs, various other compressed gases, such as carbon dioxide and nitrogen, as well as gels, are added to the mixture. To create the cracks that will make it easy for the drill to pass through, the fluids used are also injected into the wells at a high velocity. The pH, viscosity, and rheological components of fracking fluids are crucial elements.
Frac pumps are used to deliver the fracking fluid into the wellbore during hydraulic fracturing, a process used to produce oil and natural gas. Numerous frac pumps are used by each frac fleet. Additionally, these fluid ends, which are in charge of the high-pressure injection of the fluid into the well, are not only a crucial component of the frac pumps but also a crucial element of the pressure pumping industry.
Depending on the water quality, the health of the environment, and the type of fracturing desired, several chemicals are utilized during fracking. Mixtures with a water, oil, synthetic, or foam base can all be employed. Additionally, rather than drilling a dozen vertical wells, businesses can get more oil out of a single horizontal well. Oil and gas firms benefit from the time and money savings. These elements are anticipated to create profitable growth prospects for the fracturing fluid end market.
Based on product type, the water-based fluids segment accounted for the highest share of this market and is also anticipated to propel the market growth in the future. WBF may be pumped at a higher rate and are non-viscous with low proppant concentrations, allowing for the creation of tiny fractures. The different characteristics of WBF, such as its high fluid efficiency, low proppant concentration, and rapid pumping rate, make it possible to create complicated fractures. However, the oil-based fluids segment is also anticipated to fuel the market growth during the forecast period. The invention of less hazardous, ecologically benign SBF with good drilling performance is a result of the multiple negative impacts of OBF.
In terms of function type, the friction reducer category holds most of the market share for the fracking fluid end market. Over the projection period of 2022 to 2032, the market growth is anticipated to be driven by the increased demand for fracturing chemicals and fluids from energy-intensive industries. Moreover, by lowering pipe friction, the purpose of friction reducers is to enable high injection rates. Buffers are used to keep fluid pH levels stable under difficult circumstances like high pressure and temperature. These would drive market growth during the forecast period.
Geographically, the North American region has dominated the market and is also anticipated to hold its dominant position over the forecast period. Due to the region's highly developed drilling industry, there is a strong demand for fracking chemicals there. With a well-established drilling and exploring sector, the U.S. in particular controls a sizable portion of the global market. To smooth the extraction process, frictional reducers and foam-based fluid will be needed due to the increased oil extraction in the United States. Major corporations are spending money on oil and gas exploration in the area as a result of the high percentage of hydraulically fractured wells in the United States. On the other, the Asia-Pacific region is also expected to become the second-largest market in the future. Rising energy demand and consumption are anticipated to be key market growth drivers. Australia, South Korea, China, and India currently account for the majority of oil and gas exploration and processing.
According to the study, key players such as Ashland (U.S), Albermarle (U.S), Akzonobel (Netherlands), BASF (Germany), Baker Hughes (U.S), Clariant AG (Switzerland), Clafrac Well Services (Canada), Dow Inc (U.S), DuPont (U.S), EOG Resources (U.S), FTS International (U.S), Phillips 66 (U.S), SLB (U.S), among others are leading the global fracking fluid end market.
Scope of the Report:
Report Coverage
Details
Market Size in 2021

US$ 450.1 million

Market Volume Projection by 2032

US$ 890.3 million

Forecast Period 2022 to 2032 CAGR
6.3%
Base Year:

2021

Historical Data

2019, 2020 and 2021

Forecast Period

2022 to 2032

Segments covered

By Product Type: Water Based Fluids, Oil Based Fluids, Synthetic Based Fluids & Others

By Function Type: Friction Reducer, Clay Control Agent, Gelling Agent, Cross-Linkers, Breakers & Others

Geographies covered

North America, Europe, Asia-Pacific, LAMEA

Companies covered
Ashland (U.S), Albermarle (U.S), Akzonobel (Netherlands), BASF (Germany), Baker Hughes (U.S), Clariant AG (Switzerland), Clafrac Well Services (Canada), Dow Inc (U.S), DuPont (U.S), EOG Resources (U.S), FTS International (U.S), Phillips 66 (U.S), SLB (U.S), among others.
The Global Fracking Fluid End Market Has Been Segmented Into:
The Global Fracking Fluid End Market – by Product Type:
Water Based Fluids
Oil Based Fluids
Synthetic Based Fluids
Others
The Global Fracking Fluid End Market – by Function Type:
Friction Reducer
Clay Control Agent
Gelling Agent
Cross-Linkers
Breakers
Others
The Global Fracking Fluid End Market – by Regions:
North America
Europe

The U.K.
France
Germany
Italy
Rest of Europe

Asia Pacific

India
China
Japan
Australia
Rest of Asia Pacific

LAMEA
Middle East
Latin America
Africa
Note: This table of contents is a content of a published report. As per client requirement, cross-sectional analysis across all industries or specific geography or 'country-based' analysis can be provided as a part of paid customization. Please place your queries on sales@sheeranalyticsandinsights.com or query@sheeranalyticsandinsights.com