The 'Global VR in Sports and Entertainment Market' was valued at $2.3 billion in 2020. It is expected to reach $56.7 Bn by 2031. It is expected to grow at a commendable compound annual growth rate (CAGR) of 32.5% between 2021 and 2031. COVID impact was positive about VR in sports and entertainment market growth. Virtual reality as a tool helped many individuals who lacks ground training due to COVID. In addition to this many sports organizations such as NFL, Soccer clubs, also trying to implement it at full fledge and are investing a lot in these VR based technologies for better viewing experience to customer and training especially.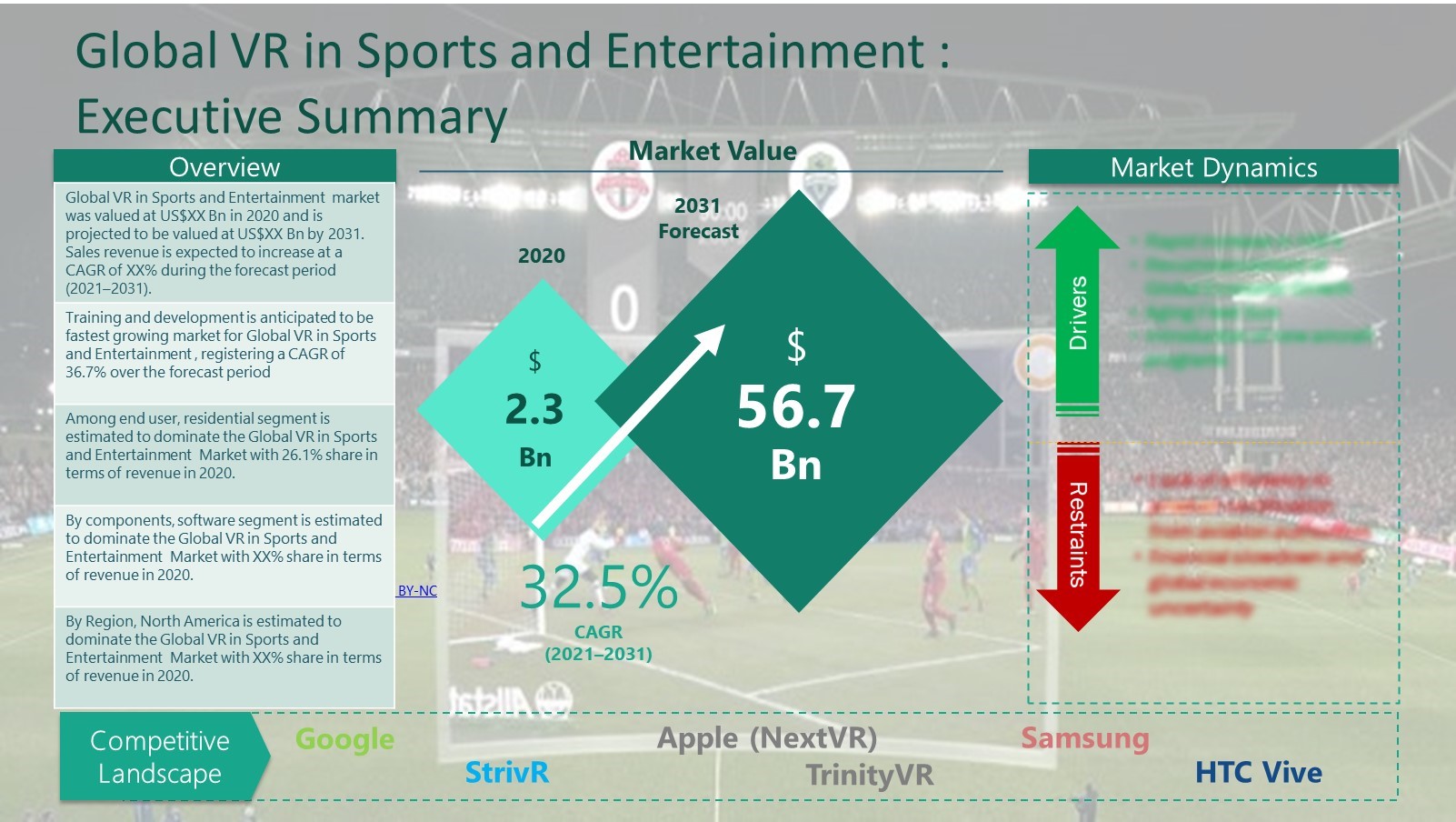 Source: SAI Research
By Region, North America holds a significant market share of more than 36.5% in 2021
The Global VR in Sports and Entertainment has been geographically segmented into North America, Europe, Asia Pacific and LAMEA. Investors in the U.S. invests in VR based sports and events aggressively. Recently, in August 2021, StatusPro VR got investments of $5.2 million from TitletownTech, 49ers Enterprises and Haslam Sports. While ForeVR Bowl, a VR based bowling platform company, raised another $7 million, in August 2021, after its seed funding of $1.5 million.
According to an analysis from SAIPL, in 2020, it has been observed that investors have invested more than $200 million in VR based sports platforms and the entertainment sector. While in the current year it has shown 30% and can attract an investment of more than $260 million in this field. Therefore, this region is expected to be the pioneer in future, too and can transform the VR presence in this sector at a commendable pace. While Europe follows North America, Asia-Pacific is expected to grow at the fastest CAGR among all regions. China alone is expected to gain a share of more than 25% when compared with other regions.
2018 saw the digital sports rights be valued at USD 5 Billion for the Asia Pacific region, marking a sharp increase of 22% over the previous year. It clearly shows the increasing demand for sports telecasts by end consumers. However, that isn't all that has been rising. A rising number of users are shifting to the on-demand digital platform to enjoy sports telecasts. Facebook leaping into the segment is clear enough proof that there are growing consumers for the digital media-based on-demand telecast.
From 2018 to till date, Facebook was among the pioneers who joined hands with virtual reality and augmented reality technology developer, Oculus to be precise. However, Facebook is already carrying out its development program to create VR for its users. According to the founder of Facebook, Mark Zuckerberg, he wants his company to be a pioneer in VR technology and become the face of VR in primarily all sectors. The inclusion of sports and entertainment into the digital media stream and the increasing demand for VR make it amply clear that demand for immersive, enigmatic, and interactive VR technology in the sports and entertainment market is undoubtedly going to receive a heavy boost.
Training and development are the primary revenue generation point for this market.
By application, 'Training and development hold the significant market share of more than 39% in 2021. The primary reason supporting the growth of Training and development is supporting the real-time practice without having a larger investment of allied equipment's. For instance, if we take the example of shooting as the game, one can practice at different types of weather, different types of conditions, and different ranges with the help of a VR-assisted device and software installed in that device. At the same time, VR in the entertainment sector is mainly used in exhibits, halls, concerts, museums, and galleries to promote real-time experience to the customers. During COVID, the entertainment sector at the commercial level takes a great hit, but companies focus on giving real-time experience had provided content to their homes as services.
Historical Data: 2015-2019
Base Data – 2020
Forecast Data – 2021-2031
Major Players in Global VR in Sports and Entertainment
According to the study, key players operating in this market are Oculus VR, Google, HTC Vive, Microsoft, Samsung, Apple (NextVR), Strive, TrinityVR, GameAnax Studio Pvt. Ltd., Facebook, Meraki Studio, Kashino Diverse Brain Research Laboratory, StatusPro VR, Austech Connect, and Greycroft among others.
Global VR in Sports and Entertainment Market: By Application
Training and Development
Decision Making
Spectators
Broadcasting
Global VR in Sports and Entertainment Market: by End User
Sports Association
Team Management
Sports Media
Residential
Theatres
Global VR in Sports and Entertainment Market: by Components
Hardware
Software
Services
Global VR in Sports and Entertainment Market: by Region
North America
Europe

U.K.
Russia
France
Italy
Others

Asia Pacific

South Korea
Japan
China
India
Australia
Others

Latin America, Middle East and Africa (LAMEA)
Note: This table of contents is a content of a published report. As per client requirement, cross-sectional analysis across all industries or specific geography or 'country-based' analysis can be provided as a part of paid customization. Please place your queries on sales@sheeranalyticsandinsights.com or query@sheeranalyticsandinsights.com