The global hydrogen fuel cell train market was valued at $2.3 billion in 2021 and it is expected to reach $45.3 billion at a CAGR of 27.2% between 2022 and 2032. COVID-19 had negatively impacted the industries of the hydrogen fuel cell market across the globe at the early stage of the pandemic. Therefore, manufacturing industries had faced several challenges in producing and exporting their products to other countries from other regions. However, after the epidemic situation of COVID-19, the hydrogen fuel cell market is continuing to produce new innovative products which are driving the global market again with initiative business growth.
Asia-Pacific is holding the largest hydrogen fuel cell train market share across the globe and North America is at the second position in hydrogen fuel cell train market.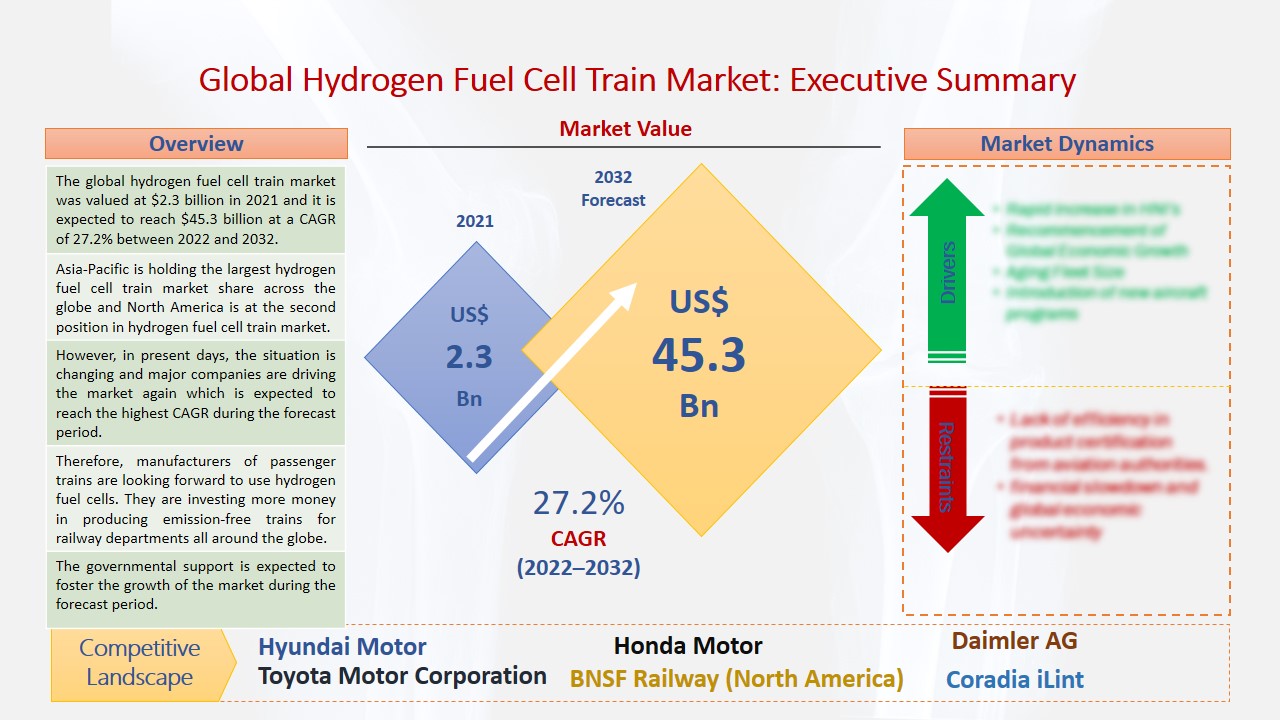 Source: SAI Research
The COVID-19 outbreak had started in late 2019 and it has badly impacted the global hydrogen fuel cell across all the major regions. Major countries such as India, China, U.S, U.K and Italy, and other countries were affected by the COVID-19 pandemic. Therefore, the demand for hydrogen fuel cells has decreased naturally and the business growth of the market was shattered for a while. Business activities across the major countries have negatively impacted industrial growth in the short term. However, in present days, the situation is changing and major companies are driving the market again which is expected to reach the highest CAGR during the forecast period.
The rising of greenhouse gases such as carbon dioxide (CO2), nitrous oxide, and methane is mainly responsible for the increasing global temperature. Therefore, various manufacturing industries are interested to produce hydrogen fuel cells that could be used for public transport such as a train. At present days, the hydrogen fuel cell train is also used for commercial purposes. The hydrogen fuel cell train uses hydrogen instead of conventional fuel because the fuel cell can convert chemical energy into electrical energy. The government of various countries is very much concerned about reducing the harmful greenhouse gases and is interested to adopt advanced technologies to grow the market of hydrogen fuel cell train. The governmental support is expected to foster the growth of the market during the forecast period.
Poland is the leading hydrogen fuel cell train market across the European region. Coradia iLint is the world's first and foremost hydrogen fuel cell train which provides services for both public and commercial purposes. This is a completely pollutant-free train and it emits only water vapor and condensation. The hydrogen fuel cell train is mainly used on non-electrified lines. Therefore, manufacturers of passenger trains are looking forward to use hydrogen fuel cells. They are investing more money in producing emission-free trains for railway departments all around the globe. In Asia-Pacific, Indian Railway Department is keen to replace Diesel Electric Multiple Unit (DEMU) hydrogen fuel cells and run such trains to reduce harmful gases for the sake of environmental protection. As well as other major regional countries are planning to remove the diesel generator and install hydrogen fuel cells, therefore, no greenhouse gases or other pollutants are going to harm the environment of nature.
The U.K has developed a hydrogen fuel cell train called HydroFLEX with hydrogen fuel tanks and fuel cells to allow the train to operate with zero harmful carbon gas emissions. Key players which are leading the hydrogen fuel cells train market are Coradia iLint, Cummins Inc., Hyundai Motor Company, Honda Motor Limited, Daimler AG, General Motors, Toyota Motor Corporation, BNSF Railway (North America), among others. With advanced technological development, leading companies are trying to implement new innovative trains for the benefit of customers as well as for the environment.
Scope of the Report:
Report Coverage

Details

Base Year:

2021

Market Size in 2021:

USD 2.3 Billion

Historical Data for:

2019, 2020 and 2021

Forecast Period:

2022 to 2032

Forecast Period 2022 to 2032 CAGR:

27.2%

2032 Value Projection:

USD 45.3 Billion

Segments covered:

By Type - Passengers, Commercial Purpose, Others.

By Technology - Alkaline Fuel Cell, Proton Exchange Membrane Fuel Cell, Solid Oxide Fuel Cell, Others

Geographies covered:

North America - U.S, Canada, Mexico

Europe - Germany, France, Italy, U.K, Russia, Rest of Europe Countries

Asia-Pacific -India, China, Japan, South Korea, North Korea, Rest of Asian Countries

LAMEA - Brazil, Saudi Arabia, Rest of LAMEA

Companies covered:

Coradia iLint, Cummins Inc., Hyundai Motor Company, Honda Motor Limited, Daimler AG, General Motors, Toyota Motor Corporation, BNSF Railway (North America), among others.
The Global Hydrogen Fuel Cell Train Market Has Been Segmented Into:
Global Hydrogen Fuel Cell Train Market – by Type
Passengers
Commercial Purpose
Others
Global Hydrogen Fuel Cell Train Market – by Technology
Alkaline Fuel Cell
Proton Exchange Membrane Fuel Cell
Solid Oxide Fuel Cell
Others
Global Hydrogen Fuel Cell Train Market – by Region
North America
Europe:
Germany
U.K.
France
Italy
Netherlands
Spain
Rest of the Europe Countries
Asia-Pacific:
India
China
Japan
South Korea
Rest of the Asian Countries
LAMEA:
Latin America
Middle East
Africa
Note: This table of contents is a content of a published report. As per client requirement, cross-sectional analysis across all industries or specific geography or 'country-based' analysis can be provided as a part of paid customization. Please place your queries on sales@sheeranalyticsandinsights.com or query@sheeranalyticsandinsights.com