The 'global Hyperautomation market' was valued at $4.78 Billion in 2020 and is expected to reach $46.4 Billion at the CAGR of 21.7% between 2021 and 2031. By 2026, big companies are expected to triple the capacity of their present RPA applications with hyperautomation in place. The incremental spending will come from big companies that are procuring new technologies from their present technology provider or new partners. The integration of robotic process automation (RPA) with AI, NLP and machine learning can advance the capabilities of software bots beyond specified processes and allowing task completion in parallel to human decision-making skills. RPA in total has seen the highest traction from North American market in these few years. More than US$8 billion had been invested by major venture capitalist firms in last few years.
By Region, North America holds a significant market share of more than 29.1% in 2021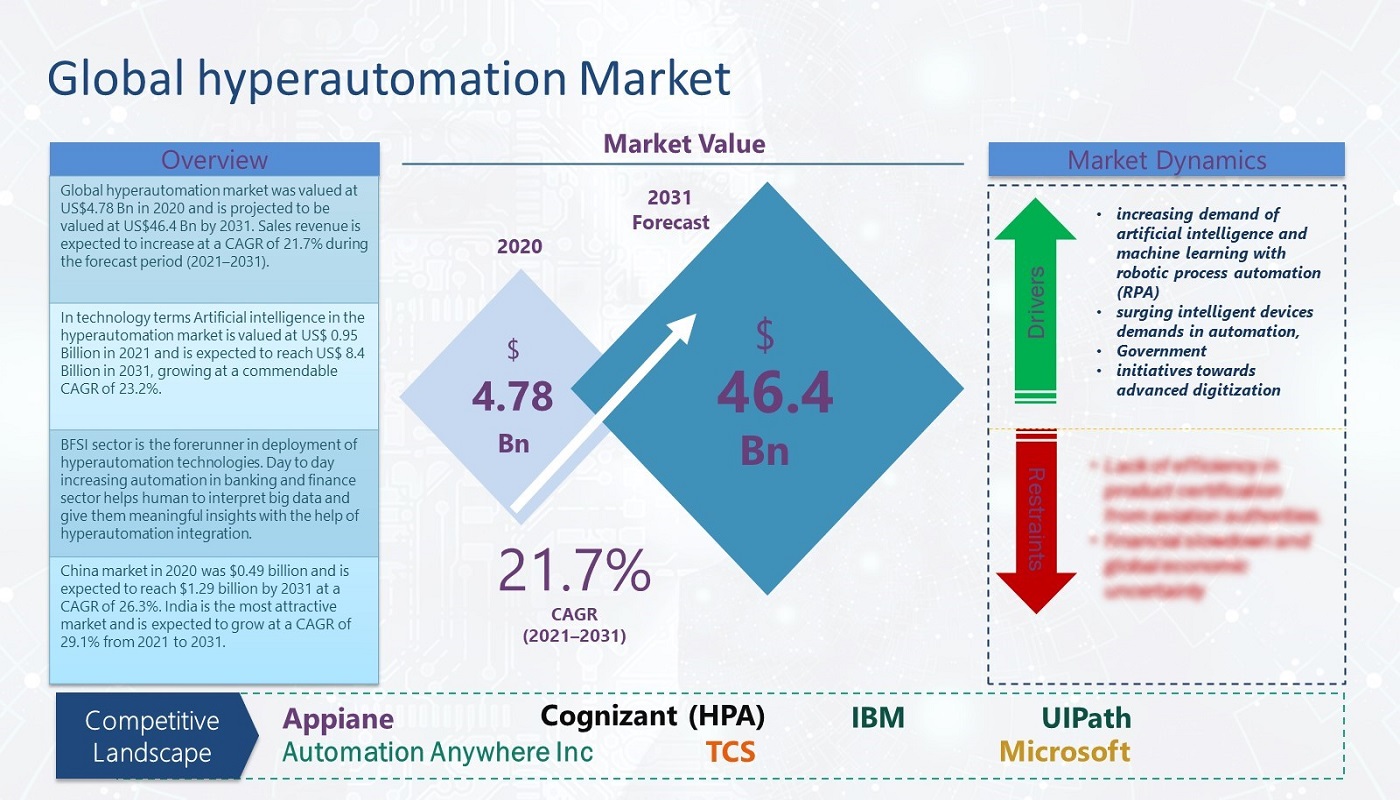 Source: SAI Research
During COVID pandemic and stringent cross border relations with raw material and manufacturing units based in China, many countries and regions have planned to establish their own manufacturing units for their sustainability in future. In 2021, European Union planned for establishing semiconductor manufacturing units and proposed European Chips Act for the development of same. In 2020, Indian government have also announced multibillion-dollar packages for establishment of soft toys companies, semiconductor hubs and many new technologies as per their make in India plan and swachh bharat plan.
Artificial intelligence in the hyperautomation market is valued at US$ 0.95 Billion in 2021 and is expected to reach US$ 8.4 Billion in 2031, growing at a commendable CAGR of 23.2%. The major reason for the growth of Artificial intelligence in the hyperautomation market is its agility to interpret data and take actions as per the defined rules in the system. Progress in Artificial Neural Networks (ANN) and profound learning has forced the adoption of AI in many industries, such as aerospace, healthcare, manufacturing, and automotive.
Advancements in artificial intelligence and data science have increased the demand for machine learning at a rapid pace. Hyper automation companies are now utilizing this technology, and therefore, the adoption rate of the same is expected to increase over the forecast period at the fastest rate when compared to other technologies. Companies are offering machine learning solutions on a subscription-based model in conjunction with RPA and AI, making it easier for consumers to take advantage of this technology.
Machine learning ability to give meaningful insights based on the historical data as well as the present data helped many companies to improve their operation in the past few years. Due to advancements in big data, human intelligence needs to be integrated with ML tools in conjunction with RPA and AI. This demand has increased the overall scope of ML integrations in many present or future automated systems.
The major driver driving the market for hyperautomation is:
Growing emphasis towards smart automation
It is estimated that automation in industrial as well as commercial sector is more than US$ 200 billion industry and is moving towards more smarter methods to make the processes easier. Where industries use different tools for different operations and are integrated with a system which connect these systems through different ERP systems. But these ERP systems doesn't have the capability to analysis big data information of its own and a separate entity needs to be added for the execution of same.
These problems are expected to be solved in coming years with the deployment of hyperautomation in their present systems. Hyperautomation integration capabilities help human to solve these problems and these problem-solving capabilities will pave its path towards industrial revolution 4.0. Companies who are merely providing RPA solutions few years back are now integrating AI and ML to their systems which drives them towards hyperautomation now.
Automation Anywhere Inc is the leading player in the market with a share of 39% in 2020. The company has shown tremendous growth in past few years. Company has done multiple collaborations and got funding of more than a billion in past 3 years. This has helped them to reach to customers in different parts of world.
Research Methodology:
Sheer Analytics as an organization has developed a model know as square point approach. This approach has four methods of gathering information.
Secondary Research: Information gathered from trustable resources such as industry associations, company press releases and financial reports, whitepapers and credible news agencies press information.
Demand and Supply approach: Interviews from business experts: Paid interviews were conducted with industry players and leaders
Survey Approach: This approach was done to cater demand of automation in different countries
Integration and Validation: All approaches are integrated, and a concise modeling was done to estimate final numbers accordingly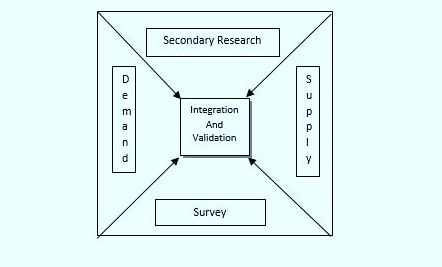 Major Players in Global hyperautomation
According to the study, key players operating in this market are Allerin Tech Pvt. Ltd., Appian, Atos, Automation Anywhere Inc, Catalytic Inc., Cigniti, Cognizant (HPA), Cyclone Robotics, IBM, Microsoft, Mitsubishi Electric Corporation, OneGlobe LLC, SolveXia, Tata Consultancy Services Limited, UiPath, Vuram and Wipro Ltd.
Scope of the Report:
Report Coverage

Details

Base Year:

2020

Market Size in 2020:

US$ 4.78 Billion

Historical Data for:

2018 to 2020

Forecast Period:

2021 to 2031

Forecast Period 2021 to 2031 CAGR:

21.7%

2031 Value Projection:

US$ 46.4 Billion

Segments covered:

By Deployment Mode: -Cloud, On-premises.

By components - Hardware, Software, Solutions

By Technology: Robotic Process Automation (RPA), Artificial Intelligence (AI), Machine Learning (ML), Biometrics, Chatbots, Natural Language Generation (NLG), Others

By industry vertical: Banking, Financial Services & Insurance (BFSI), Manufacturing, Healthcare, Retail, Automotive, Others

Geographies covered:

North America: U.S., Canada, Mexico

Europe: Germany, U.K., Spain, France, Italy, Russia, Rest of Europe

Asia Pacific: China, India, Japan, Australia, South Korea, ASEAN, and Rest of Asia Pacific

Africa: South Africa, North Africa, and Africa

Middle East: GCC, Israel, and Rest of Middle East

Latin America: Brazil, Argentina, Rest of Latin America

Companies covered:

Allerin Tech Pvt. Ltd., Appian, Atos, Automation Anywhere Inc, Catalytic Inc., Cigniti, Cognizant (HPA), Cyclone Robotics, IBM, Microsoft, Mitsubishi Electric Corporation, OneGlobe LLC, SolveXia, Tata Consultancy Services Limited, UiPath, Vuram and Wipro Ltd.
Major reasons of buying this report:
Covered analysis from business as well as customer end
All data are UpToDate
Predictive analytics tools are used for estimating data
More than 50 interviews were conducted from business end
The Global hyperautomation Market Has Been Segmented into:
Global hyperautomation market - analysis & forecast, by deployment mode
Introduction
Cloud
On-premises
Global hyperautomation market - analysis & forecast, by components
Hardware
Software
Solutions
Global hyperautomation market - analysis & forecast, by technology
Introduction
Robotic Process Automation (RPA)
Artificial Intelligence (AI)
Machine Learning (ML)
Biometrics
Chatbots
Natural Language Generation (NLG)
Others
Global hyperautomation market - analysis & forecast, by industry vertical
Introduction
Banking, Financial Services & Insurance (BFSI)
Manufacturing
Healthcare
Retail
Automotive
Others
Global hyperautomation Market: by region
North America
Europe

U.K.
Russia
France
Italy
Germany
RoE

Asia Pacific

South Korea
Japan
China
India
Australia
RoAPAC

Latin America, Middle East and Africa (LAMEA)
Note: This table of contents is a content of a published report. As per client requirement, cross-sectional analysis across all industries or specific geography or 'country-based' analysis can be provided as a part of paid customization. Please place your queries on sales@sheeranalyticsandinsights.com or query@sheeranalyticsandinsights.com