The global medicated skin care products market was valued at $3.4 billion in 2021 and it is expected to reach $8.5 billion at a CAGR of 8.4% between 2022 and 2032. Globally rising demand for face creams, sunscreens, and body lotions is anticipated to positively affect market expansion throughout the forecast period. Additionally, it is projected that the thriving e-commerce sector will accelerate market expansion.
By region, Asia-Pacific led this market with significant growth over the last period.
Consumers in the United States are becoming more interested in personalized goods. The notion of creams, serums, and moisturizers enriched with natural components is likely to experience significant demand over the forecast period due to the growing consumer preference toward natural beauty products. Since these products are thought to be more efficient and to have little to no negative effects, it is anticipated that more people would use them.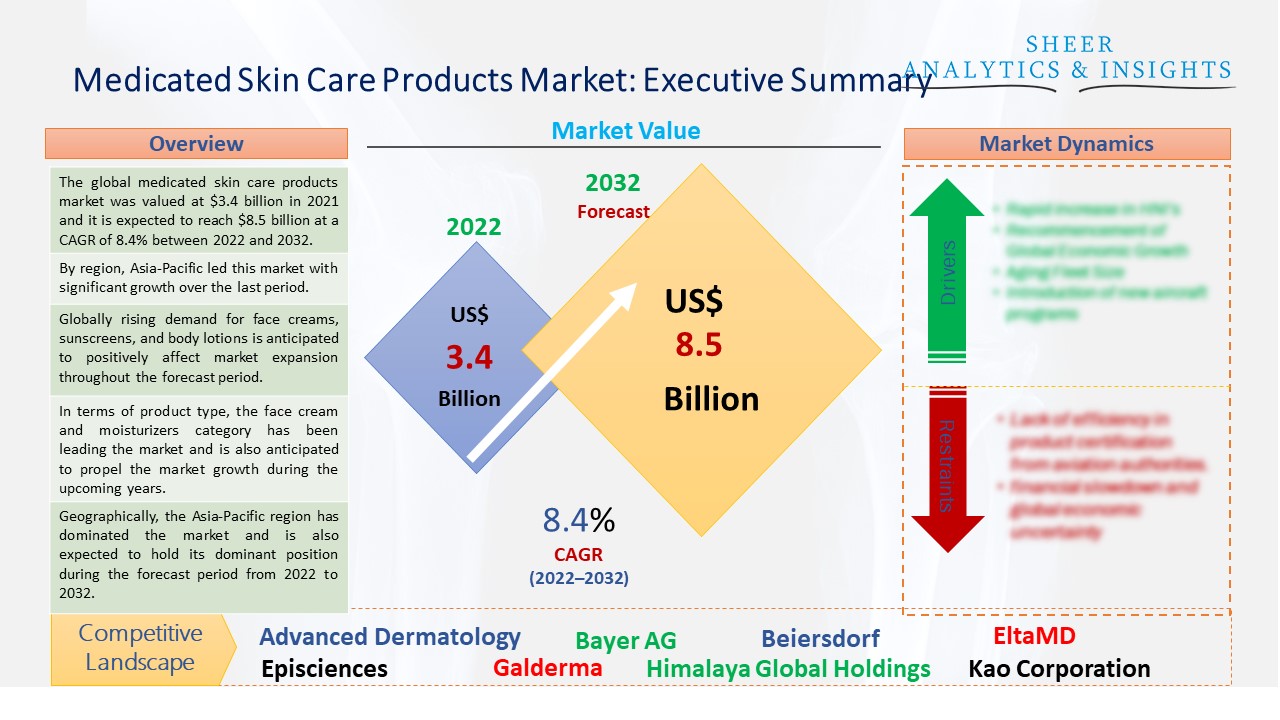 Source: SAI Research
Download Free PDF Sample Request
The increased popularity of skincare products made with natural ingredients and rising investments in product R&D have spurred producers to introduce new goods. Additionally, as more consumers choose cruelty-free goods due to their growing concern for animal welfare and the environment, there is an increased demand for vegan components or ingredient combinations that are derived from plants in these goods.
Globally rising demand for face creams, sunscreens, and body lotions is anticipated to positively affect market expansion throughout the forecast period. Additionally, it is projected that the thriving e-commerce sector will accelerate market expansion. Consumers are becoming more informed about inflammatory skin diseases and how they affect general health and can lead to skin problems. Due to this, customers are switching from Retin-A or acid peels to anti-inflammatory skincare routines and lifestyles that are beneficial for both the skin and general health.
Active chemicals in medicated skin care products treat common skin conditions. Skincare is a significant part of the burgeoning cosmetics sector. People spend a lot of money on skincare products and procedures because they are so self-conscious about how they look. Additionally, individuals are becoming more technologically savvy and aware of the many innovative skin care options available today. Along with offering a cosmetic advantage, medical skin care products are used to treat acne, pimples, rosacea, eczema, psoriasis, and scars.
People are learning more about the different new skin care products electronically. Medical skin care products target acne, pimples, and scars in addition to aesthetic uses. The latest technological developments in medicated skin care products are also disclosed to consumers. As a result, a wide range of enterprises provides goods to satisfy consumer demand. For instance, a single face mask product has thousands of permutations. Additionally, market participants who sell medical skin care products are launching cutting-edge technology-based items. For instance, Santinov used cutting-edge technologies and stem cell materials to introduce the CICABEL mask.
Based on gender type, the female segment has been leading this market with the highest market share and is also anticipated to accelerate the market growth during the forecast period. To boost their self-confidence and looks, women are increasingly incorporating personal grooming items into their daily routines, which is significantly boosting the segment's growth. Furthermore, in recent years, women have been inspired by the significance of self-care to intentionally design calming self-care experiences through elaborate skincare routines at home. The need for skincare products is being stimulated by this trend. However, the male segment is also projected to gain more growth opportunities in the future. The main drivers of the rise of the men's skincare industry are rising disposable income, greater product releases, and rising celebrity endorsements among men who are becoming more conscious of personal cleanliness and regular grooming.
In terms of product type, the face cream and moisturizers category has been leading the market and is also anticipated to propel the market growth during the upcoming years. Due to their frequent application, face creams and moisturizers are among the most popular products. In addition to providing fast hydration, reducing breakouts, and refreshing the skin, moisturizers are a simple, hassle-free, and quick way to treat dry skin. This offers the face creams and moisturizers industry promising opportunities for future growth. On the other hand, the market's accessibility of low-quality skin care products and the higher cost of some medicated skin care products may serve as growth inhibitors for the global market for these products.
Geographically, the Asia-Pacific region has dominated the market and is also expected to hold its dominant position during the forecast period from 2022 to 2032. The growth of the chemical sector in China and India, both of which have government support, is anticipated to assure ongoing access to raw materials for producers of skincare products and, as a result, to positively impact the Asia Pacific market throughout the projection period. In terms of consumption as well as production, China is one of the key nations assisting the expansion of the global market for cosmetics and skincare goods. Due to the region's growing population, rapid urbanization, and increased per capita spending on personal care products in highly developing countries like China, Japan, South Korea, and India, the need for medicated skin care products is expanding. On the other hand, the North American region is also expected to become the second-largest market over the upcoming years. Moreover, it is anticipated that the expansion of the chemical industry in both the United States and Canada, which is supported by regulatory support, will ensure that producers of medicated skin care products have constant access to raw materials and, as a result, will benefit the market in the region during the anticipated period. This is mostly attributed to an increase in adult skincare concerns, an increase in millennial skin consciousness, a strong presence of healthcare corporations, growing healthcare costs, and continued regional market expansion.
According to the study, key players such as Advanced Dermatology (India), Bayer AG (Germany), Beiersdorf (Germany), Curatio Healthcare (India), EltaMD (Switzerland), Episciences (U.S), Galderma (Switzerland), Himalaya Global Holdings (India), Johnson & Johnson (U.S), L'Oreal (France), Kao Corporation (Japan), NEOCUTIS (Switzerland), Obagi Medical (U.S), PCA Skin (U.S), Revive Skincare (U.S), Unilever Plc (U.K), Prestige Consumer Healthcare (U.S), among others are leading the global medicated skin care products market.
Scope of the Report:
Report Coverage
Details
Market Size in 2021

US$ 3.4 Billion

Market Volume Projection by 2032

US$ 8.5 Billion

Forecast Period 2022 to 2032 CAGR
8.4%
Base Year:

2022

Historical Data

2019 and 2022

Forecast Period

2023 to 2032

Segments covered

By Gender Type: Male, Female & Others

By Product Type: Face Cream and Moisturizers, Sunscreen, Cleaners and Face Wash, Shaving Lotion, Body Creams & Others

Geographies covered

North America, Europe, Asia-Pacific, LAMEA

Companies covered
Advanced Dermatology (India), Bayer AG (Germany), Beiersdorf (Germany), Curatio Healthcare (India), EltaMD (Switzerland), Episciences (U.S), Galderma (Switzerland), Himalaya Global Holdings (India), Johnson & Johnson (U.S), L'Oreal (France), Kao Corporation (Japan), NEOCUTIS (Switzerland), Obagi Medical (U.S), PCA Skin (U.S), Revive Skincare (U.S), Unilever Plc (U.K), Prestige Consumer Healthcare (U.S), among
The Global Medicated Skin Care Products Market Has Been Segmented Into:
The Global Medicated Skin Care Products Market – by Gender Type:
The Global Medicated Skin Care Products Market – by Product Type:
Face Cream and Moisturizers
Sunscreen
Cleaners and Face Wash
Shaving Lotion
Body Creams
Others
The Global Medicated Skin Care Products Market – by Regions:
North America
Europe

The U.K.
France
Germany
Italy
Rest of Europe

Asia Pacific

India
China
Japan
Australia
Rest of Asia Pacific

LAMEA
Middle East
Latin America
Africa
Note: This table of contents is a content of a published report. As per client requirement, cross-sectional analysis across all industries or specific geography or 'country-based' analysis can be provided as a part of paid customization. Please place your queries on sales@sheeranalyticsandinsights.com or query@sheeranalyticsandinsights.com