The Global Mesoporous Silica Market was $145.2 Mn in 2020, and it is expected to reach $279.3 Mn by 2031. It is eventually growing at a commendable high compound of annual growth rate CAGR of 6.1% between 2021-2031. However, the current pandemic of COVID-19 might make a slight difference in the growth rate in the present year. The growing product penetration in the different industries likes wastewater, chemicals, pharmaceutical, and treatment is driving the market growth during the forecast period. Favorable chemical properties, Thermal stability, and biocompatibility attributes of the mesoporous silica are anticipated to drive the market growth. Now, moving forward, the robust demand for the global Mesoporous Silica market in the building and construction industry is further estimated to create new necessities and augment the market of growth over the forecast period of 2021-2031.
Global Mesoporous Silica Segment Is Estimated to Witness Remarkable Growth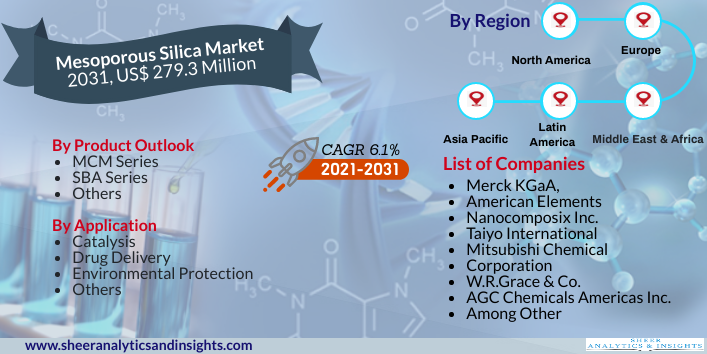 Source: SAI Research
The Mesoporous Silica market is segmented as product outlook and application. Based on the Product outlook, the global Mesoporous Silica market has been divided into MCM Series, SBA Series, and Others. Based on Application, the global Mesoporous Silica market has been bifurcated as Catalysis, Drug Delivery, Environmental Protection, and Others.
By Region, Asia Pacific is Holding the Major Market Share
The Mesoporous Silica Market has been geographically segmented into North America, Asia Pacific, Latin America, Middle East, Europe, and Africa region. In addition to this, Asia Pacific has a significant share among those regions. Shifting production bases from developed regions to emerging economics of this region, particularly in India, China, Indonesia, Thailand, Vietnam, are expected to propel the market. Rapid industrialization and growing environmental concerns are the factors in the development of the market. Increasing disposal incomes, favorable government rules and regulations, and other potential factors drive the market over the forecast period. Apart from that, North America and the Rest of the regions are expected to increase the growth rate in the upcoming forecast period of 2021 to 2031.
Major Players in the Global Mesoporous Silica Market
The report covers a detailed outlook about the company, and it includes the company or industry profiles and market share of key players operating in the global market. Key players in the report include Merck KGaA, American Elements, Nanocomposix, Inc., Taiyo International, Mitsubishi Chemical Corporation, MKnano, W.R.Grace & Co., AGC Chemicals Americas, Inc., Glantreo Ltd., ACS Material LLC, Vortex Fluidic Technologies, SO-FE Biomedical, Rusology, XFNANO, and Nouryon. among others.
The Global Mesoporous Silica Market Has Been Segmented into:
Global Mesoporous Silica Market: By Product Outlook
MCM Series
SBA Series
Others
Global Mesoporous Silica Market: By Application
Catalysis
Drug Delivery
Environmental Protection
Others
Global Mesoporous Silica Market: By Region
North America

USA
Canada
Mexico
Rest of North America

Europe

UK
Germany
France
Spain
Italy
Russia
Rest of Europe

Asia Pacific

India
China
Japan
South Korea
Rest of Asia Pacific

Latin America, Middle East & Africa

Brazil
South Africa
UAE
Rest of LAMEA
Note: This table of contents is a content of a published report. As per client requirement, cross-sectional analysis across all industries or specific geography or 'country-based' analysis can be provided as a part of paid customization. Please place your queries on sales@sheeranalyticsandinsights.com or query@sheeranalyticsandinsights.com