The North America compliance services market was valued at $4.2 billion in 2021 and it is expected to reach $18.2 billion at a CAGR of 13.10%% between 2022 and 2032. Compliance services reduce the compliance burden of an organization by outsourcing compliance management tasks to a third party that has the resources which are required to fulfill the regulatory requirements in a more low-cost manner. Hence, it is essential for various sectors and organizations.
In North America, U.S holds the largest revenue share in the compliance services market.
The ecosystem of businesses is becoming very complex. Companies are focusing on shifting themselves to operating in such an environment with an expanded and fragmented legislative framework. In this case, compliance services play an important role in various organizations. Compliance service is a cloud-based option that is used to outsource and automate regulatory compliance such as fiscal and commercial. Thus, the major aim of the compliance service is to reduce the workload for companies, minimize economic costs, and simplify the major demands for compliance. Currently, several cyber threats and regulatory demands are rising. These have created a need for high-quality, integrated risk and compliance capability. Therefore, these are the major factors that are estimated to drive the growth of the market during the forecast period from 2022 to 2032. Furthermore, compliance services offer security patch management, encryption, backup and disaster recovery, audits, and many other services that could help the company to stay compliant with the existing regulation. Additionally, Regtech companies can be segmented into account verification, general compliance, data capture and integration, monitoring, risk analysis, and regulatory analysis and training. Regulatory compliance management is one of the most important segments of a bank's operation. Hence, the increasing adoption of compliance services for enterprises and organizations is rising in the North American region, which is estimated to boost the market throughout the forecast period.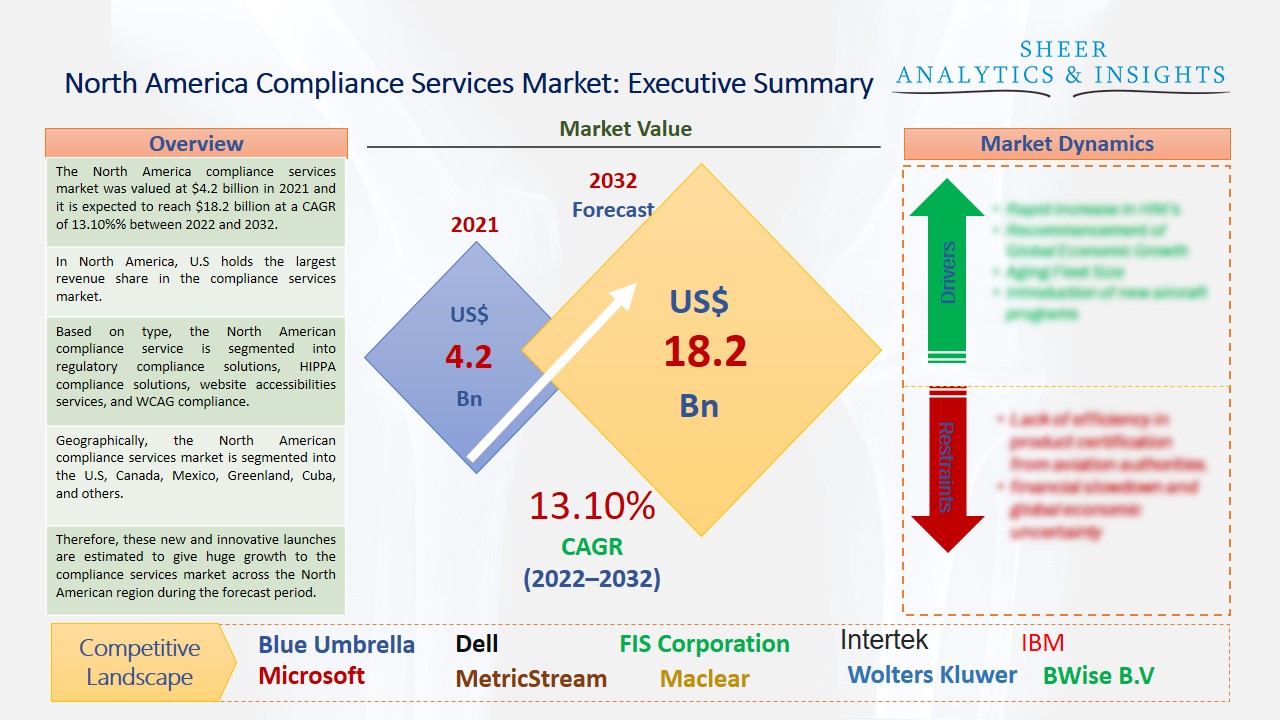 Source: SAI Research
Based on type, the North American compliance service is segmented into regulatory compliance solutions, HIPPA compliance solutions, website accessibilities services, and WCAG compliance. HIPPA compliance solution is generally an application or service for healthcare organizations that includes all the essential privacy and security safeguards to fulfill the requirements of HIPPA. It secures messaging services, hosting services, cloud storage services, and others. Therefore, regulatory compliance solutions and HIPPA compliance solutions hold the largest share of the North American compliance services market. Based on applications, the market is segmented into mobile applications and websites. In North America, the mobile application segment accounts for the largest market share due to the increasing usage of mobile phones and similar devices. The website segment is expected to be the second-largest segment due to a complete set of solutions to make the websites compliant with the law, across multiple languages and legislations. Based on storage type, the policy regulatory compliance supports the overall market across the North American region. Regulatory compliance policy provides companies and multiple organizations to create and manage initiative definitions known as built-ins, for the compliance domains and security controls related to different compliance standards. Based on end-user, the North American compliance services market is categorized into the medical industry, BFSI, legal industry, real estate industry, manufacturing industry, and others. Among these, the BFSI segment is expected to hold the largest share during the forecast period. The adoption of compliance services in the government segment is also growing traction due to their ease of use and low-cost benefits. However, the medical industry is also estimated to gain significant growth in upcoming years. Due to the increasing adoption of cloud-based solutions to decrease privacy concerns and increases the security of data and information. However, the growing implementation of compliance services across North America is also supporting other end-user segments such as BFSI, Telecom and IT, manufacturing industry, retail, and consumer goods, among others which are projected to boost the market growth during the forecast period.
Geographically, the North American compliance services market is segmented into the U.S, Canada, Mexico, Greenland, Cuba, and others. The U.S country holds the largest share of the compliance services market across the region. All the major companies are situated in the U.S country; therefore, the compliance service and solution is becoming easy to adopt for multiple organizations and various sectors.
FIS, a U.S-based company has announced to launch of its Banking-as-a-Service hub for financial entities of all sizes. The major aim of this new solution is to enable banks, financial technology, and credit unions to build digital banking and payment ecosystems to offer services to merchants and customers. In 2020, IBM has announced to launch in collaboration with Flexera, its AI-powered automation strategy to help enterprises simplify IT asset management across hybrid, multi-cloud environments. The primary aim of this new solution is to help business lower their costs and automate the complex tasks of software license compliance and optimization. Recently, Microsoft Corporation announced to launch of a new service strategy called Microsoft Security Experts which would provide security solutions that combine advanced technology with human-led services to help customers by providing more security. It would deliver a new category of compliance services. A Canada-based company named Thomas Reuters Corporation has launched AI-Powered Legal Tracker Advanced to enable legal departments and sectors and strengthen their spending management, boost their operational abilities, and improve workflow through artificial intelligence analytics and benchmark data. Therefore, these new and innovative launches are estimated to give huge growth to the compliance services market across the North American region during the forecast period.
According to the study, key players such as BWise B.V (Netherlands), Blue Umbrella Limited (China), Dell Technologies (U.S), Dell EMC Storage (U.S), Future Shield Inc (Canada), FIS Corporation (U.S), Infosys Limited (India), Intertek (U.K), IBM Technology (U.S), LogicManager (U.S), Microsoft Corporation (U.S), MetricStream (U.S), Maclear (Malawi), Newport Consulting Group LLC (U.S), OneTrust LLC (U.S), Oracle Corporation (U.S), Origami Risk (U.S), Riskonnect Inc (U.S), Software AG (Germany), SAP SE (Germany), SAS Institute (U.S), Tevora (U.S), Thomas Reuters Corporation (Canada), Wolters Kluwer (Netherlands), among others are leading the North America compliance services market.
Scope of the Report:
Report Coverage

Details

Market Size in 2021

US$ 4.2 billion

Market Volume Projection by 2032

US$ 18.2 billion

Forecast Period 2022 to 2032 CAGR
13.1%
Base Year:

2021

Historical Data

2019, 2020 and 2021

Forecast Period

2022 to 2032

Segments covered

By Type: Regulatory Compliance Solution, HIPPA Compliance Solution, Website Accessibilities Services, WCAG Compliance

By Application Type: Mobile Application, Website

By Storage Type: Policy and Procedure Management, Third Party Management, Product and Service Product Management, Governance, Risk and Compliance Management

By End-User Type: Medical Industry, BFSI, Legal Industry, Real Estate Industry, Manufacturing Industry, Others

Geographies covered

North America: US, Canada, Mexico, Greenland, Cuba, Jamaica, Rest of the North American Countries

Companies covered
BWise B.V (Netherlands), Blue Umbrella Limited (China), Dell Technologies (U.S), Dell EMC Storage (U.S), Future Shield Inc (Canada), FIS Corporation (U.S), Infosys Limited (India), Intertek (U.K), IBM Technology (U.S), LogicManager (U.S), Microsoft Corporation (U.S), MetricStream (U.S), Maclear (Malawi), Newport Consulting Group LLC (U.S), OneTrust LLC (U.S), Oracle Corporation (U.S), Origami Risk (U.S), Riskonnect Inc (U.S), Software AG (Germany), SAP SE (Germany), SAS Institute (U.S), Tevora (U.S), Thomas Reuters Corporation (Canada), Wolters Kluwer (Netherlands), among others
The North America Compliance Services Market Has Been Segmented Into:
The North America Compliance Services Market – by Type:
Regulatory Compliance Solution
HIPPA Compliance Solution
Website Accessibilities Services
WCAG Compliance
The North America Compliance Services Market – by Application Type:
Mobile Application
Website
The North America Compliance Services Market – by Storage Type:
Policy and Procedure Management
Third Party Management
Product and Service Product Management
Governance
Risk and Compliance Management
The North America Compliance Services Market – by End-User Type:
Medical Industry
BFSI
Legal Industry
Real Estate Industry
Manufacturing Industry
Others
The North America Compliance Services Market – by Regions:
U.S.
Canada
Mexico
Greenland
Cuba
Jamaica
Rest of the North American Countries
Note: This table of contents is a content of a published report. As per client requirement, cross-sectional analysis across all industries or specific geography or 'country-based' analysis can be provided as a part of paid customization. Please place your queries on sales@sheeranalyticsandinsights.com or query@sheeranalyticsandinsights.com