The Global Patient Handling Equipment market was $9.1 Bn in 2019, and it is expected to reach $17.8 Bn by 2026. It is eventually growing at a commendable high compound of annual growth rate CAGR of 8.5% between 2020-2026. However, the current pandemic of COVID-19 might make a slight difference in the growth rate in the present year. The rapid rise in geriatric population, encouraging government policies are some of the key factors driving the market of patient handling equipment's market. Moreover, the surging demand for home healthcare services in some of the countries is another key factor for booming the market globally.
Global Medical Beds Segment Is Estimated to Witness Remarkable Growth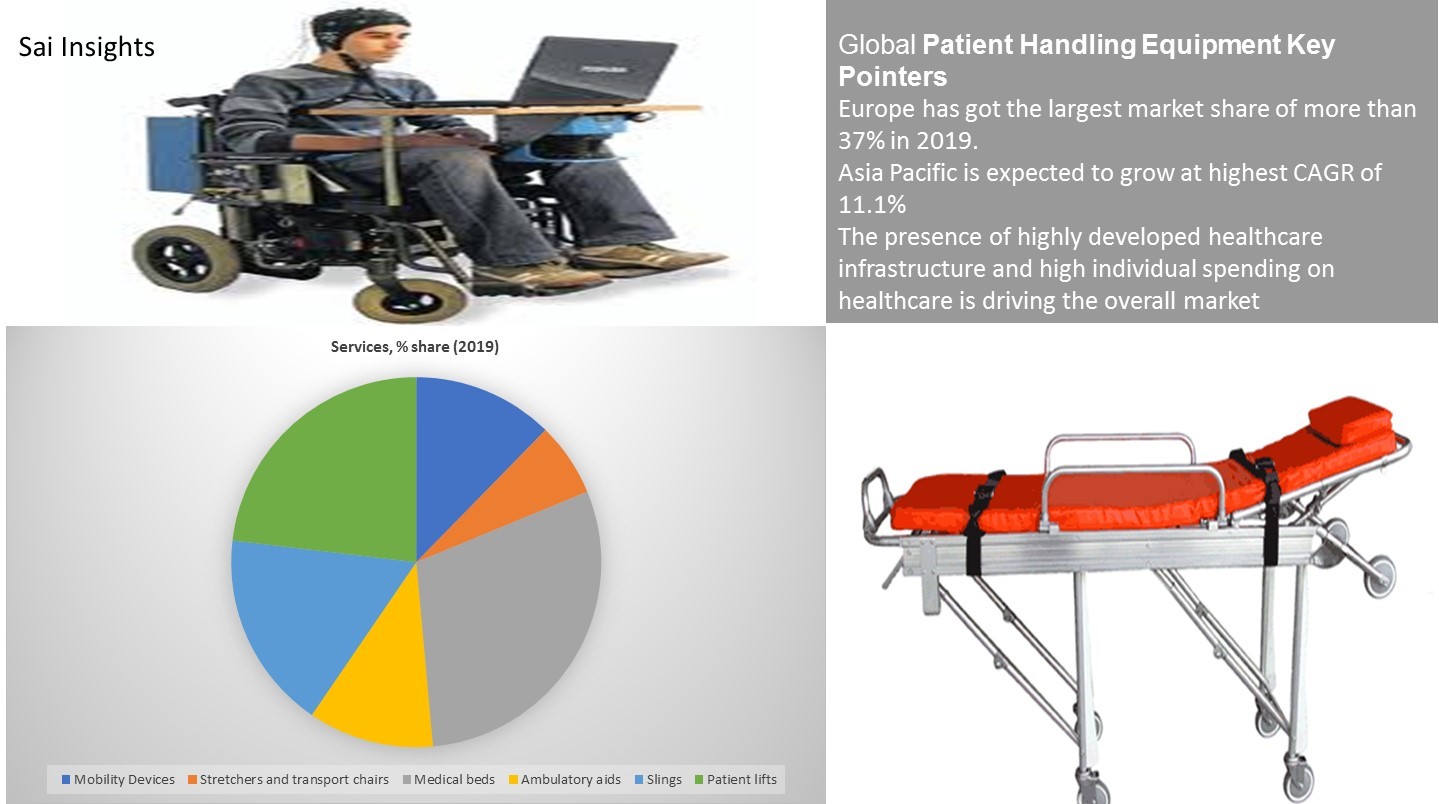 Source: SAI Research
The global Patient Handling Equipment Market has been segmented into product, type of care, and end user. By product, the global patient handling equipment market is divided into wheelchair, scooter, beds, bathroom safety, mechanical, and ambulatory. By type of care, global patient handling equipment is divided into bariatric care, fall prevention, critical care, wound care, accessory, lifting, and transfer. By end user, the global patient handling equipment market is divided into homecare, hospitals, elderly care homes, and others. The large market share of this segment is due to some of the factors such as rising installation of ceiling lifts in hospitals and increasing patient lifts for obesity patient handling.
By Region, Europe is Holding the Major Market Share
The global patient handling equipment market has been geographically segmented into North America, Europe, Asia Pacific, Latin America, Middle East and Africa region. In addition to this, North America patient handling equipment market is holding the largest market share currently and is estimated to show the steady compound annual growth rate in the upcoming forecast period due factors such as increasing geriatric population in the region. Furthermore, the presence of highly developed healthcare infrastructure and high individual spending on healthcare are projected to fuel the market growth in the North America. Asia-Pacific patient handling equipment market is estimated to be another major contributor towards the increasing demand of patient handling equipment market with highest CAGR. Rapid population growth in countries such as China, and India coupled with the increased government spending towards healthcare infrastructure improvements are the factors expected for the Asia-Pacific patient monitoring devices market to propel during the forecast period. Growing utilization of patient handling equipment in hospitals, and clinics is expected to boost the Europe for patient handling equipment market. These reasons are expected to positively influence the market growth during the forecasted period.
Major Players in Global Patient Handling Equipment Market
Some of the key players in the global Patient Handling Equipment Market include Stryker Corporation, Hill-Rom Holdings Inc., Invacare Corporation, Prism Medical, Guldmann Inc., Getinge Group, Linet Spol. S.R.O., Stiegelmeyer & Co. GmBH, Joerns Healthcare, Arjo , Handicare, GF Health Products, Etac, Medline Industries, Inc., Prism Medical, EZ Way, Inc., and Malvestio.
Global patient handling equipment market has been segmented into:
Global Patient Handling Equipment Market: By Product
Mobility devices

Wheelchair
Mobility scooters (2-seater and 4-seater)

Stretchers and transport chairs
Beds
Ambulatory aids
Slings
Patient lifts
Global Patient Handling Equipment Market: By Type of Care
Bariatric Care
Fall Prevention
Critical Care
Wound Care
Accessory
Lifting
Transfer
Global Patient Handling Equipment Market: By End-use
Homecare
Hospitals
Elderly Care Homes
Others
Global Patient Handling Equipment Market: By Region
Asia Pacific

India
China
Japan
Australia
Rest of Asia Pacific

North America

USA
Canada
Mexico
Rest of North America

Europe

UK
Germany
France
Spain
Italy
Russia
Rest of Europe

Latin America, Middle East & Africa

Brazil
South Africa
UAE
Rest of LAMEA
Note: This table of contents is a content of a published report. As per client requirement, cross-sectional analysis across all industries or specific geography or 'country-based' analysis can be provided as a part of paid customization. Please place your queries on sales@sheeranalyticsandinsights.com or query@sheeranalyticsandinsights.com