The Global Peri-Implantitis Market was valued at $0.75 Billion in 2020, Growing at a high CAGR of more than 8.8% between 2021 and 2031, it is estimated to reach $1.9 Billion by 2031. But, the current pandemic of COVID-19 might make a slight difference in the current year's growth rate. Peri-implantitis is a site-specific infectious disease. The disease affects soft tissues and causes bone loss around an Osseointegrated implant in function. The increasing demand for dental implants for many dental treatments like peri-implant mucositis and peri-implantitis is boosting the market growth. The increasing aging population and rising awareness for dental health are the prime factors that drive market growth during the forecast period. Now, moving forward, the robust demand for the Global Peri-Implantitis Market in the dental department is further estimated to create new necessities and augment the market of growth over the forecast period of 2021-2031.
Global Peri-Implantitis Segment Is Estimated to Witness Remarkable Growth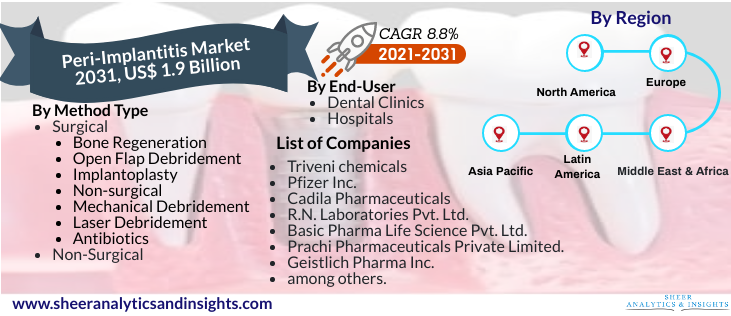 Source: SAI Research
The Peri-Implantitis market is segmented as method type and end-user. Based on Method Type, the global Peri-Implantitis market has been bifurcated as Surgical, Bone Regeneration, Open Flap Debridement, Implantoplasty, Non-surgical, Mechanical Debridement, Laser Debridement, Antibiotics, and Others. Based on End-User, the global Peri-Implantitis market has been divided into Dental Clinics and Hospitals.
By Region, Europe is Holding the Major Market Share
The Peri-Implantitis Market has been geographically segmented into North America, Asia Pacific, Latin America, Middle East, and Africa region. In addition to this, Europe has a significant share among those regions. The regional market comprises developing nations whose development rate is faster than most of the developing countries in the world. The availability of advanced technology experienced and increasing demand for Peri-Implantitis are the prime factors for the market growth over the region. Apart from that, the Asia Pacific and the Rest of the regions are expected to increase the growth rate in the upcoming forecast period of 2020 to 2030.
Major Players in the Global Peri-Implantitis Market
The report covers a detailed outlook about the company, and it includes the company or industry profiles and market share of key players operating in the global market. Key players in the report include Triveni chemicals, Pfizer Inc.; Cadila Pharmaceuticals; R.N. Laboratories Pvt. Ltd.; Basic Pharma Life Science Pvt. Ltd.; Prachi Pharmaceuticals Private Limited., Geistlich Pharma Inc.; and Healthy Life Pharma, among others.
The Global Peri-Implantitis Market Has Been Segmented into:
Global Peri-Implantitis Market: By Method Type
Surgical

Bone Regeneration
Open Flap Debridement
Implantoplasty
Non-surgical
Mechanical Debridement
Laser Debridement
Antibiotics

Non-Surgical
Global Peri-Implantitis Market: By End-User
Global Peri-Implantitis Market: By Region
North America

USA
Canada
Mexico
Rest of North America

Europe

UK
Germany
France
Spain
Italy
Russia
Rest of Europe

Asia Pacific

India
China
Japan
South Korea
Rest of Asia Pacific

Latin America, Middle East & Africa

Brazil
South Africa
UAE
Rest of LAMEA
Note: This table of contents is a content of a published report. As per client requirement, cross-sectional analysis across all industries or specific geography or 'country-based' analysis can be provided as a part of paid customization. Please place your queries on sales@sheeranalyticsandinsights.com or query@sheeranalyticsandinsights.com