The global sample preparation market was valued at $6.8 billion in 2021 and it is expected to reach $15.6 billion at a CAGR of 7.7% between 2022 and 2032. The sample preparation market is characterized by fierce rivalry between global leaders and regional vendors of low-cost equipment. Price-based competition can impede market expansion. Additionally, buyers in developing countries could choose to buy used equipment due to affordability.
By region, North America holds most of the share of sample preparation market.
In analytical chemistry, sample preparation refers to the procedures used to separate a representative sample from a larger quantity and prepare it for analysis. Additionally, samples must be appropriately handled and processed before being analyzed by utilizing cutting-edge scientific tools and equipment. As it serves to reduce the possibility of findings distortion, increase accuracy, and prevent contamination, this first phase is a crucial part of the whole analysis process. To measure the target analytic using the selected analytical technique, such as LC-MS/MS or GC-MS, sample preparation's primary goal is to separate the target analytic from the sample matrix. Although it may seem straightforward, there are about as many sample preparation methods as there are different kinds of samples. For accurate identification, confirmation, and quantification of pesticide residues, sample preparation is essential. It involves removing compounds of interest from the matrix and isolating or pre-concentrating those compounds to improve the suitability of the analyses for separation and detection. These rising factors are driving the growth of the sample preparation market.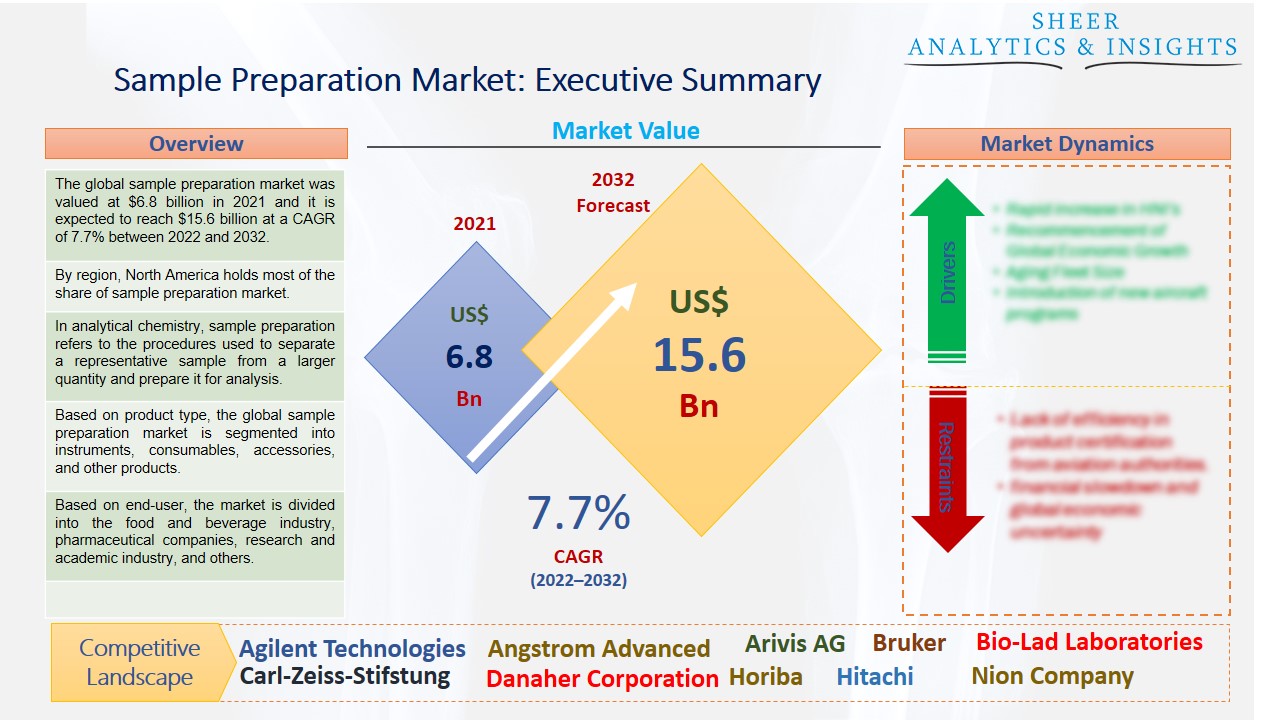 Source: SAI Research
Additionally, sampling is crucial in analytical chemistry because it gives analytical chemists a manageable size while the target population is being studied in great detail. A smaller sample reduces the risk of error and uncertainty throughout the analytical process. Moreover, ongoing technological advancements in the sample preparation market in terms of product efficiency and design are anticipated to encourage manufacturers to provide clients with modern solutions. Customers frequently hesitate to choose expensive upgrade procedures because they cause their investments to erode. Furthermore, one of the major drivers of the market's expansion has been the switch from manual to automated sample preparation techniques, as well as increases in laboratory R&D expenditures, research in the fields of genomics and proteomics, and global alliances among different research institutions to speed up drug development. Additionally, the rising use of contemporary extraction techniques globally and rising demand for food analysis due to safety concerns is predicted to fuel the growth of the sample preparation market in the upcoming years.
The market expansion, however, may be constrained by reasons such as high workstation costs, strict sample preparation protocols, and a lack of competence in handling automated sample preparation equipment. The sample preparation market is additionally characterized by fierce competition between major businesses and minor players who provide equipment at a low price. Price-based competition can impede market expansion. Additionally, buyers in developing countries could choose to buy used equipment due to affordability.
Based on product type, the global sample preparation market is segmented into instruments, consumables, accessories, and other products. The consumables category has helped the market to gain significant growth over the past few years. The frequent buying of these products is the cause of the significant increase. The worldwide sample preparation market's consumables segment is broadly divided into kits, columns, filters, tubes, plates, and other consumables. Additionally, automation of the sample preparation process is becoming more and more common with new cutting-edge tools. Automation boosts lab productivity by reducing human error and boosting throughput, speed, dependability, and repeatability.
In terms of application type, the market is categorized into proteomics, epigenetics, genomics, and others. The genomics segment has dominated the market and is anticipated to boost the market during the forecast period. The vast range of applications, the existence of multiple companies in the field of genomics, and growing public awareness of it are driving this segment. The majority of this market may be credited to a variety of innovative automated solutions for enhancing sample preparation process effectiveness and quality in various genomic applications, such as DNA extraction, normalization, PCR setup, DNA shearing, and next-generation sequencing. Automation stimulates the market by lowering mistakes and, hence, PCR test costs.
Based on end-user, the market is divided into the food and beverage industry, pharmaceutical companies, research and academic industry, and others. The largest market share was held by a segment of biotechnology and pharmaceutical firms. There is a greater emphasis on the introduction of new technologies to the market as a result of ongoing research operations in the pharmaceutical and biotechnology industries. In this context, sample preparation procedures support managing various and multiple samples while delivering speedy analysis and reliable results.
Geographically, the market is segmented into North America, Europe, Asia-Pacific, the Middle East, Latin America, and Africa. Among these, the North American region holds most of the market and is expected to drive market growth during the forecast period from 2022 to 2032. The significant market share can be attributed to several factors, including a consistent rise in laboratory spending, improvements in forensic sciences, the launch of the Genomic Applications Partnership Program (GAPP), and the expanding food testing sector in Canada. These are some of the major drivers of the sample preparation market's expansion in North America. However, during the forecast period, Asia Pacific is expected to experience the fastest growth. This can be attributable to investments made by regional market participants and rising interest in genomics.
According to the study, key players such as Agilent Technologies (U.S), Angstrom Advanced (U.S), Arivis AG (Germany), Bruker (U.S), Bio-Lad Laboratories (U.S), Carl-Zeiss-Stifstung (Germany), Danaher Corporation (U.S), Horiba (Japan), Hitachi (Japan), Jeol (Japan), Nion Company (U.S), Oxford Instruments (U.K), Olympus (Japan), PerkinElmer (U.S), Qiagen (Germany), Thomas Fisher Scientific (U.S), among others are leading the global sample preparation market.
Scope of the Report:
Report Coverage
Details
Market Size in 2021

US$ 6.8 Billion

Market Volume Projection by 2032

US$ 15.6 Billion

Forecast Period 2022 to 2032 CAGR
7.7%
Base Year:

2021

Historical Data

2019, 2020 and 2021

Forecast Period

2022 to 2032

Segments covered

By Product Type: Instruments, Consumables, Accessories & Others

By Application Type: Proteomics, Epigenetics, Genomics & Others

By End-User Type: Food and Beverage Industry, Pharmaceuticals Company, Research and Academic Industry & Others

Geographies covered

North America, Europe, Asia-Pacific, LAMEA

Companies covered
Agilent Technologies (U.S), Angstrom Advanced (U.S), Arivis AG (Germany), Bruker (U.S), Bio-Lad Laboratories (U.S), Carl-Zeiss-Stifstung (Germany), Danaher Corporation (U.S), Horiba (Japan), Hitachi (Japan), Jeol (Japan), Nion Company (U.S), Oxford Instruments (U.K), Olympus (Japan), PerkinElmer (U.S), Qiagen (Germany), Thomas Fisher Scientific (U.S) & Others
The Global Sample Preparation Market Has Been Segmented Into:
The Global Sample Preparation Market – by Product Type:
Instruments
Consumables
Accessories
Others Products
The Global Sample Preparation Market – by Application Type:
Proteomics
Epigenetics
Genomics
Others
The Global Sample Preparation Market – by End-User Type:
Food and Beverage Industry
Pharmaceuticals Company
Research and Academic Industry
Others
The Global Sample Preparation Market – by Regions:
North America
Europe

U.K.
France
Germany
Italy
Rest of Europe

Asia Pacific

India
China
Japan
Australia
Rest of Asia Pacific

LAMEA
Middle East
Latin America
Africa

South Africa
Egypt
Others
Note: This table of contents is a content of a published report. As per client requirement, cross-sectional analysis across all industries or specific geography or 'country-based' analysis can be provided as a part of paid customization. Please place your queries on sales@sheeranalyticsandinsights.com or query@sheeranalyticsandinsights.com